JinkoSolar (NYSE:JKS) is one of the largest solar module makers in the world. On a TTM basis, at the end of Q3, Jinko stood as the third largest module maker with shipments of 3.42GW after Trina Solar (NYSE:TSL) at 4.32GW and Canadian Solar (NASDAQ:CSIQ) at 3.89GW.
Here is how Jinko's shipments to third parties (not including shipments to its own projects) have consistently grown over the last three years. For Q4, I used 1.3GW as the midpoint of guidance of 1.2GW to 1.3GW of shipments to third parties. Jinko expects total shipments of 1.5-1.7GW.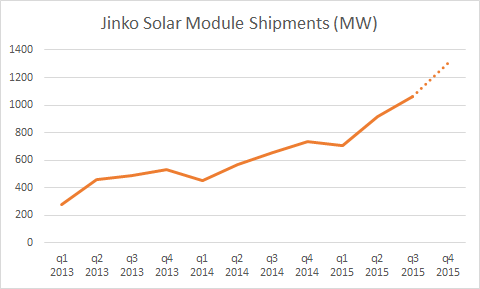 JinkoSolar also has raised shipment guidance twice last year, and total 2015 shipment guidance now stands at 4.2GW to 4.5GW. As for 2016, Jinko already had 80% of 1Q capacity booked and 50% of FY capacity in November when it reported earnings. In the last earnings call, JKS also mentioned 15-20% global demand expansion, and I expect the company to grow as much as well.
Here's what Jinko's net income looked like per MW shipped: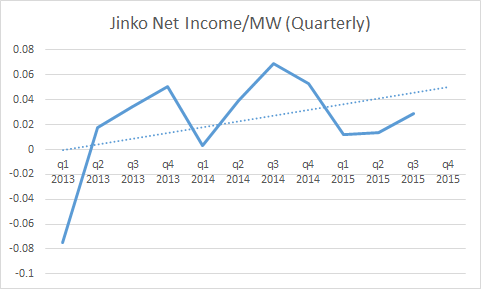 While this fluctuates a lot, the trend is upwards, and as shipments rise dramatically, the actual net income should rise even more. As the global renewable boom continues, Jinko should do well along with it. At some point, the stock price should catch up with the company's performance, I would hope.
Here's the same chart on a TTM basis: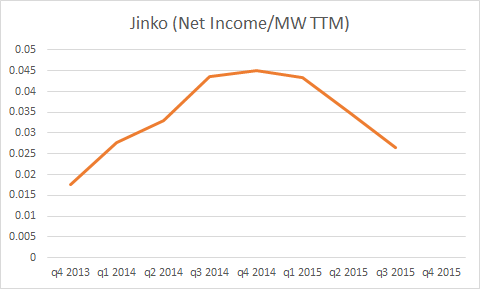 This doesn't look so good, but I expect with the massive rise in shipments, the downdraft will be corrected. In Q3, the company improved margins from continued cost reductions and its electricity business. Both should still continue.
Canadian Solar just announced that it expects to beat previous shipment and margin guidance, and the stock popped 14% in early trading today (2/16), dragging up Jinko and other solar stocks along with it.
Using the same net income/MW as Q3 2015, we get a net income for Jinko of $46 million. However, a margin improvement is possible and the net income could be even higher. With 32 million shares outstanding as of last quarter, that gives us a rough EPS estimate of $1.43 for the quarter. The average analyst estimate is $1.15 at NASDAQ. I expect a beat from Jinko this quarter, just like the last three quarters. The average is $1.27 on Yahoo Finance and that is more realistic.
At some point, I expect solar stock prices to catch up with their earnings, and until then, I'm accumulating the top stocks in the sector, and Jinko is one of them.
Disclosure: I am/we are long JKS, CSIQ, TSL.
I wrote this article myself, and it expresses my own opinions. I am not receiving compensation for it (other than from Seeking Alpha). I have no business relationship with any company whose stock is mentioned in this article.