Last week I went light on interest rate movements and focused on providing more thoughts on the positioning of the individual mREITs. I also put together a piece demonstrating my views on the preferred issues. This time I want to go right back to interest rate movements because I think the movements over the last week or so have been fairly interesting.
The mREITs
The table is demonstrated below:
| | | |
| --- | --- | --- |
| Annaly Capital Management | (NYSE:NLY) | |
| American Capital Agency Corp | (NASDAQ:AGNC) | |
| ARMOUR Residential REIT | (NYSE:ARR) | |
| Capstead Mortgage Corporation | (NYSE:CMO) | |
| CYS Investments | (NYSE:CYS) | |
| Dynex Capital | (NYSE:DX) | Long DX |
| Javelin Mortgage Investment | (NYSE:JMI) | |
| New York Mortgage Trust | (NASDAQ:NYMT) | |
| Orchid Island Capital | (NYSE:ORC) | |
| Two Harbors Investment Corp | (NYSE:TWO) | |
| Western Asset Mortgage Capital Corp. | (NYSE:WMC) | |
| MFA Financial | (NYSE:MFA) | |
| Ellington Residential Mortgage REIT | (NYSE:EARN) | |
| Arlington Asset Investment Corporation | (NYSE:AI) | Technically Corporation |
| ZAIS Financial | (NYSE:ZFC) | |
| Apollo Residential Mortgage | (NYSE:AMTG) | |
| Anworth Mortgage Asset Corporation | (NYSE:ANH) | |
| American Capital Mortgage Investment | (NASDAQ:MTGE) | |
| Cherry Hill Mortgage Investment | (NYSE:CHMI) | |
| Starwood Property Trust | (NYSE:STWD) | |
| Blackstone Mortgage Trust | (NYSE:BXMT) | |
| Chimera Investment Corporation | (NYSE:CIM) | |
| New Residential Investment Corp. | (NYSE:NRZ) | |
30YR FNMA 3.5
Remember that the title above refers to the "30 year Fannie Mae fixed-rate MBS with a coupon of 3.5%".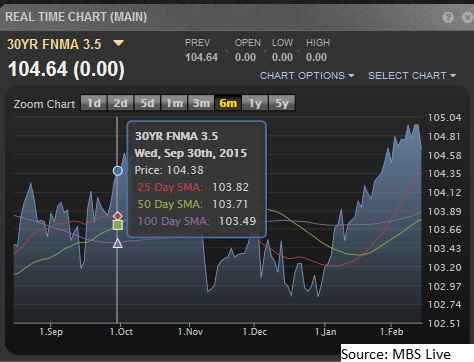 This pack of bonds was priced at around 104.38% of par value at the end of the third quarter. This was the low rate that resulted in mREITs taking substantially higher amortization expenses in the third quarter if they were holding agency MBS and use "yield smoothing". That practice refers to looking at the interest rate environment and attempting to forecast the prepayment speeds that should occur so they can project the amortization expenses. Some mREITs opt to simply use a method of recording any prepayments received during the quarter and amortizing the premiums that were lost. Either method is fine, but it is worth noting that this level of rates at the end of the third quarter resulted in high expectations for prepayments.
The following table shows the prices for these MBS at the end of the fourth quarter and today:

For comparison, the following table compares the movement in rates and values for treasuries. I want to stress that this model uses a very rough estimation of the price movement for the treasuries. It also incorporates some estimates on the LIBOR swap. It is worth noting that the actual LIBOR swap movements will incorporate factors like net interest spread payments which will alter the fair value movements. When I am estimating book value for individual mREITs, I want to take every little factor like that into account.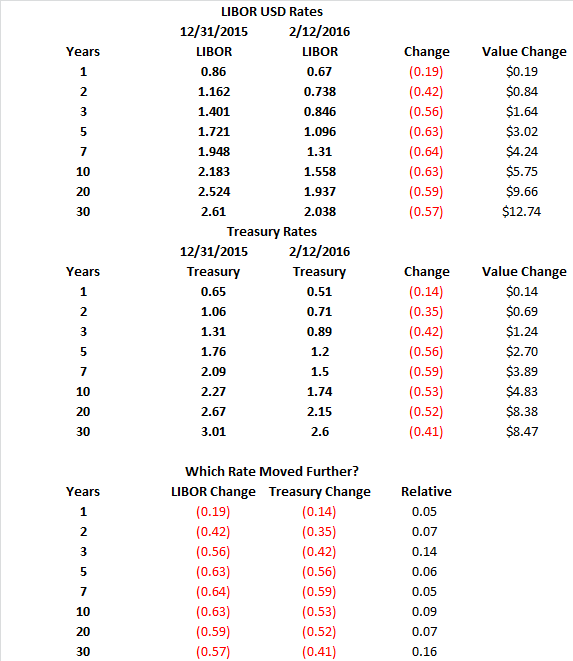 The 30YR FNMA 4.0 gained just a hair more than a 2 year treasury and the 3.5 gained a bit more than the 3 year treasury. In short that means price movements on treasuries were substantially higher. The LIBOR rates fell even harder than the treasury rates. Since LIBOR rates are falling, that creates book value losses. This means that book value may take another hit so far this quarter unless the mREITs are running light on hedges because the 2 year and 3 year LIBOR swaps would have a larger fair value movement than the 30YR FNMA 3.5 and 30YR FNMA 4.0 respectively.
The 3 year rate on the LIBOR swap is now lower than treasuries as the trend of LIBOR swaps going to yields below treasuries continued to spread towards the shorter end of the yield curve. The one area where the LIBOR swap still has a materially higher rate is the 1 year. At the start of the year the 2 year swap was still 10 basis points higher than the treasury, but that gap closed to about 3 basis points.
In a Nutshell
A flattening yield curve is bad for earnings for mREITs, but this isn't the typical flattening of the yield curve. The substantially weaker price performance on the agency MBS means they are still offering yields that are now substantially higher than the fixed rate on the swaps that would hedge them. For a theoretical example, if an mREIT were able to unwind all of their positions and immediately enter into new positions based on the market rates, the Core EPS picture looking forward would be fairly nice. I wouldn't be surprised if we see more mREITs declaring "realized loss on termination of interest rate swaps" when they release their first quarter results. These low long term rates on swaps are very attractive for mREITs that want to hedge in their costs.
I want to emphasize that there is not a material economic difference between maintaining current positions as compared to paying the unrealized loss to exit and enter a new swap. However, I think many investors and even some analysts would glance at the numbers and think the net interest spread numbers were exceptional.
The simple explanation of an mREIT is that they "lend long and borrow short to make money off the spread". That explanation may be insufficient for 2016 since the expected yield on any 30 year MBS is now substantially higher than the 30 year LIBOR swap. In 2016 we may have to say that the mREIT borrows at fixed LIBOR rates and loans at MBS rates to make money off the difference in the rates on the securities.
As a quick note, the effective duration on a 30 year agency MBS is dramatically lower than on the 30 year swap. I'm not suggesting that an mREIT use 30 year swaps to hedge the 30 year MBS. I would be looking for new hedges in the 3 to 10 year range.
A Note on NRZ
The fairly high price on MBS is a bit of a mixed bag. On one hand it indicates that MBS holders are exceptionally concerned about prepayments which is bad for excess MSRs. On the other hand the MBS yields have not fallen materially below the level from September 30th which is positive for NRZ in the sense that it means the home owners are less likely to be presented with offers to refinance at substantially lower rates. If those offers came from the companies that currently service the loans it shouldn't be a problem because the recapture agreements with their servicers ensure that NRZ should automatically receive the excess MSR if the servicer gets an active customer to refinance.
Perhaps a "mixed bag" isn't the right term. It would be easier to say it is a negative impact but could be much worse. Fortunately they also did some research on the excess MSR they were buying to look for situations where borrowers would be less likely to refinance even if rates were low.
DX
I don't write about Dynex Capital very often since they are a smaller mREIT, but it is my personal holding in the sector. I'm a bit surprised by where their price action is currently since their portfolio is primarily agency ARMs (adjustable rate mortgages) and a combination of CMBS and CMBS derivatives that are mostly either agency issues or AAA rated. The CMBS issues should have provisions to make prepayments dramatically more difficult which would protect DX from one of the largest issues (high prepayment projections) that was facing mREITs over the last few months.
Since Anworth already reported their performance for the quarter and had a surprisingly strong performance with over half their portfolio in agency ARMs, I would think Dynex Capital should be having a decent quarter as well. On the other hand, CMO had a much harsher quarter and they are heavy on agency ARMs. I projected the hedge impacts on DX over a month ago when I was working through the models, but I probably should've already done a full comparison on CMO and ANH since data on ARMs is less available than data on fixed rate pools. I'll see what I can get done and I'll aim to get it to market quick.
Disclosure: I am/we are long DX.
I wrote this article myself, and it expresses my own opinions. I am not receiving compensation for it (other than from Seeking Alpha). I have no business relationship with any company whose stock is mentioned in this article.
Additional disclosure: Information in this article represents the opinion of the analyst. All statements are represented as opinions, rather than facts, and should not be construed as advice to buy or sell a security. Ratings of "outperform" and "underperform" reflect the analyst's estimation of a divergence between the market value for a security and the price that would be appropriate given the potential for risks and returns relative to other securities. The analyst does not know your particular objectives for returns or constraints upon investing. All investors are encouraged to do their own research before making any investment decision. Information is regularly obtained from Yahoo Finance, Google Finance, and SEC Database. If Yahoo, Google, or the SEC database contained faulty or old information it could be incorporated into my analysis.