Arena (NASDAQ:ARNA) saw U.S. sales of Belviq continue to under-perform levels needed to impress the street this past week. Sales are 12% off of the pace established in Q4, and are down a stunning 22% from the levels we were seeing just a year ago. Simply stated, the Belviq sales numbers in the United States are unimpressive in a sector that is growth-challenged already. This past week script sales came in at just over 9,500 for the second best Belviq sales tally in the first 5 weeks of 2016. Weight loss season is here, but you would not know it by looking at the sales figures for Belviq.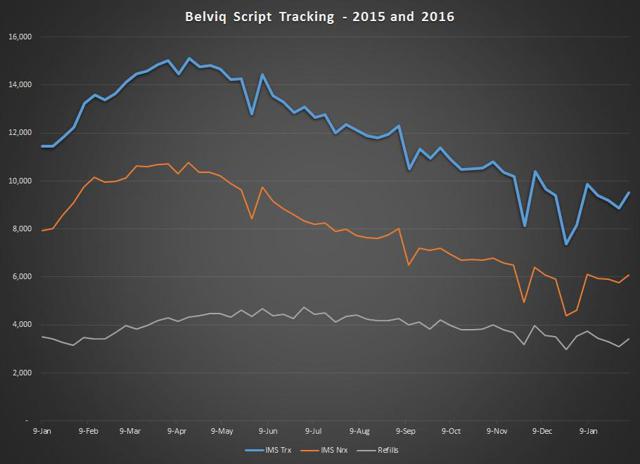 Click to enlarge
Chart Source - Spencer Osborne
In the past, we have seen Q1 as a quarter where sales growth carries a positive trajectory. This year is different. With increased competition and less marketing, Belviq sales have taken a predictable negative sales trajectory.
On a quarter over quarter basis, we see sales currently trending down by a bit over 12%. This is not what investors like to see on a drug with such a large potential market. The issue seems to be that, despite the overwhelming number of overweight and obese people, very few care to try a weight loss pill as a solution. The percentage of people that do see success from the drug are simply not numerous enough to offset those that fail on it. New scripts are trending down, and refills seem to indicate that the average person is on the drug for only between 3 and four months. If the average duration were 6 months or more, there would be a chance of seeing overall scripts climb a bit, but at this stage, the issues in this sector simply make this happening seemingly impossible.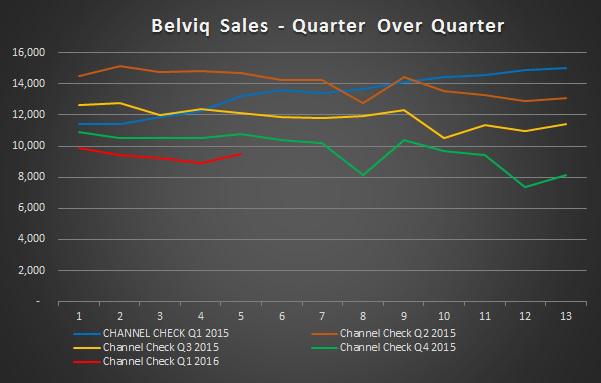 Chart Source - Spencer Osborne
On a year over year basis, the news is getting even worse. Sales in Q1 of 2016 are over 22% lower than the sales levels we saw in Q1 of 2015. A big factor in this has been a total lack of marketing support behind Belviq currently. Last year Eisai advertised throughout the first quarter and demonstrated positive sales growth. The overall problem last year was the expense to get each script was overwhelming marketing partner Eisai. As yet, Eisai is not making any money on Belviq even with cutting back costs. The chart below shows positive growth in Q1 of 2014 and 2015. It shows that 2016 is higher than 2014, but it also shows that the sales trajectory this year is downward. Clearly U.S. sales will be down year over year unless we see very substantial shifts in sentiment on this drug. The savings in marketing will not help Arena's bottom line. Those savings only help Eisai mitigate losses it is seeing with Belviq.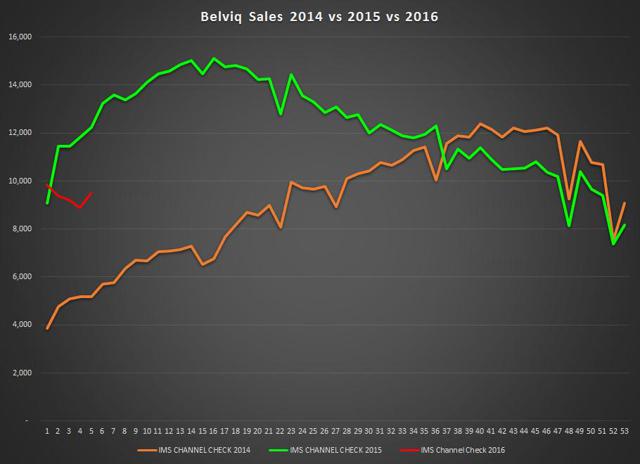 Click to enlarge
Chart Source - Spencer Osborne
From a market share perspective, Belviq is holding pretty flat. This past week the market share was at 28.66%. This is an improvement from Belviq's lowest market share of 28.10% seen the week prior, but is certainly not anything to get excited about. Being in a virtual tie for the lowest market share in the branded anti-obesity pill sector is hardly worth bragging about. The entire segment has seen year over year growth of just 9% so far this year and every bit of that growth has gone to Contrave from Orexigen (NASDAQ:OREX), which is barley seeing positive quarter over quarter traction in its young launch.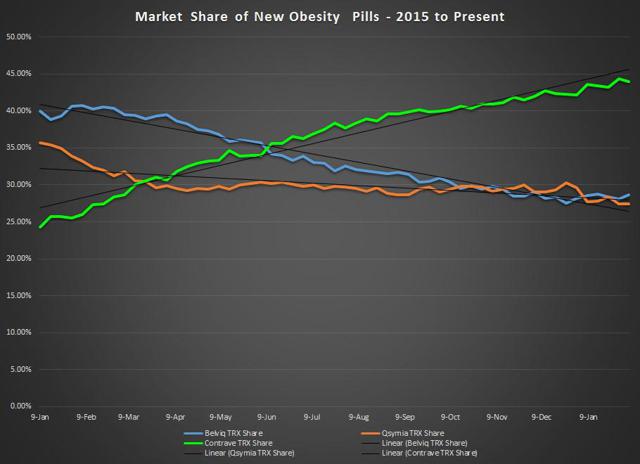 Click to enlarge
Chart Source - Spencer Osborne
In simple terms, Belviq is not a major contributor to the bottom line of Arena. Investors considering this company should look to the pipeline as the potential. Certainly Belviq may get approvals in some smaller markets this year, but the big news there will be a milestone payment. I am not looking for Belviq sales to be a huge revenue driver even if approved in Israel, Mexico, and Brazil. These events can assist in what I characterize as a race against time.
As stated earlier, the potential in Arena is with its pipeline. There are a couple of drug candidates in phase 2 clinical trials which may well be rewarding when/if partnered. The timing of the results of these trials and any partnership that could develop is critical. Arena is still burning cash each quarter. The more cash burned, the less leverage that the company has. The worst case situation is trying to raise capital with the stock price at current levels. If some milestones and more minor deals can keep the company from diluting, then the potential of the stock is much better. There could be a very substantial difference for this equity that is all dependent on timing. At current prices, it may be worth a speculative play, but each investor needs to consider the risk vs. reward dynamics at play.
Lastly, investors need to be cautious of the wild speculation that seems to follow this equity. It seems that every two or three weeks we hear someone say that a buyout is imminent. If a company was interested in buying out Arena, they could have made moves several times over by now. The lack of news on filling the CEO and CFO positions does not mean that a buyout is near. It could simply mean that candidates see the difficulties in getting this company to the next level and do not want to be the experiment in attempting these moves. Stay Tuned!
Disclosure: I am/we are long ARNA, OREX.
I wrote this article myself, and it expresses my own opinions. I am not receiving compensation for it (other than from Seeking Alpha). I have no business relationship with any company whose stock is mentioned in this article.