Orexigen (NASDAQ:OREX) investors may remember that it was not very long ago that the company issued guidance and that part of that guidance was sector growth in the low double digits. At 5 weeks into the new year, sector growth is in the single digits, and despite the fact that Orexigen's Contrave has 100% of the growth in the sector, the numbers thus far are simply not impressive. This past week, Contrave sales came in at a sector-leading 14,600. While it may seem great for the company to say it is selling more anti-obesity pills than anyone else, the reality is that the numbers we are seeing are simply much lower than what is needed to impress the street.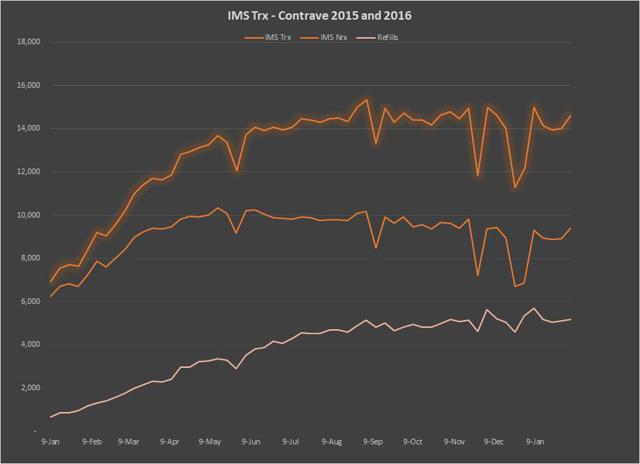 Click to enlarge
Chart Source - Spencer Osborne
Orexigen still carries the benefit of decent quarter over quarter and year over year comparisons, but that benefit is eroding quickly. With 5 weeks in Q1 of 2016 in the books, Contrave is pacing just 1% better than Q4, which is the weakest quarter in this segment.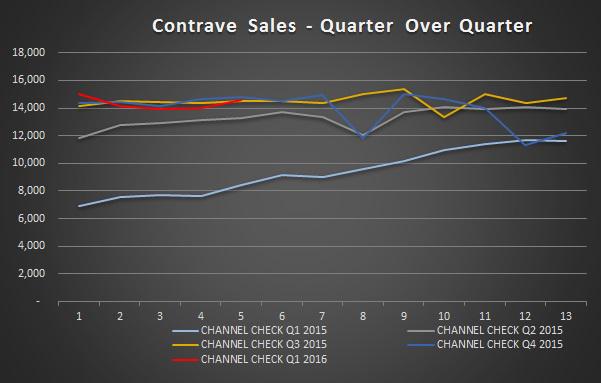 Chart Source - Spencer Osborne
On a year over year basis things look pretty rosy. After all, what is not to like about pacing at 87% growth year over year? On its face, it would seem impressive. In reality, it is not. Serious and savvy investors in this sector see that. Certainly the sales pitch on a quarterly call will point to such an impressive number, but consider this. Last Q1 Contrave was barely hitting its stride and was just a few months into launch. The fact is this. If Contrave were on a trajectory that would be seen as impressive, it would be at year over year growth approaching 200%. Instead it is at 87%. Investors need to grasp that the sector has realities that simply do not match the talking points of management on conference calls. Expect management to point to "great" year over year numbers. Expect management to refer to competitors seeing sales down year over year. Do not look for management to point to the fact that even with sales that lead the space, the revenue is not high enough to pay the bills. The chart below shows how current sales levels are about the same as what we were looking at 6 months ago. The year over year growth story is going to lose its shine in the next 6 months. After that, many investors will realize the more important issues surrounding this company.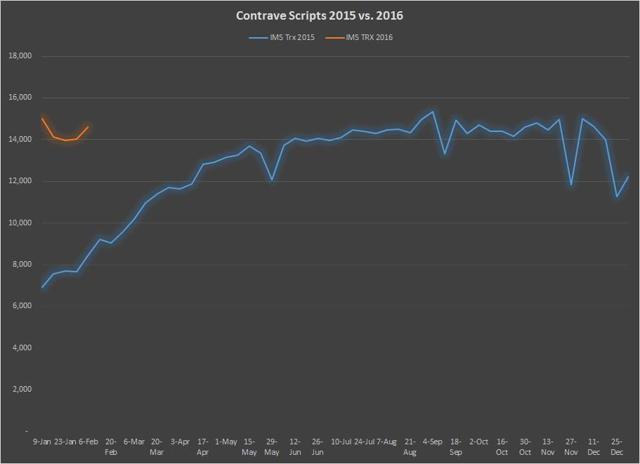 Click to enlarge
Chart Source - Spencer Osborne
In looking at market share, we see Contrave carrying about 44% of the branded anti-obesity pill market. Competitors hold about 28% each. Clearly Contrave dominates the sector. No one can take that away. That being said, the sector is nowhere near what it needs to be to bring about equity appreciation. We are already seeing signs that marketing partner Takeda is making efforts to control cost by requiring an insurance rejection before a discount can be applied. It is said that this is to force the hand of insurance companies, but reality is that it is a predictable step taken on the two drugs that hit the market prior to Contrave. Contrave is leading in market share, but is not yet seizing chunks of share, and in fact has likely slowed gains with new initiatives.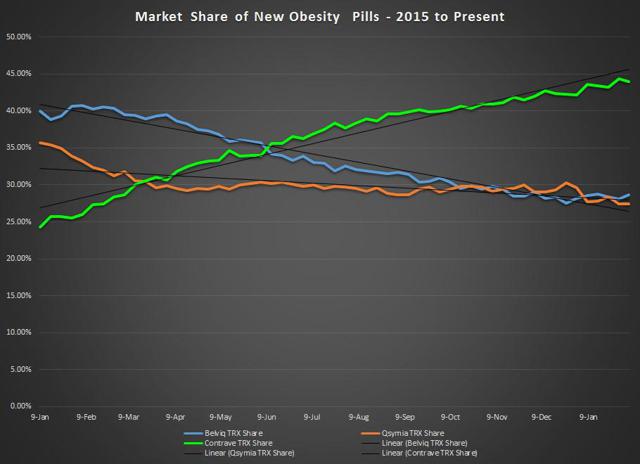 Click to enlarge
Chart Source - Spencer Osborne
Investors in Orexigen that want to feel good emotionally can narrow their focus to the following talking points:
Leading market share
Most sales volume
Contrave has 100% of the growth in the sector in 2016
Year over year numbers are good
Investors that want to grasp what is needed to see equity appreciation needs to consider the importance of a big launch in South Korea and a big launch in Europe. In my opinion neither will drive impressive numbers, but in aggregate, these efforts need to succeed because this company has nothing else to bet on. In closing, consider what I am about to say seriously. If branded anti-obesity pills are having trouble gaining traction in the United States, why should we think that Europe will differ? If this was a home run, Orexigen would have a partner launching Contrave (Mysimba) in Europe. Stay Tuned!
Disclosure: I am/we are long OREX.
I wrote this article myself, and it expresses my own opinions. I am not receiving compensation for it (other than from Seeking Alpha). I have no business relationship with any company whose stock is mentioned in this article.