China has been called the "800 pound Gorilla" of the world economy and accessing this "Gorilla" market is essential for any business maintaining a global presence and growth strategy. In the headlines this month are acquisition moves by Walmart (NYSE:WMT) and plans by Facebook (NASDAQ:FB) to access China markets. China's massive economy could affect the fate of entire industries from the historical "hard commodities" used in industrial production to their current increasing domestic use of soft commodities and food as their middle class lifestyles demand improvements.
To capture a piece of the "Chinese Emerging Markets" the most effective pathway is through the internet. By advertising through Baidu (NASDAQ:BIDU) you will connect with over 75% of the 513 million Chinese internet users. Baidu has a coaching staff to help its customers appropriately target their advertising to China Consumers. Baidu is the number one search engine in China with an internet population of over 513 million users (38% penetration) out of a population of 1.33 billion people. In comparison, the USA's entire population is a meager 311 million with around 250 million internet users (78% penetration).
Baidu is positioned to capitalize on providing China consumers with every type of dominant internet opportunity available in the USA. Baidu's dominance over the China search market is well known, i.e. Google (NASDAQ:GOOG). In the 4th Quarter earnings call, CEO Robin Li highlighted additional areas of emerging dominance. Baidu dominates as the mobile search and map provider for mobile phones,i.e. iPhone (NASDAQ:AAPL) and Garmin (NASDAQ:GRMN). Baidu has established a "music social network", i.e. iTunes (AAPL) and Amazon (NASDAQ:AMZN). Baidu ranks in the top three providers of online video (time based) with 198 million users, i.e. Netflix (NASDAQ:NFLX) has 23.6 million subscribers. Baidu has integrated a comprehensive travel database into its user platform, i.e. Priceline (NASDAQ:PCLN) and TripAdvisor (NASDAQ:TRIP). Baidu is the "Gorilla of China Internet" with "users clicking 20 million times [every day] on results returned through the open application platform."
Baidu is essentially operating as a monopoly in the largest expanding market in the world. There are now substantial entry barriers for competitors from both outside China and inside China because of: 1) the Chinese government, 2) Financial Resources, and 3) Chinese culture. According to Beijing resident Shi Beichen, a Facebook user (through a virtual private network), "foreign Internet companies still don't quite understand the Chinese Internet market or its users' habits. Even if the companies don't involve themselves with sensitive topics, it will still be hard for them to succeed." The powerful growth of Baidu over 2011 and future 2012 potential is not yet reflected in the share price as shown on the following chart (28 of 33 analysts rate buy with average target price at $185.51, 52 week high is $165.96):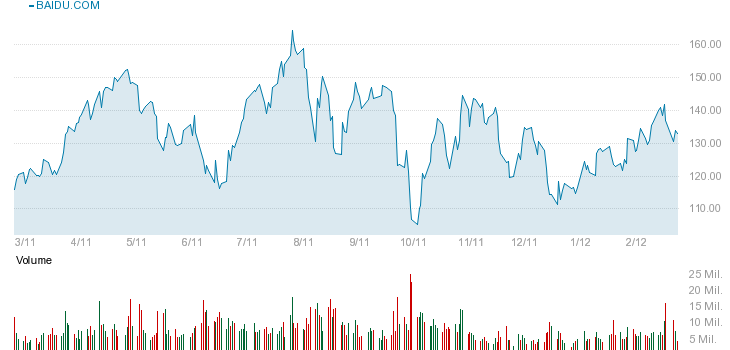 Government Regulation Barriers to Competition
The Chinese government heavily regulates online content and advertisers, resulting in the 2010 exit of major competitor Google from China and doubt on any entry of Facebook into China. This regulatory environment is a "barrier to entry" for most other companies and provides a near monopoly position since BIDU is a China-based company that continues to successfully understand China customers and navigate through all government issues.
It is highly unlikely the regulatory environment of the Chinese government will change anytime soon. So Baidu's advertising market revenue and dominance in China is increasing while internet powerhouses like Microsoft (NASDAQ:MSFT), Google, and Facebook sit benched on the sidelines watching the explosive game play on without them. Amazon.com Inc, eBay Inc (NASDAQ:EBAY), Yahoo Inc (NASDAQ:YHOO) and most recently Groupon Inc (NASDAQ:GRPN) form the list of notable online players who have failed to gain any traction in this fast-growing nation.
Baidu's 2011 Financial Report reflects Barriers to Chinese Competition
Below are excerpts from the BIDU February 16, 2012 financial release and conference call. These excerpts show that Baidu has the cash flow and market dominance to execute on strategies to become the Google, Netflix, Amazon, Garmin, iTunes/iPhone, and Priceline of China:
1) BIDU's cash position expanded to $14 billion in 2011 from $8 billion at the end of 2010. Total Assets doubled from $11 billion to $23 billion and equity nearly doubled going from $8 billion to $15 billion. BIDU has financial dominance over other China-based Internet Companies YOKU ($1.8 billion), DANG ($1.8 billion), SINA ($883 million), SOHU ($829 million).
2) 2011 was another remarkable year for top line growth. We benefited from growth in the e-commerce industry and succeeded in gaining more traction with traditional customers. Revenue increased by 83% for the year, up from 78% in 2010; from $7.9 billion in 2010 to $14.5 billion 2011.
3) Mobile Phone Searches -- "Smartphone shipments in China surpassed results in the US last quarter, and Baidu has positioned itself to capture this opportunity. Baidu is already the default search engine on 80% of branded Android handsets sold in China." Building on our success in the desktop maps market where we have an 85% market share, we are moving ahead [full throttle] with [Mobile Maps 2].
4) Online Video -- In the online video, our iQiyi joint venture has been growing solidly and now ranks amongst the top three in China [by time spend]. In Q4, iQiyi's unique monthly users reached 198 million.
5) Online Music -- In music, we launched the Baidu Ting music social network and signed a major agreement with a leading global record label to enable Baidu users to discover and share millions of licensed Chinese and international sounds on our platform.
6) Travel -- In the booming travel space, we signed a landmark deal to acquire a majority stake in the leading travel search provider Qunar. Qunar continues to grow well, and we have integrated its comprehensive travel database into our product lines.
7) Internet Search -- Every day users click 20 million times on results returned through the open application platform. Over 70% of our search queries now return dynamic interactive results. With tens of thousands of third-party developers already participating, we are confident that the Baidu search box will increasingly become Chinese users' primary point of entry onto the internet.
8) During the fourth quarter, Baidu had approximately 311,000 active online marketing customers, a 13% increase from the corresponding period in 2010 and a 2% increase from the previous quarter.
Macro Environment Overhang
When asked this specific "macro environment" question by Alex Yao (Deutsche Bank) Jennifer Li responded:
As we provided in the Q1 guidance, [we] are projecting our revenue growth at this point on a year-over-year basis for the quarter between 72% to close to 78%. … At this point we're very focused on the matters that we have control over, and the efforts that we put in is based on the initiative that we have put forward and the things that we have control over. So this, I mean, I would say, we do not read too much into the macro environment. … more traditional players are allocating more of their ad budgets with us and the brand players are spending to put emphasis into search.
The 2009, 2010, and 2011 years have shown that all world markets (including China) have been and are currently impacted by excessive national debt levels and recessionary trends; however, through this challenging environment there has been a willingness by both large and small individual nations to work together globally for stability and progress. This global cooperation has helped avoid potential catastrophic events and the resulting benefits are motivation for maintaining the current global environment of stabilized momentum and cooperation.
Summary and Baidu Share Price Discussion
In summary, the China economy continues to grow, although the growth is at an adjusting pace it is still upward. China internet penetration is still only at 38% of the population; internet expansion has in the past and will continue to rapidly expand irregardless of the world macro environment. China is still of major importance to global markets, and BIDU is the gorilla monopoly with $14 billion cash that will continue setting giant formidable footprints throughout the China Internet market. Baidu understands and complies with government regulatory guidelines, assists its customers to successfully meet unique advertising needs of Chinese consumers, and with substantial financial resources will continue expansion and dominance.
BIDU share price action since their successful earnings report on February 16 has been irregular considering the success of Q4 2011 and 72% to 77% growth projections forward into 2012. Preliminary research indicates a completely financially unfounded but psychologically impacting statement by Morgan Stanley naming BIDU as a "Short Research Tactical Idea" suggesting near-term downside. Like most negative analyst comments, this became a "self-fulfilling prophecy" as day-traders, trend traders, and all short-sighted near-term investors slumped out of 33 million shares over 3 days when normal average share volume is approximately 7 million shares per day. Of course large investors are picking up these excess shares at extremely favorable prices. The big question for the SEC investigation (but there won't be one) would be the buy/sell actions of Morgan Stanley and the clients that they advise.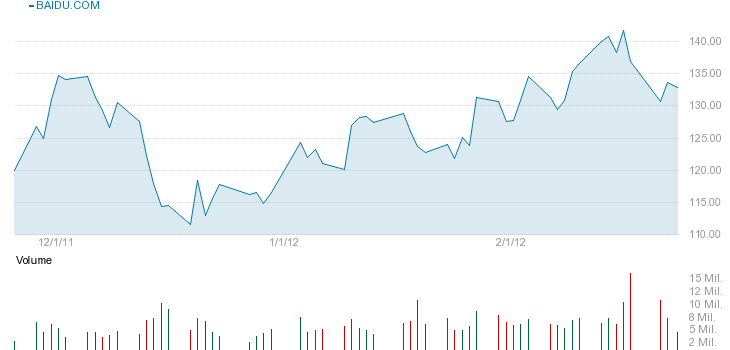 Disclosure: I am long BIDU.