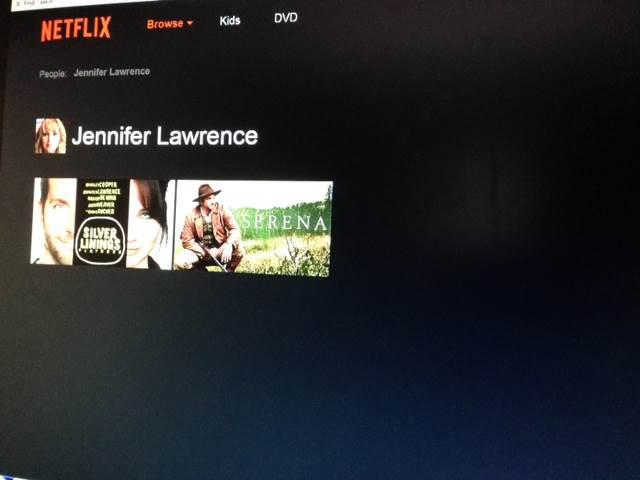 Pictured: The "black space" a Netflix user encounters after searching for movies that include one of Hollywood's biggest superstars, Jennifer Lawrence. Source: Valuentum.
Netflix's (NASDAQ:NFLX) shares are considerably vulnerable.
The content distributor's business model is in jeopardy in light of rising cash content costs amid a subpar product offering, and we don't believe there is an easy answer to its woes - either ever-higher cash streaming content costs will obliterate equity value over the long haul despite member growth, or a cut in such necessary cash content obligations will hurt its streaming product assortment and therefore member growth and subscriber retention.
We're pointing investors to the low end of the fair value estimate range for shares, the low-$60s (source: Valuentum's 16-page report), but we believe there may be further downside to come even from those levels. Investors should note that our existing fair value estimate assumes a significant and permanent drop in cash outlays associated with streaming content assets, which may impede a growth trajectory that we model to continue, an imbalance in the valuation equation that we think will eventually come to a head with Netflix's shares eventually collapsing.
Here are 5 reasons why we think Netflix's shares are poised to collapse.
1. Netflix is trading at ~350+ times forward earnings
There is nothing in Netflix's business model that justifies a forward price-to-earnings multiple at these astronomical levels. All of the red flags are up. Free cash flow was -$921 million (negative $921 million) for the full-year 2015, while cash flow from operations itself cratered to -$749 million (negative $749 million) for the year, despite "net income" of $122.6 million (source: NFLX regulatory filings). Additions to streaming content assets (a cash outflow on the cash flow from operating activities section on the cash flow statement) continues to be a massive headwind to the company's business, totaling $5.8 billion during the year ended 2015, up from $3.7 billion in 2014 and $3 billion in 2013 (source: regulatory filings).
In order to justify current pricing levels of the stock, we'd have to model continued robust growth in net subscriber additions, but also a permanent 60% aggregate decline in cash outlays associated with additions to streaming content assets, net of the change in streaming content liabilities, approximating 2011-2012 levels over the long haul (source: Valuentum discounted cash-flow analysis), a spending reduction that is not likely to happen given encroaching competition from rivals Amazon (NASDAQ:AMZN) Prime and Alphabet's (NASDAQ:GOOG) (NASDAQ:GOOGL) YouTube, among others. In order to maintain a trajectory of member growth, Netflix, in our view, will have to continue to invest in streaming content assets, further pressuring free cash flow, exacerbating the value disconnect that exists in the market today.
Entities garnering lofty earnings multiples generate copious amounts of traditional free cash flow via their asset-light business operations and have large net cash positions. Netflix may be Internet-based, but it might as well be a capital-intensive manufacturing proposition in light of the cash outlays associated with maintaining and growing its content assortment. We cover its financial leverage next.
2. Netflix is buried under a mountain of debt-like, cash obligations
If Standard & Poor's junk credit rating of B+, a full three notches below the lowest rung of non-investment grade isn't enough to get your guard up on a stock trading at ~350 times forward earnings, then a look at its financial position surely will.
Not only is the company burning through operating cash flow (that's even before deducting for acquisition of DVD content assets and purchase of property and equipment), but it is essentially mortgaging its future, with yearly issuances of debt becoming commonplace and the firm swinging to a net debt position in 2015 for the first time in at least the past five years (source: regulatory filings).
All of the company's "enforceable and legally binding" contractual cash obligations total a whopping $15.2 billion, consisting of streaming content obligations ~$10.9 billion, debt of $3.4 billion, with the balance coming from lease obligations and other purchase obligations (page 26, NFLX 2015 10-K). Though we believe traditional measures of EBITDA make little sense for Netflix in light of negative operating cash flow, using non-GAAP measures of EBITDA provided by management of ~$490 million in 2015 (source: recent letter to shareholders), Netflix leverage with respect to all cash, debt-like obligations is more than 30 times.
On the basis of its EBIT stream, however, Netflix's leverage is 50 times and well over 100 times net income on the basis of all forward contractual obligations outlined above. Netflix's 5-year historical average of cash flow from operations amounts to -$59 million (negative $59 million), or using the latest positive measure of $16.5 million in 2014, Netflix's legally binding operations are ~1,000 (one thousand) times cash flow from operations in 2014, even before any deductions related to the calculation of non-GAAP free cash flow.
Buried under $15.2 billion in cash, debt-like obligations and burning through operating cash flow, we find it very hard to justify the company's $37.4+ billion market capitalization, as of the close February 12. Netflix's equity is so absurdly priced by the market that management may find it opportunistic to raise as much equity as possible at present levels before any ensuing collapse in shares.
3. The business model doesn't work
Without a considerable cut in future cash purchases of streaming content assets, itself enough to slow member growth, the economics of Netflix's operations fall short to justify its present valuation. Existing customers continue to want more and more, which will further burden the company's "cash-outlay" profile and drive increasingly more negative free cash flow. Netflix's goal to now own more of its original programming will also add a higher-risk content "boom and bust" dynamic to its business model.
The company closed the year with ~75 million members, but most of these members, about 60% of them, continue to reside in the ultra-competitive US market. Netflix's fourth-quarter net adds in the US fell on a year-over-year basis, with the executive suite admitting that its "high penetration in the US seems to be making net additions harder than in the past." First-quarter 2016 net adds are expected to fall more than 20% on a year-over-year basis, but even if the company's blockbuster Making a Murderer documentary series, released in late December, facilitates a beat, it may only set up the company for net member losses come early 2017 as a result of difficult comparisons.
In light of its severe overvaluation, negative operating cash flow generation (and worse free cash flow performance), and substantial financial leverage, we believe any net member losses in the US, an eventuality in our opinion, will stimulate a mass exodus in the equity, if not then than before in advance of further deteriorating business economics. The company's business model isn't working - net cash content costs are too high to generate economic value (profit), and cutting content costs will only result in economic suicide as growth fades.
4. Netflix's product underwhelms
As Netflix reaches to connect with the incremental member, we believe a better assortment of inventory will almost surely be needed. Creating high-cost, low-ROI internal content may enamor some in the near term, but a more comprehensive library collection may be required to capture each subsequent cohort of new adds.
A search on Netflix for "Matt Damon" pulls up four digital choices, "Tom Hanks" offers five ideas, "Bill Murray" one, "Leonardo DiCaprio" four, while a search for "Bradley Cooper" results in a seven ideas. In aggregate, there are a total of 21 movies associated with these male superstars. Matt Damon has acted in 74 movies, Tom Hanks 79 movies, Bill Murray 80 movies, Leonardo DiCaprio 37 movies, and Bradley Cooper 54 movies. Netflix has ~6.5% of the movies that these gentlemen starred in, hardly a collection to choose from.
It gets worse. A search for "Meg Ryan" produces three ideas, "Grace Kelly" one, "Emma Watson" one, "Jennifer Lawrence" two, and "Sandra Bullock" two, good for 8 digital titles to choose from. Meg Ryan has acted in 48 movies, Grace Kelly 30 movies, Emma Watson 21 movies, Jennifer Lawrence 20 movies, and Sandra Bullock 52 movies. That's a 4.7% hit rate on some of the most famous actresses, setting most users of Netflix up for disappointment.
Out of the ten highest grossing movies in 2014, for example, a list that includes X-Men: Days of Future Past and The Hobbit: The Battle of the Five Armies, not one title is available for digital streaming, while a couple aren't available at all, even with an upgrade to unlimited DVDs. Out of the 10 most watched movies of all time, a list that includes Titanic and E.T., only a few are available at Netflix and by DVD only.
For true movie-buffs, Netflix falls incredibly short. Amazon Prime, on the other hand, allows for the immediate purchase of offerings not included in the subscription for a couple dollars. Amazon is also generating its own content, with The Man in the High Castle receiving critical praise, setting up for another season. On the other hand, creating another blockbuster like Making a Murderer will be nothing short of difficult for Netflix given its "one and done" nature. Many recent Netflix members may have signed up just for that documentary series and plan to cancel in light of the weak digital movie content library.
5. Credit markets are tightening
In its fourth-quarter press release (page 6), management noted that its bonds "trade like a BB credit (vs. their single B rating)," and we believe the only reason for this rests in an equity pricing dynamic that is far removed from its underlying fundamentals ("low debt to market cap ratio"). We would expect, in the event of a collapse in Netflix's shares to see its bonds come to greater reflect their inherent risk prospects as the "option" value of raising equity at irrationally overpriced levels erodes, further complicating the company's ability to then raise debt capital "in late 2016 or early 2017," which management has outlined it plans to do.
We see very little justification for Netflix's equity to garner a market capitalization of $37.4+ billion, and we think the likelihood of a collapse in shares has grown increasingly more so given ever-widening spreads in high yield. The company may be setting up to be one of the worst equity performers in coming years should credit markets balk at its "true" leverage metrics and equity investors grow concerned about its negative free cash flow proposition, deteriorating competitive position and negative-IRR cash costs related to streaming content acquisition.
The end game doesn't look good for Netflix equity holders. The low end of our fair value range is in the low-$60s, but it can get far worse than those levels (source: Valuentum's 16-page valuation report). We're staying far away from shares.
This article or report and any links within are for information purposes only and should not be considered a solicitation to buy or sell any security. Valuentum is not responsible for any errors or omissions or for results obtained from the use of this article and accepts no liability for how readers may choose to utilize the content. Assumptions, opinions, and estimates are based on our judgment as of the date of the article and are subject to change without notice. For more information about Valuentum and the products and services it offers, please contact us at info@valuentum.com.
Disclosure: I/we have no positions in any stocks mentioned, and no plans to initiate any positions within the next 72 hours.
I wrote this article myself, and it expresses my own opinions. I am not receiving compensation for it. I have no business relationship with any company whose stock is mentioned in this article.
Additional disclosure: GOOG/GOOGL is included in the Best Ideas Newsletter portfolio.