Goldman Sachs (NYSE:GS) became the latest financial company to tap the preferred market with today's Series N perpetual preferred stock.
The details of the offering are:

A look at the entire Goldman Sachs preferred stock complex shows that this new issue, relative to other Goldman preferreds allows investors to get a higher yield than the other outstanding issues. The yield will be even higher if you get in at a discount, which is what normally occurs until the issue trades on the NYSE.

Click to enlarge
Note that I said this new issue allows investors to get a higher yield, and not that the new issue is attractive relative to other preferreds within the complex. Why?
Notice that GSpK is a variable rate security. Specifically, this is a fixed to float security that has a dividend rate of 6.375% until 5/10/2024 where, if it is not redeemed, it will float at 3m LIBOR +3.55%. This has the effect of shortening the duration and hence the interest rate sensitivity. The cost for this benefit - approximately 3 basis points (probably closer to 13 basis points with a discount) in yield and $0.50 or so above par.
As the chart below shows, the new issue has a similar yield to other preferred stocks issued by Goldman, but as noted above, yield is not the determining factor.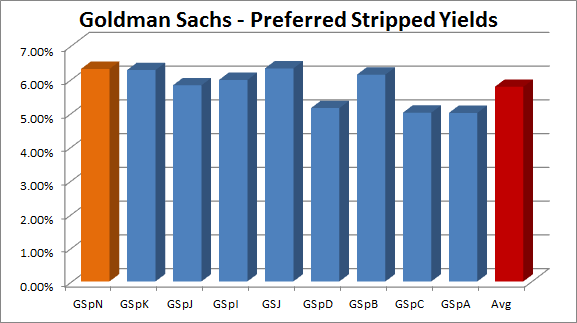 Next, we have to compare this issue against preferred stocks of Goldman's peers:

Click to enlarge
As the table above shows, the yield on the new issue is comparable to many of the preferred stocks of their peers. The Citigroup (NYSE:C) Series J, however, is similarly rated, has a higher yield and has a fixed to float structure. Likewise, the Morgan Stanley (NYSE:MS) Series I is also similarly rated, trades below par, has a fixed to float structure and a higher yield. Of the three, I prefer the Morgan Stanley Series I preferred as I believe that it has a solid business profile, strong capital (fully loaded Basel III of over 14% vs GS 11.70% and C of 12%), diversified revenue sources (wealth management is 40% of operating income) and, of course, an attractive fixed to float preferred stock.
The following chart shows the stripped yields of the peer group.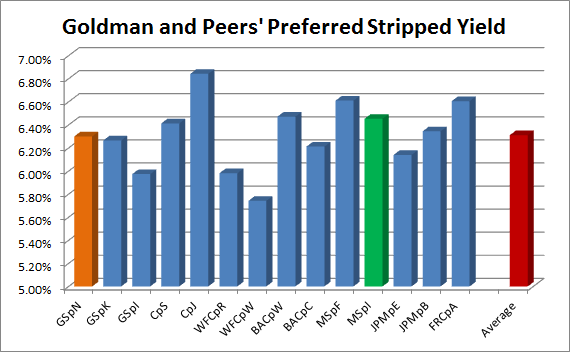 As the above chart shows, the Citigroup Series J and the Morgan Stanley Series I have more compelling yields and structures (as earlier noted).
Next, a look at the yield premium an investor receives for giving up ownership and growth: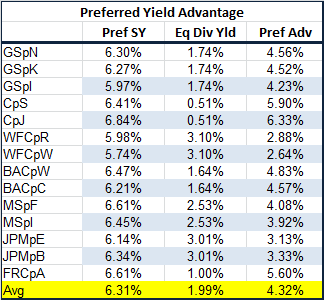 Again, the Citigroup J gives investors the greatest yield advantage, but that is merely due to the depressed equity yield.
Graphically: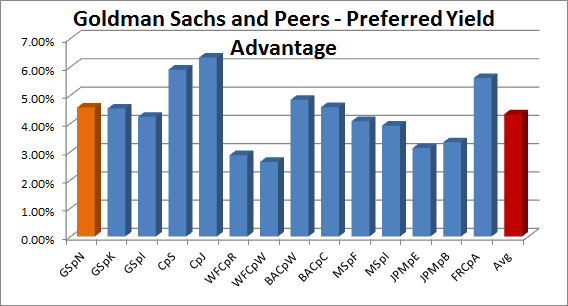 Finally, a view of the equity of the peer group: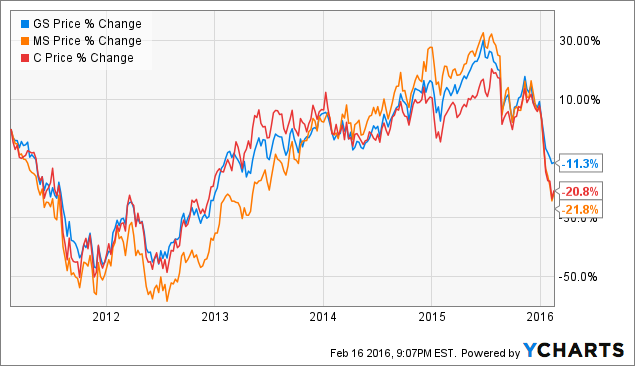 Bottom Line: Goldman's new issue is attractive, but investors can do better. I suggest looking at the GSpK, MSpI or CpJ instead.
Disclosure: I/we have no positions in any stocks mentioned, and no plans to initiate any positions within the next 72 hours.
I wrote this article myself, and it expresses my own opinions. I am not receiving compensation for it (other than from Seeking Alpha). I have no business relationship with any company whose stock is mentioned in this article.