On Tuesday afternoon, Warren Buffett's holding company Berkshire Hathaway (NYSE:BRK.A) (NYSE:BRK.B) filed its quarterly Form 13F with the Securities and Exchange Commission that showed a new 26.5 million share position in the beaten-down pipeline giant Kinder Morgan (NYSE:KMI). Furthermore, earlier on Tuesday, David Tepper's hedge fund Appaloosa Management LP filed its quarterly Form 13F that revealed a nearly 9.5 million share position in Kinder Morgan in addition to a small holding of warrants. Appaloosa Management LP also bought shares of a number of other pipeline and energy firms. While both of these investors' positions are small in comparison to Kinder Morgan's $37.4 billion market cap, they do represent meaningful dollar-size positions and confidence in the firm's future. Kinder Morgan has shown resilience since it announced its massive dividend cut back in December, yet the firm has shown its commitment as a prudent steward of shareholder capital and a desire to produce long term value. These buys from Q4 of last year signal major institutional interest in Kinder Morgan and should provide meaningful support to its shares as reputable investors with a strong history of outperformance have bought stakes.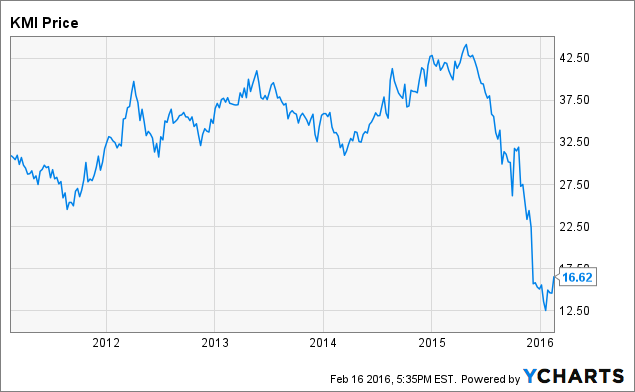 Berkshire Hathaway's purchase of Kinder Morgan shares is not the firm's first foray into the midstream arena. Through Berkshire Hathaway Energy, the conglomerate's holding company, the firm owns Northern Natural Gas which a Berkshire Hathaway subsidiary bought from Dynegy in 2002 amidst industry turmoil and the fallout from the Enron accounting scandal. In fact, Northern Natural Gas was actually owned by Enron before Dynegy. Nevertheless, while Warren Buffett and Berkshire Hathaway have typically focused on stakes of major integrated oil firms, the firm has gained some press for its sizable and relatively successful stake in Philips 66 (NYSE:PSX). Through Berkshire Hathaway, Warren Buffett has gained a reputation as a prudent long term investor and his new stake in Kinder Morgan confirms the thesis that many hold: Kinder Morgan will bounce back.
In contrast to Warren Buffett and Berkshire Hathaway, David Tepper has taken a more broad-based approach to investing in the midstream sector through Appaloosa Management LP. In addition to its stake in Kinder Morgan, the hedge fund now owns stakes in competitors including Energy Transfer Partners (NYSE:ETP) and Williams Partners (NYSE:WPZ). Appaloosa Management LP also owns stakes in a few midstream CEFs and energy E&P firms. While the energy industry was one of the worst performing sectors in 2015, David Tepper clearly sees value in the sector and once oil prices rebound, Kinder Morgan and its peers should outperform.
Of course, while the recent share purchases by Warren Buffett and David Tepper do not impact the underlying fundamentals of Kinder Morgan's business, which remain pressured, they will likely go a long way towards restoring investor confidence. When Kinder Morgan saw the capital markets freeze up at the end of last year, it was forced to cut its dividend to preserve capital. This issue was exasperated by the fact that its share price as well as its peers was in free fall and investors did not want to be on the other side of that. The firm's share price has since stabilized although oil prices remain depressed. There has been discussion of Kinder Morgan and the midstream industry's exposure to E&P bankruptcies and debt restructuring as these mechanisms could create the opportunity for a renegotiation of pipeline contracts. Kinder Morgan remains in a rather strong position here as the firm controls its pipeline system and the contracts it engages in are binding. In bankruptcy, Kinder Morgan would not necessarily be required to renegotiate and in many cases the counterparty would have very limited midstream and transportation opportunities without the pipeline company.
Tuesday's news about new ownership stakes in Kinder Morgan are important for the Kinder Morgan story as reputable and high quality investors clearly see value amidst the ongoing turmoil. So long as oil and natural gas prices remain depressed the midstream industry will be constrained as some its customers are under significant financial pressure. In a turnaround, Kinder Morgan should be well positioned to outperform as prudent capital considerations such as the recent dividend cut have put it on a path to a healthier balance sheet. Kinder Morgan owns an incredibly extensive pipeline network that is an integral part of the energy ecosystem in the United States and major institutional investors see value.
Disclosure: I/we have no positions in any stocks mentioned, and no plans to initiate any positions within the next 72 hours.
I wrote this article myself, and it expresses my own opinions. I am not receiving compensation for it (other than from Seeking Alpha). I have no business relationship with any company whose stock is mentioned in this article.