Realty Income (NYSE:O) is back at it again, hitting all-time highs. Of course, that means there are an epic number of articles on Seeking Alpha, most writers suggesting it's time to dump shares in "The Monthly Dividend Company."
I'm not throwing rocks, and these recent sellers, like most investors, have learned the famous words sung by Kenny Rogers in the movie, The Gambler.
You've got to know when to hold 'em
Know when to fold 'em
Know when to walk away
And know when to run
It's clear to see a line beginning to form - out the exit door - as Realty Income's share price and valuation is no longer deemed cheap, at least that's what many are saying. Recently Seeking Alpha writer, Dividend Sleuth, announced he had begun "to gradually trim the position"... and finally "closing the position on February 12."
You'll get no argument from me related to Dividend Sleuth's decision to sell O. There's absolutely nothing wrong with cashing in a stack of chips to redeploy funds into better opportunities.
However, I will not be walking away from Realty Income anytime soon. In my article today, I will explain why I'm maintaining a Strong HOLD, and in the words of Rogers,
You never count your money
When you're sittin' at the table
There'll be time enough for countin'
When the dealin's done.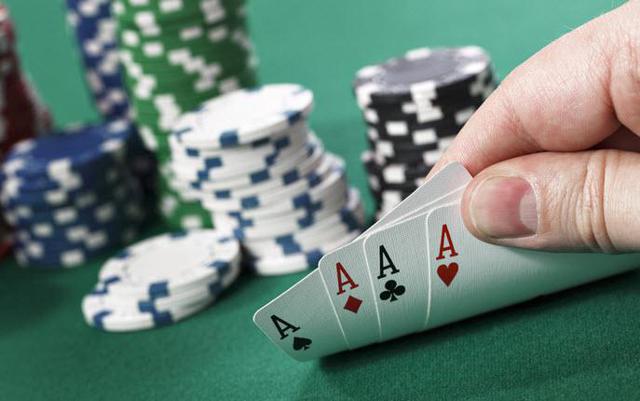 Click to enlarge
I'm Not Pulling Up The Anchor
My initial investment in O was on August 20, 2013, and since that time shares have returned 68.29%.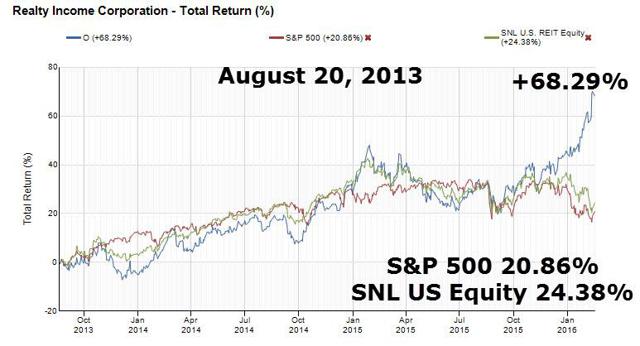 Click to enlarge
Then a few months later, on January 13, 2014, I purchased more shares in O (that have since returned 72.68%).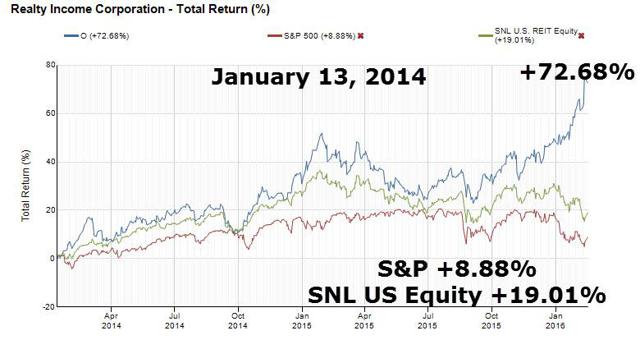 Click to enlarge
Then in August 25, 2015, I topped off my over-weight exposure in O and since that time, shares have returned 37.66%.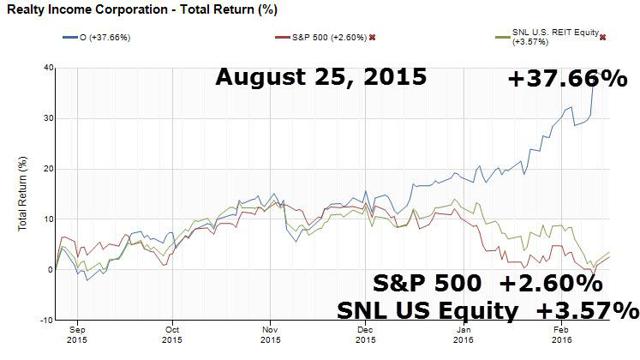 Click to enlarge
As you can see, I am pleased to be a shareholder in O as my super-sized exposure has delivered "Big Mac" returns. With such a large stack of chips sitting in front of me, I am sure you are scratching head and saying, "why isn't Thomas walking away now?"
Remember, I worked hard to establish my anchor position in O, and part of my success was due to my tactical value investor skill-set in which I was able to take advantage of the mis-pricing of O shares and purchase at a sizable margin of safety. Today O is yielding 4%, but my average yield on cost (for all of my purchases) is 5.4%.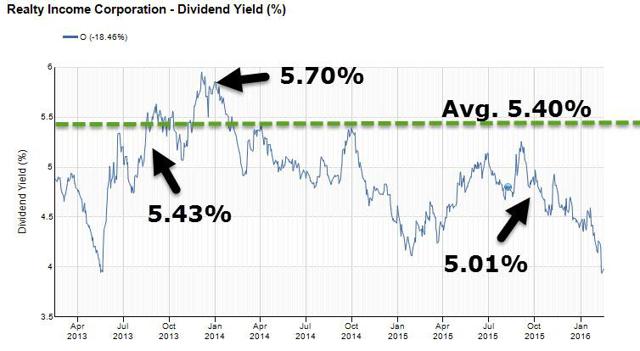 Click to enlarge
As I sit at the table, pondering the large stack of O chips, I contemplate the benefits of taking profits. While the most obvious one - sitting on cash in troubled economic times - is appealing, I cannot come to terms with walking away from such an attractive yield. Simply said, where else can I get 5.4% backed by such a stalwart dividend payer?
A Stalwart Dividend Brand
Stalwart.
I use that term a lot in my writing, especially when I refer to a blue chip REIT or a stock that has all of the ingredients to help me "sleep well at night." Here's how Merriam-Webster defines "stalwart":
marked by outstanding strength and vigor of body, mind, or spirit
As such, the strength of O's durable business model is collectively made up of over 5,300 free-standing net lease properties spread across 49 states and Puerto Rico. There's really no "true" peer as O has evolved (since 1994) into a giant financier of stand-alone buildings. Here's a snapshot comparing O's market cap to the related REITs:

Click to enlarge
Much of the power behind O is in its highly diversified platform. As you can see below, O has limited exposure to one company and the top 5 tenants are Walgreens (NASDAQ:WBA), FedEx (NYSE:FDX), Dollar General (NYSE:DG), LA Fitness, and Dollar Tree (NASDAQ:DLTR).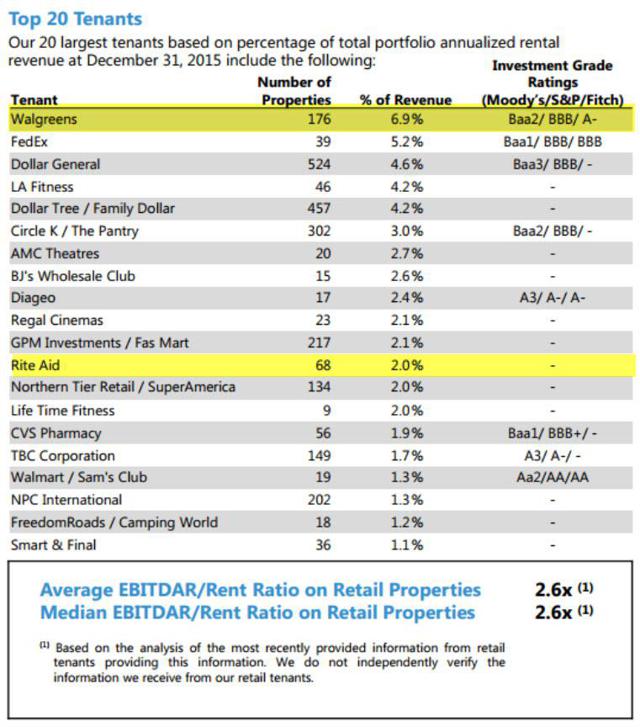 Click to enlarge
It's important to acknowledge that Walgreens is pursuing the acquisition of Rite Aid and that closing should take place later this year. At that time, O will have around 9.9% exposure to Walgreens and that is a risk I will point out.
However, the likelihood of a credit downgrade for Walgreens (to BB+) is minimal and I believe it's more likely that Walgreens will maintain its investment grade rating and O's exposure to Rite Aid (soon Walgreens) will be a plus as 2% (exposure) will be investment grade rated.
Currently, O has 44% investment grade rated tenants (will be 46% once RAD/WAG closes). IG-rated is defined as tenants with a credit rating if Baa3/BBB- or higher from one of the three major rating agencies.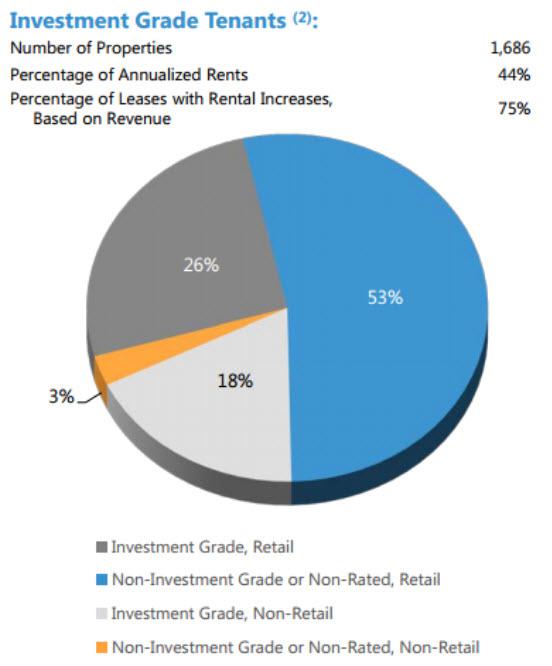 One other powerful diversifier for O is its industry diversification.
It's true, Omega Healthcare Investors (NYSE:OHI) is a cheaper security today - based on P/FFO and dividend yield metrics - however, this healthcare REIT has considerable exposure to "headline risk" (i.e. Department of Justice fines related to skilled nursing operators). Within the healthcare REIT sector there are three giants - Ventas (NYSE:VTR), HCP (NYSE:HCP), and Welltower (NYSE:HCN) - and when any one giant stubs his (or her) toe, the others feel the pain.
See my recent article on OHI here.
For O, there is just one giant in the Net Lease world, no others. In addition, this stalwart REIT has a much more balanced composition of industry diversification. Here's a snapshot of O's retail industries: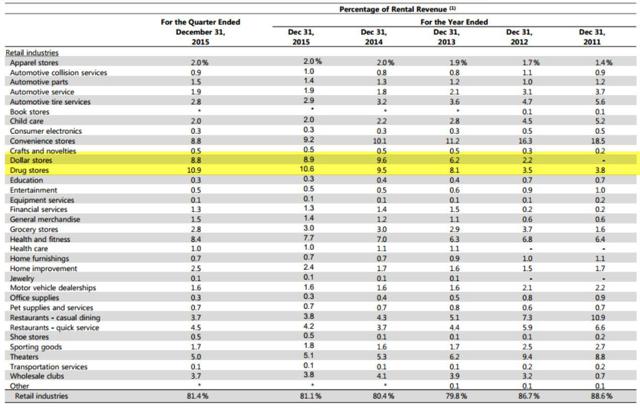 Click to enlarge
Here's a snapshot of O's non-retail industries: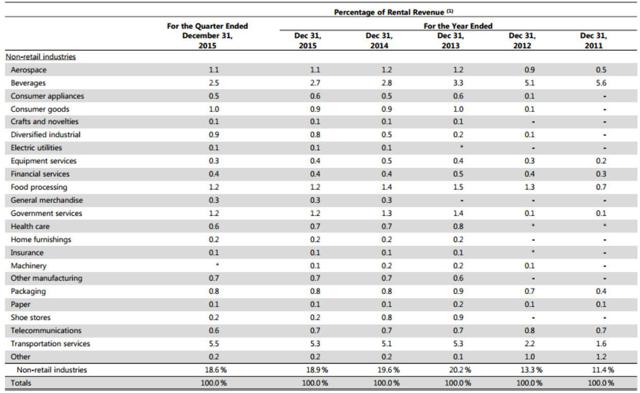 Click to enlarge
As of the latest reporting period (Q4-15), O owned 4,378 retail properties (79% of revenue), 101 industrial properties (12.8% of revenue), 44 office properties (6.1% of revenue), and 15 agriculture properties (2.1% of revenue).
Keep in mind that a majority (91.3%) of O's office properties are leased to investment grade tenants. Also, around 82.6% of O's industrial buildings are leased to investment grade tenants.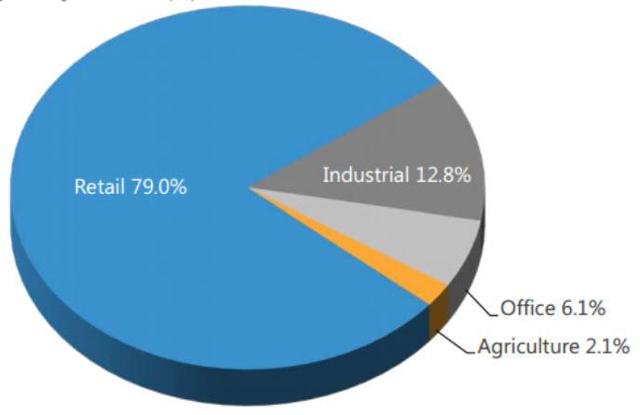 Click to enlarge
The Low Cost Advantage
One of the primary reasons that I own O is because of the company's strategic focus on maintaining consistent profit margins. As Warren Buffett famously said (Fortune 1999):
The key to investing is …determining the competitive advantage of any given company and, above all, the durability of that advantage. The products or services that have wide, sustainable moats around them are the ones that deliver rewards to investors.
As any intelligent investor would agree, the key to finding great businesses is to identify a "wide moat" - by looking for companies that are able to fend off the competition by earning high returns on capital for many years.
O is one such moat-worthy brand that manifests itself - pricing power or repeat business translates into sustainable economic profits. It's because of O's powerful pricing power that the stalwart REIT has enjoyed long-term sustainable advantages.
First off, let's take a look at O's balance sheet.
As you can see below, O's total market capitalization is $19.216 billion, of which 4.845 billion is debt and $13.371 billion is equity. The total debt to total market capitalization is a conservative 26.6%.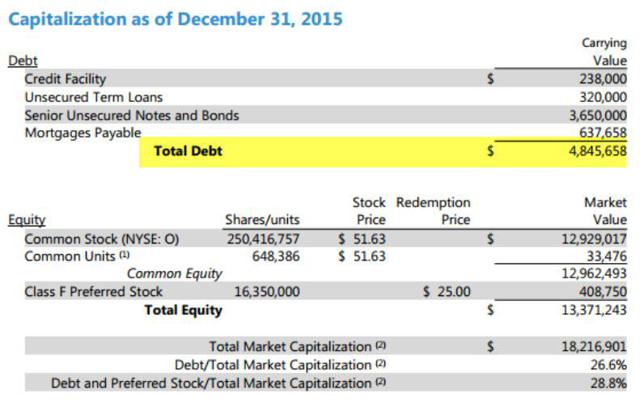 Click to enlarge
In October, O raised $517 million in net proceeds in a common stock offering used to pay down all outstanding borrowings on the unsecured revolving credit facility. This $2 billion credit facility today has a current balance of $370 million.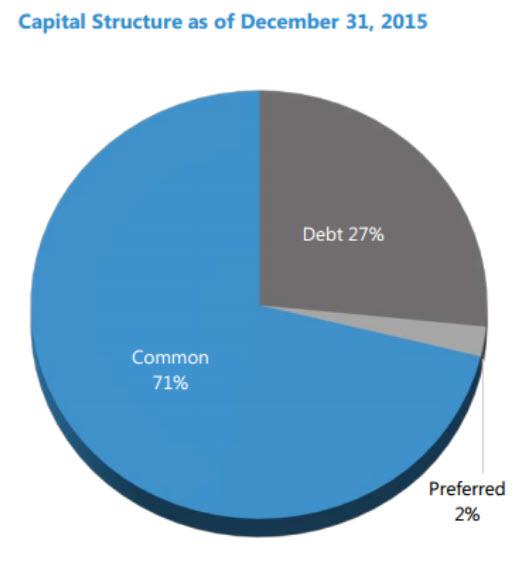 Other than the credit facility, the only variable rate debt exposure is on just $15.5 million of mortgage debt. O's overall debt maturity schedule remains in very good shape with only $170 million in mortgages and $275 million of bonds coming due in 2016 (the maturity schedule was well laddered thereafter).

Click to enlarge
O's debt to EBITDA ratio stands at approximately 5.1x, and is only 5.5x inclusive of preferred equity.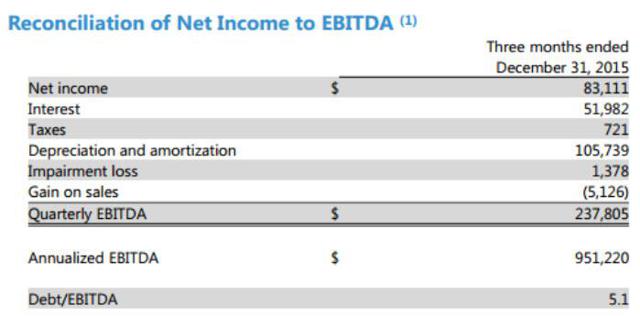 Click to enlarge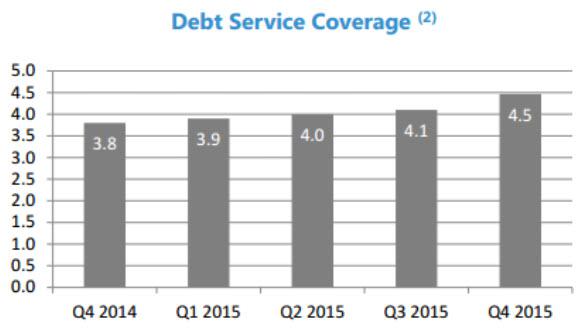 O's coverage ratios remain strong, with interest coverage at 4.5x and fixed charge coverage at 4.0x. The fixed charge coverage is the highest it has been in over ten years.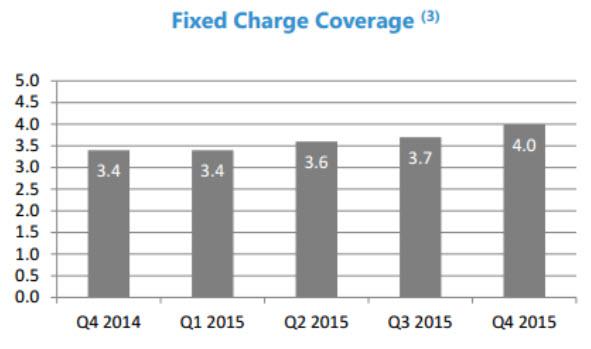 In 2015, O raised approximately $1.2 billion in equity capital, positioning the company well entering into 2016. The company is now at the lowest leverage levels in ten years validating the "wide moat" components that protect the durable dividend fortress. As of December 31, 2015, O had available liquidity of over $1.8 billion.

Now clearly O's great businesses model must already be well-understood by Mr. Market, hence the reason shares are now trading at prices that already reflect all the benefits of owning them. As I said at the outset, I am not suggesting investors should BUY shares at the current price level (~$60.00 range) but I am also not suggesting it's time to SELL (take all of my chips off the table).
In fact, my argument for staying parked (with a STRONG HOLD) is based upon the premise that O's fundamentals are stronger than ever. The company has extremely cheap currency and its overall cost of capital represents the proxy for any Net Lease REIT.
In previous articles, I have used the weighted average cost of capital (or WACC) formula to compute the "real time" borrowing cost for a company. To demonstrate O's "wide moat" business model, I prepared the model below: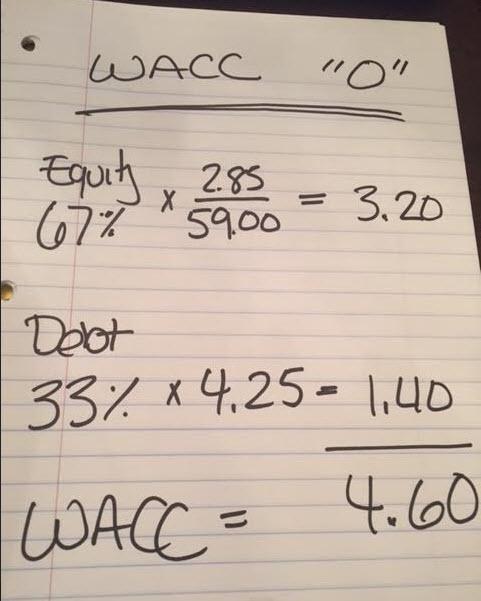 As you can see, O's WACC is around 5.9%.
Now let's compare that with recent deal flow. As you can see below, O closed on 251 deals in 2015 (includes 35 development deals) at a cash cap rate of 6.6%. Keep in mind, the company closed 104 deals in Q5-15 at an average cash cap rate of 7.1%.

Click to enlarge
Using the most recent cap rates (7.1%), O is generating spread of ~250 basis points. Keep in mind, the underlying assets being acquired are of the highest quality - O has the luxury of investing in the "crème de la cream" as it doesn't have to chase yield like some of the peers.
O could easily engineer the balance sheet in such a way that the profits would appear wider, but that would also mean that the company would have to sacrifice quality, and ultimately that would erode shareholder value.
So What Is Mr. Market Really Telling Us About O?
Last week (on Feb 11th), O's stock price jumped 5.88% after the company reported 2015 year-end results that analysts deemed strong and free of surprises. On the earnings call, Citi analyst Michael Bilerman asked executives if they had been considering using its relatively valuable currency to "shake the tree" of the company's competitors - that is, drive some public-to-public M&A.
CEO John Case said the company is "constantly looking" at entity-level acquisition opportunities. He added:
And given the multiple advantage we have relative to the sector today; it makes sense for us to consider those opportunities. But to transact you've got to have a willing, logical seller and a willing, logical buyer. So we'll see what may or may not happen on that front. But it's certainly something that we are considering.
Later on the call, UBS analyst Ross Nussbaum sought more color in the Q&A segment:
It sounds like, from some of your earlier comments regarding acquisitions and, in particular, M&A, it sounds like you are more open to M&A today than you have been in the recent past. You think that's a fair characterization?
Case responded by saying the acquisitions market is "a bit more interesting" today. He summed up:
But at the same time, I would say that we want to end up with assets that are consistent with our investment philosophy. So we're not signaling that we'd go out there and just to do a large transaction, take on assets that we consider to be of risk in the intermediate to long term.
As I began to ponder my out-sized exposure with O (and the strong returns for holding the shares around 2+ years), it became clear to me that Mr. Market is telling me something. I'll translate it for you:
Brad, O's moat is its cost of capital and the company has become the sole giant in a crowded net lease world. While others have tried to emulate the success (i.e. VER), most have failed because they were growing for the sake of growth, and not for the sake of investors.
Reading between the lines. O is knocking on the door and at some point I believe the company will transact a substantial M&A deal. Look at the history books: Simon Property Group (NYSE:SPG) has ballooned into a massive REIT by using its low cost of capital advantage to consolidate. Ventas, Inc. has also used its low cost advantage to become a dominant healthcare player.
So why hasn't O gone to work?
I suppose that the company is maintaining discipline by staying picky. O could have easily jumped on shares of Spirit Realty (NYSE:SRC), but remember the drama there (I'm still questioning why the move to Dallas - see my article here). Or perhaps, the Board members (at SRC) like their jobs (average total compensation to be on SRC's Board is just under $180k per year).
Also remember, no more "spin-co" deals now for C-corps, so O has substantial muscle to flex in the sale-leaseback world. Arguably, no other REIT (public or private) can compete with O's cost of capital, so there's simply an infinite number of combinations that could perpetuate the virtuous cycle for O to manifest itself as the premium net lease REIT.
No Margin Of Safety But A Strong Hold For Realty Income
In the latest quarter, O had solid fourth quarter which concluded an excellent year with annualized rental revenue exceeding $1 billion for the first time in the company's history. AFFO per share during the fourth quarter increased 4.6% to $0.68, and 2015 AFFO per share increased 6.6% to $2.74. Also, as announced, O reiterated AFFO per share guidance for 2016 of $2.85 to $2.90.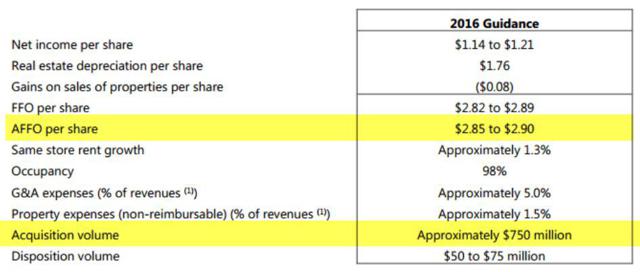 Click to enlarge
O's occupancy based on the number of properties was 98.4%, ten basis points higher than last quarter. Additionally, economic occupancy remains strong at 99.2%.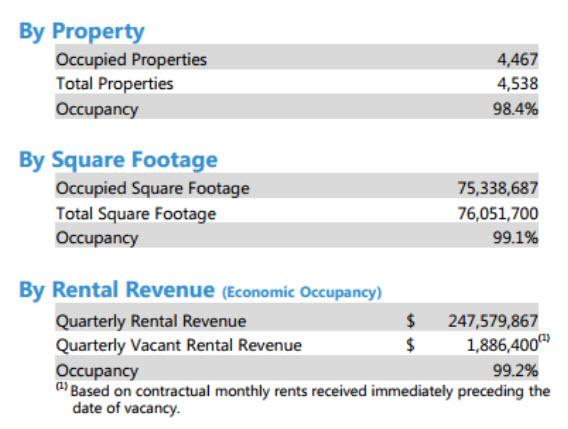 Also, O recently announced its 84th dividend increase, representing a 5% increase from the same period in 2015. The company has increased the dividend every year since listing in 1994, growing the dividend at a compound average annual rate of just under 5%. The AFFO payout ratio in 2015 was 82.9%.

Click to enlarge
O has quite a few analysts covering the company. My last count was 21 that's comprised of 5 Sells/Underperform, 5 Buys/Outperform, and 11 Neutrals. I suppose my "Strong Hold" falls into the Neutral bucket and as I said earlier, I cannot blame others for taking profits off the table.
Here's how O's P/FFO multiple compares with the peer group:

Click to enlarge
Here's how O's dividend yield compares with the peer group:

Click to enlarge
The Bottom Line: O is one of the best performing REITs I own (since the IPO, the company has returned an average of 17%) and it's evident that the stalwart REIT has a long history of creating value for shareholders. More importantly, O has become a much safer stock over time supported by enhanced diversification and percentage of investment grade rated tenants.
However, as much as I remain attracted to O's "sleep well at night" characteristics, I must remind you that valuation is an incredibly important aspect of investing - you could argue, the most important. While I am perfectly content with my exposure, I would not recommend investing in the blue chip brand at the current share price (of ~$60).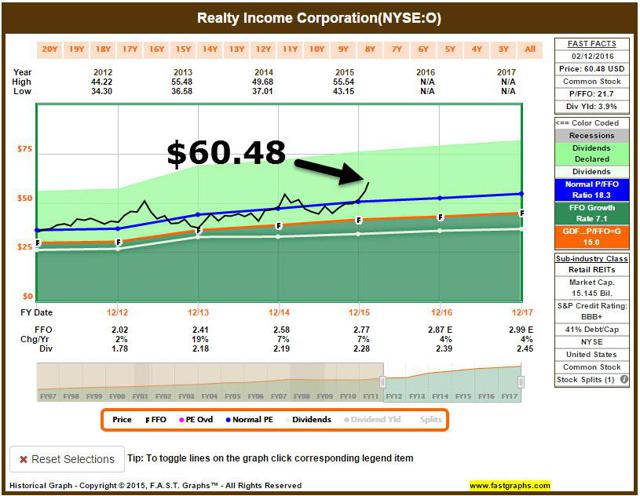 Click to enlarge
In closing, stocks that consistently offer high dividend yields - as long as those dividends are perceived to be sustainable - tend to fluctuate less than the overall market, leading to superior risk-adjusted returns.
That's precisely why Realty Income fits squarely within my Durable Income Portfolio and I will continue to increase exposure when there is a sizeable margin of safety, and of course, we all know by now, it's not today. As the Gambler reminds us:
There'll be time enough for countin'

When the dealin's done.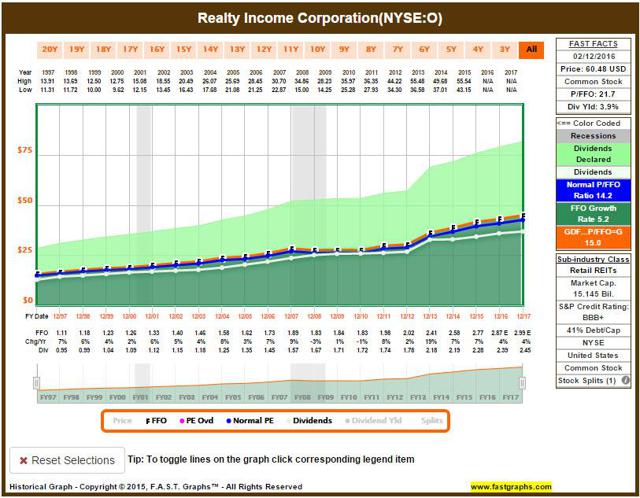 Click to enlarge
Author's Note: I'm a Wall Street writer, and that means that I am not always right with my predictions or recommendations. That also applies to my grammar. Please excuse any typos, and I assure you that I will do my best to correct any errors if they are overlooked.
Finally, this article is free, and my sole purpose for writing it is to assist with my research (I am the editor of a newsletter, Forbes Real Estate Investor), while also providing a forum for second-level thinking. If you have not followed me, please take 5 seconds and click my name above (top of the page).
The only guarantee that I will give you is that I will uncover each and every rock I can in an effort to find satisfactory investments that "upon thorough analysis promises safety of principal and satisfactory return. Operations not meeting these requirements are speculative." (Ben Graham)
Disclaimer: This article is intended to provide information to interested parties. As I have no knowledge of individual investor circumstances, goals, and/or portfolio concentration or diversification, readers are expected to complete their own due diligence before purchasing any stocks mentioned or recommended.
Source: SNL Financial, F.A.S.T. Graphs, and O Q4-15 Supplemental.
Disclosure: I am/we are long O, DLR, VTR, HTA , STAG, GPT, ROIC, HCN, OHI, LXP, KIM, WPC, DOC, EXR, MYCC, BX, TCO, SKT, UBA, STWD, CONE, BRX, CLDT, HST, APTS, FPI, CORR, NHI, CCP, WSR, CTRE, WPG, KRG, SNR, LADR, HCN, HCP.
I wrote this article myself, and it expresses my own opinions. I am not receiving compensation for it (other than from Seeking Alpha). I have no business relationship with any company whose stock is mentioned in this article.