Colony Financial Inc. (CLNY) is a commercial mortgage REIT formed in Sept. 2009. It is focused on acquiring, originating, and managing commercial real estate mortgage loans and other real estate related debt at attractive risk adjusted returns. The commercial real estate market has been heating up lately. With all of the people who have vacated their homes during the crisis, rents are going up. With an improving business environment, rents in business buildings are going up. Plus there is more interest in purchasing business facilities. Even the residential real estate market itself has been showing signs of stabilizing. CLNY should profit from all of the above.
A big sign that times are improving for CLNY is the level of short interest in the stock. From Dec. 15, 2011 to Dec. 30, 2011 the short interest in CLNY decreased -55.5% from 3,609,673 shares short to 1,606,859. It decreased further in January to 1.38M share by Jan. 31, 2012. Given that short sellers are some of the savviest investors, this huge decrease in short interest is a big vote of confidence for CLNY. The fact that there have been no insider sales in the last six months is another encouraging sign.
The current price of CLNY is $17.00. At this price the annual dividend of $1.36 yields 8.0%. It trades at a PE of 11.05 and an FPE of 9.19 (for the 2012 fiscal year). It is forecast to grow 21.70% in FY2012, and it has a five year EPS growth estimate of 6.00%. It even trades at a discount to book value. I won't print that here because it will likely change with the upcoming earnings announcement on Mar. 6, 2012 after the market close. However, the discount is roughly 10% to the adjusted book value as of the end of Q3 2011.
One good thing about this company is that it has no legacy assets. All investments were acquired or originated after Sept. 2009. This means CLNY had the opportunity to apply higher standards to all of its loans and investments. As of Nov. 11, 2011 CLNY was participating in 31 Colony Capital sourced investments representing $2.3B in equity deployment of which $635M was CLNY's. CLNY's investment portfolio contains current yield distributed through regular dividends and incremental capital appreciation potential through realizations of discounted loan purchases, restructurings, and occasional loan to own opportunities.
CLNY has lower leverage than other mortgage REITs without dependence on CMBS or repo financing markets. This plus its more senior position in many cases provides a greater cushion to endure a low growth or light recessionary economy than other mortgage REITs. If you are being conservative, this may be a mortgage REIT that you want to own. It is forecast to grow earnings significantly in 2012 (21.7%). If the mortgage markets continue to improve, the numbers for 2013 may soon be adjusted upward.
We'll have to wait on that. CLNY also gets opportunities and expertise in a drop down manner from its sponsor, Colony Capital. For a new company this is not insignificant. It means the management experience is there.
The following table gives a list of CLNY's target investments.
click to enlarge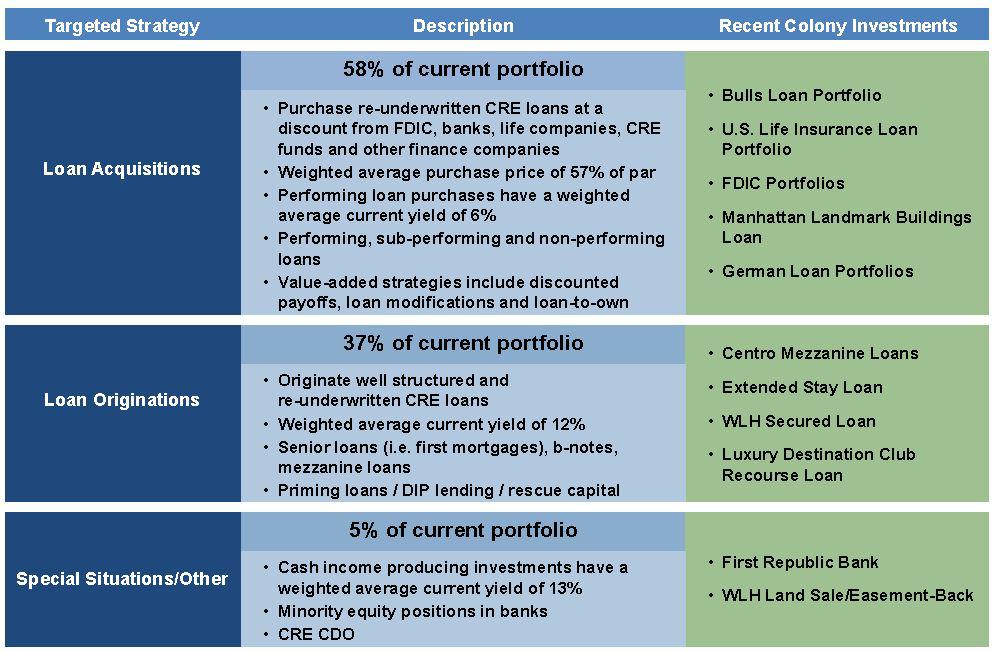 As you can see from the table above, CLNY has a well designed and conservative investment strategy that should yield great returns. The table below gives a more exact description of CLNY's investments.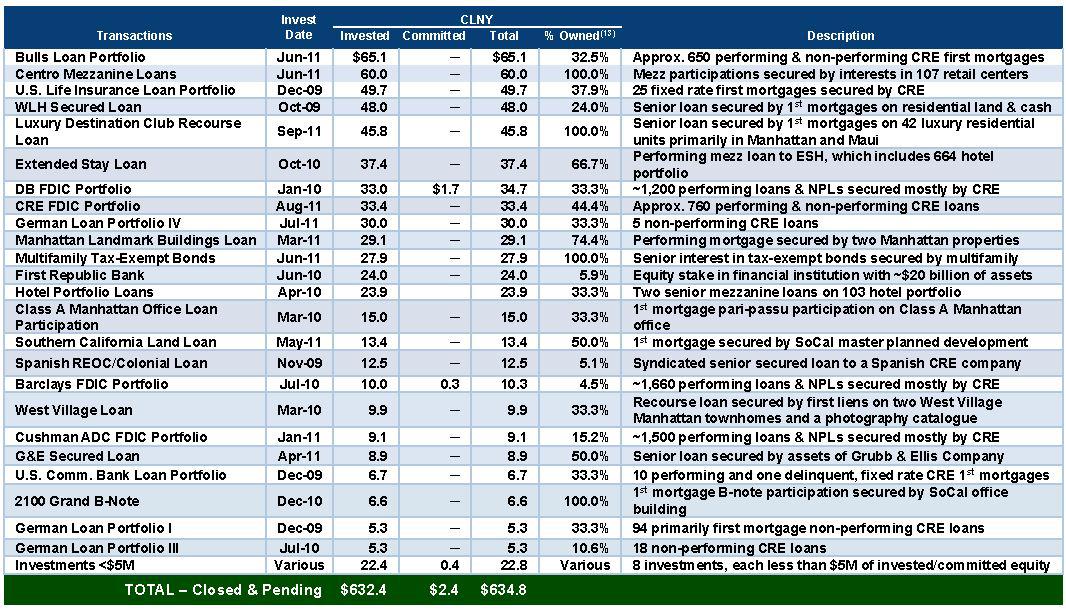 These investments have a variety of rates of return. They generally range from about 8% to 15%, although some of the discounted loans purchased have a much higher possible rate of return with consequently more risk. Overall CLNY is one of the lower risk REITs, and it can be bought with a possible light US recession as a consideration.
The two year chart of CLNY provides some technical direction for this trade.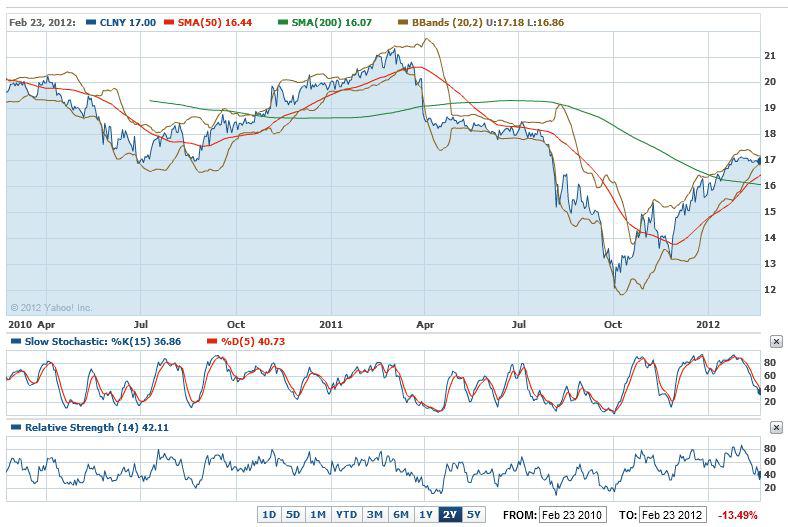 The slow stochastic sub chart and the relative strength sub chart both show that CLNY is approaching over sold levels. The main chart indicates that CLNY was hit hard in Q3 of last year by investors who were afraid of the EU credit crisis. The EU credit crisis is still around. However, CLNY's portfolio only includes CRE in Germany (other than US holdings). This means it is likely to survive the EU credit crisis with little or no damage. The huge short covering by investors who had been shorting the stock indicates that even the nay sayers no longer believe CLNY has big problems.
The more than 60% short covering actions in the last two months are about as strong a vote of confidence as you can get. The main chart reflects this. The still high level of short interest means there will probably be significantly more short covering in the next few months. This should help to drive the price of the stock higher. The high last year was $21.32. CLNY could very possible reach or exceed that this year.
Such a move would be about a 20% move upward on top of your already great dividend of 8%. The 50-day SMA has recently crossed the 200-day SMA heading upward. This is usually taken as a buy sign. The company does look like it has "convinced the market" that it has value. There is every possibility that you will be able to get a great dividend of about 8% and 10% to 20% (or more) growth in the stock price from CLNY this year.
As a slight caveat, the overall market is over bought at this time. It could turn downward at any time. If it did, CLNY with a Beta of 0.95 would likely follow it downward. Averaging in is probably a good strategy, if you decide to pursue this investment. CLNY has outperformed other comparable REITs recently. The comparables are Kilroy Realty Corp. (NYSE:KRC) and Mack-Cali Realty Corp. (NYSE:CLI). The comparison chart is below.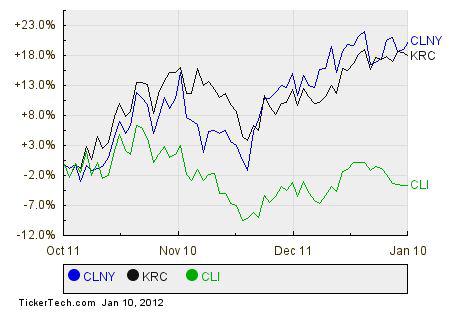 Good Luck Trading.
Disclosure: I have no positions in any stocks mentioned, but may initiate a long position in CLNY over the next 72 hours.