When it comes to REITs, it is a whole new ballgame. Though in essence REITs are purchased as an equity or debt investment, this industry has an asset class of its own - real estate. Today, we will not talk about some quick flip course or a book that will change your life, but we will discuss if an investment in HCP is merited.
HCP is a REIT focused on the healthcare industry. Its property portfolio consists of senior housing, post-acute/skilled nursery, life science, medical office, and hospitals. The company has been public since 1985, making it the first healthcare REIT to join the S&P 500, and has increased its dividend for 31 consecutive years.
For the last 5- and 10-year periods, HCP (including dividends) has performed in a regular and decent manner.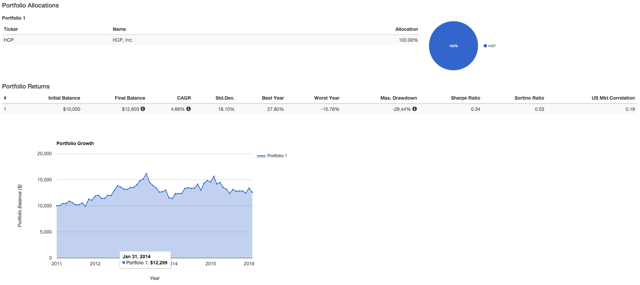 Click to enlarge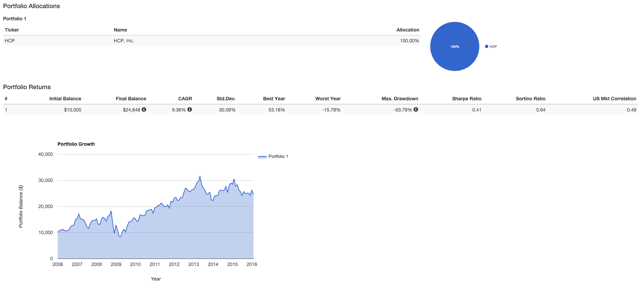 Click to enlarge
(Source: Portfolio Visualizer)
Having these returns provided gives a sense of how HCP has performed in the past. Though this does not guarantee future returns, it does demonstrate that past management has been competent.
Why buy HCP when there are so many options?
On February 9, 2016, HCP released its 4Q and FY 2015 results along with its 2016 outlook. The results released beat expectations, but the 2016 outlook disappointed mainly due to its largest tenant, HCR Manorcare, which is going through difficult times along with the industry - Post-Acute/Skilled facilities. The reduction in price has placed HCP's dividend yield north of 8%.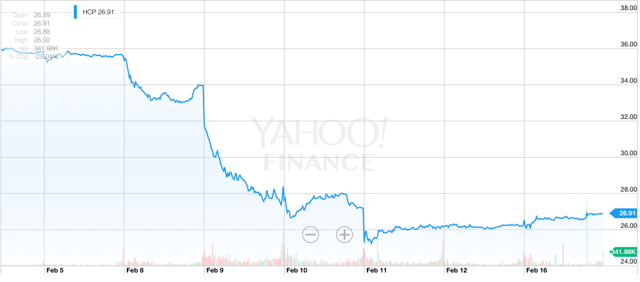 Click to enlarge
(Source: Yahoo Finance)

(Source: Schwab)
Currently, HCR Manorcare represents ~26% of HCP's revenue, and it is the reason the stock has taken a beating.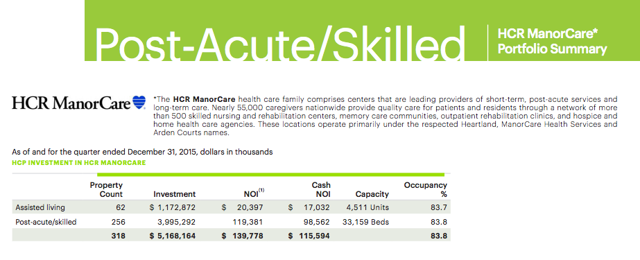 Click to enlarge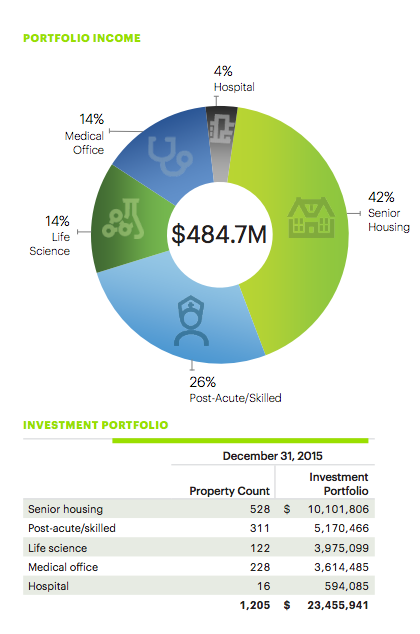 (Source: HCP 4Q15 Investor Presentation)
As days have passed and the company's shares have continued trending downward, insiders have scooped up shares of HCP.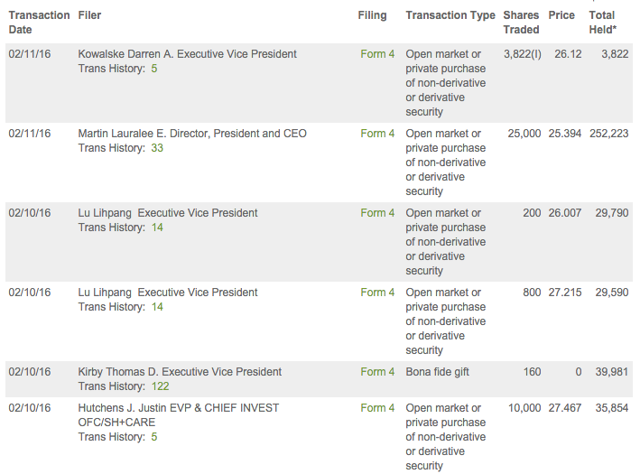 Click to enlarge
This clearly demonstrates the executives' commitment to deliver value to shareholders and acknowledgement of value in the company's shares.
(Source: HCP 4Q15 Investor Presentation)
Also, HCP has shown discipline over the years to maintain a prudent capital structure irrelevant of the economic cycle it's currently situated in.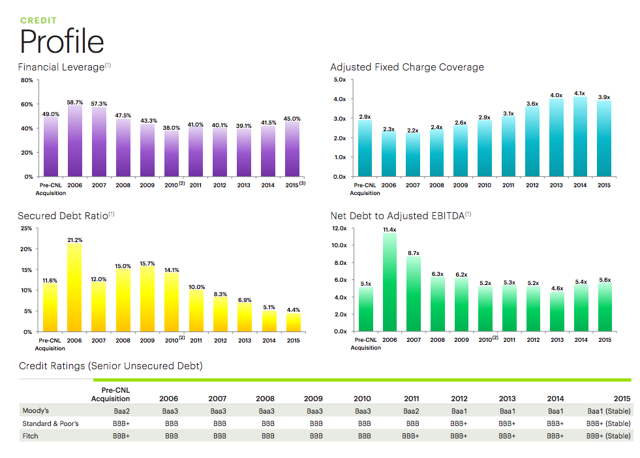 Click to enlarge
(Source: HCP 4Q15 Investor Presentation)
Conclusion
The reduction in HCP's stock price is evidenced by the influence HCR Manorcare has on its portfolio and its financial results. Interestingly, the product/service HCP provides is demanded and necessary - real estate. This allows the REIT to replace its tenants upon lease expiration or breach of contract, even though it is in HCP's interest to honor and fulfill its agreements.
Over long periods of time (10+ years), the company has rewarded its shareholders, focused on its expertise (healthcare REIT), raised dividend for 31 years, and maintained discipline in its capital structure.
In the short term, its shares may go up or down, but if history of real estate and the companies were used as a guide, the odds are that in the long run HCP will reward shareholders, and in the near term a return to its previous price is more probable than for the price to continue trending downward. Just like I mentioned in the article title, HCP is a Buy.
Additional Disclaimer: This post is solely my opinion and data and information contained is not intended to be investment or tax advice. A reference to a particular investment or any observation provided in is not a recommendation to buy, sell, or hold or to make any other investment decision. If you seek advice or counseling regarding your finances or investments, please consult a professional. Investing is risky and adequate precaution should always be taken. We don't take any responsibility for your investment or other action nor we have any liability for the accuracy of the information provided. We make no representation about the suitability of the information contained herein. Past performance is not indicative of future results.
Disclosure: I/we have no positions in any stocks mentioned, but may initiate a long position in HCP over the next 72 hours.
I wrote this article myself, and it expresses my own opinions. I am not receiving compensation for it (other than from Seeking Alpha). I have no business relationship with any company whose stock is mentioned in this article.