Our Top Takeover Target of 2016 Enters into Merger Agreement with an Unexpected Bidder
In December we published our top five takeover targets for 2016. Only six weeks into the year, we are pleased to report that our highest-conviction takeover target, ITC Holdings (NYSE: ITC), entered into a merger agreement with Fortis (OTCPK:FRTSF, TSX: FTS) on February 9th. Fortis is a leading electric and gas utility company in North America, serving over 3 million customers. The company will pay a cash and stock consideration to ITC Holdings worth $44.90 per share. This amount is within the estimated fair value we provided in December of $44-47 per share and represents an $11.3 billion valuation of ITC Holdings. Our view on a possible transaction can be summarized in the following statements from the fourth quarter of 2015:
"We believe a transaction is likely at $44-$47 per share, as strategic bidders National Grid, Iberdrola, and Berkshire Hathaway participate in competitive bidding."

- Transcend Event Driven Research, December 2, 2015
"ITC Holdings is our highest conviction takeover target….a transaction is in the best interests of both ITC Holdings shareholders and an acquirer such as Berkshire Hathaway. With the stock now trading at $38.67, we believe there is still plenty of upside, as much as 20%, if a transaction at an earnings multiple consistent with recent industry transactions is assumed. With recently announced transactions in the 18.5x to 22.5x price-to-earnings ratio, we believe a price for ITC Holdings in the mid-40s per share is likely and represents a fair value."

- Transcend Event Driven Research, December 8, 2015
We are somewhat disappointed by the lack of price appreciation following the announcement. With ITC Holdings trading at $39.08 per share, the stock is up only 3.7% since December 2nd. The market anticipates a lengthy regulatory approval process, and the shares may offer attractive upside for patient investors at the current price. We are concerned over the sizeable stock component of the consideration and believe Fortis should be closely evaluated by investors. We will follow this pending transaction and provide an update and analysis on the opportunity. Given the regulatory uncertainty and the structure of the consideration, we believe investors may want to look elsewhere for potential takeover targets for greater price appreciation.
Further M&A Activity Expected
Our top five 2016 takeover targets also included Edgewater Technology (NASDAQGM: EDGW), Lexmark (NYSE: LXK), United Online (NASDAQGS: UNTD), and The Fresh Market (NASDAQ:TFM). With a recent report indicating Kroger (NYSE: KR) is in the second round of bidding for The Fresh Market, we believe it is appropriate to re-evaluate the likely sale price of the company and the value of The Fresh Market as a standalone company.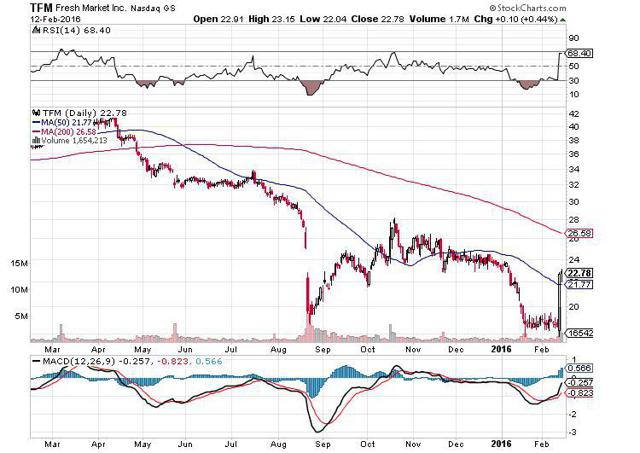 Click to enlarge
(Source: StockCharts)
The Fresh Market Stock Surges Last Week off of 52-week Low
Amid the Reuters report of Kroger advancing to the second round of bidding The Fresh Market, TFM stock surged 27.5% from $17.86 per share to its current price of $22.78 per share. However, the stock price is 6.3% below the price at which we recommended The Fresh Market as a long position as a potential takeover target. In early December, we said the following:
"We believe the Board of the Fresh Market will continue to face pressure to put the company up for sale as the operating performance remains weak in 2016 under CEO Richard Anicetti. The enterprise value of the Fresh Market is $1.1 billion and currently trades at 5.9x ttm EV/EBITDA multiple and 18.7x earnings per share. We believe that a larger strategic acquirer would be adding a highly differentiated and reputable brand and experience management team by acquiring the Fresh Market. With the stock currently trading at $24.33 per share, there is still decent upside for investors as a strategic acquirer would likely pay $31 - $33 per share for the company. This valuation would represent upside of 27.4% to 35.6% for investors."
We stand by our assessment of The Fresh Market's competitive position in the southeast and expect the company to continue to face challenges as a standalone specialty grocery retailer. The larger grocery chains competing in the area have superior purchasing power, and their extensive scale better equips these companies to leverage investments in distribution and infrastructure. As a result, we have seen The Fresh Market struggle on nearly every operating metric.

Click to enlarge
We believe the company will report negative comparable store sales growth for the most recent fiscal year ending in January. It reports results in early March, and in our view, The Fresh Market likely realized a 2.5% decline in comparable store sales growth for the year. This will be its first annual decline reported as a public company and continues a trend in which comparable store sales have steadily dropped from a peak of 5.7% in FY2013 to 3.2% in FY2014 and 2.9% in FY2015. We are projecting further deterioration in this metric amid intense price competition. Through the first three quarters of fiscal 2016, comparable store sales declined 1.6%. With our projection of a decline of 2.5% for the full year, we believe next year may be worse and exceed 3.0%.
We are discouraged by how rapidly the operating performance at existing stores has weakened, and this will greatly restrict the company's new store rollout plan. The aim to increase scale is necessary, but we believe management will now be required to allocate more resources to restoring traffic to its stores and increasing transaction size. With that being said, we believe the company will only be able to grow EBITDA modestly in FY2017 to $211.6 million. Our five-year projection as a standalone company has The Fresh Market earning an EBITDA of $282.1 million by FY2021. In the current competitive environment, we believe these are fair estimates and not overly aggressive.

Click to enlarge
(Source: Author's estimates)
Based on a DCF valuation, we believe The Fresh Market is worth between $25.14 and $28.53 per share as a standalone company. This represents an upside of 10.4-25.2% from the current stock price. The road to achieving these projections will be a challenge, but we believe they are realistic goals. As a result of our analysis, we are revising our estimated deal value that a strategic acquirer will likely pay for The Fresh Market. Originally, we expected total consideration of $31-33 per share. We now believe the Board of The Fresh Market will likely accept a deal worth between $28.50 and $31.50 per share.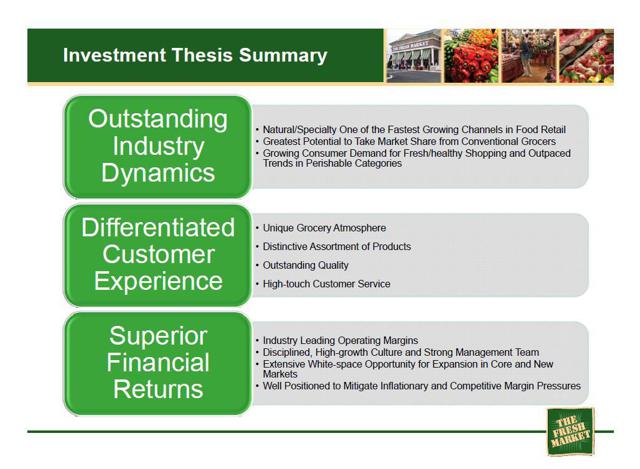 Click to enlarge
(Source: The Fresh Market Investor Presentation)
We believe the investment thesis presented by The Fresh Market management team last year is not as appealing for shareholders in 2016. The industry dynamics for smaller specialty grocery retailers have weakened, and the space is far more competitive. Growing consumer demand and The Fresh Market's unique grocery experience will allow the company to perform fairly well, but we do not believe shareholders can expect superior investment returns over the long term with shares of The Fresh Market.
We believe a larger, national grocery chain such as Kroger makes the most strategic sense as a potential acquirer of The Fresh Market. Kroger has over $108 billion in annual sales and over 2,600 supermarkets. The company recently acquired Roundy's for over $800 million. Kroger's management team has a history of making accretive acquisitions and we believe the team would be able to successfully integrate The Fresh Market into its organization.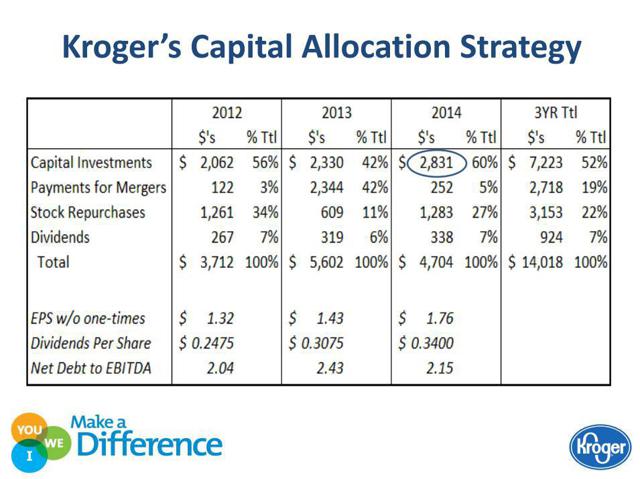 Click to enlarge
(Source: Kroger's Investor Presentation, 2015)
In conclusion, we believe a sale of The Fresh Market at a price between $28.50 and $31.50 per share is attractive for shareholders and will provide an immediate and substantial return on investment. The road ahead as a standalone will certainly be a challenge and may result in a further weakening of operating fundamentals in the near term as management focuses on restoring traffic, comparable store sales and margins.
Disclosure: I/we have no positions in any stocks mentioned, and no plans to initiate any positions within the next 72 hours.
I wrote this article myself, and it expresses my own opinions. I am not receiving compensation for it (other than from Seeking Alpha). I have no business relationship with any company whose stock is mentioned in this article.