Introduction
Last month, I argued Ingersoll-Rand (NYSE:IR) was undervalued as the market wasn't realizing the turnaround plan was going very smooth. The net income (and free cash flow results) were impacted by the payment of a legacy tax issue to the IRS, which resulted in a cash outflow of almost $400M in 2015. In this article I will explain how you should look at the company's financial results and why you shouldn't be put off by the relatively high P/E and P/FCF ratio right now. The future looks pretty bright.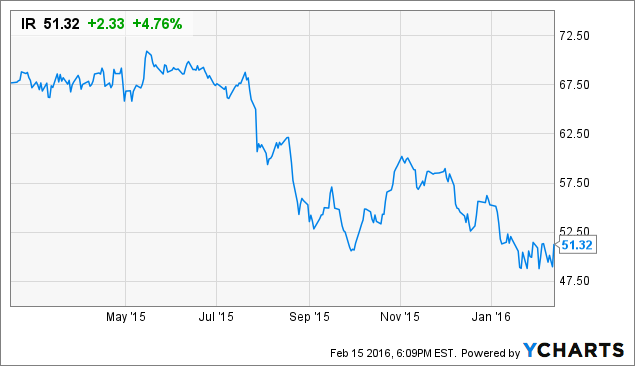 The fourth quarter was pretty strong, confirming my expectations
Ingersoll Rand had a good fourth quarter as it was able to increase its revenue to $3.3B, which was fueled by a 3% increase in the organic revenue. This indicates IR's revenue increase was a really strong performance and wasn't entirely caused by acquisitions and currency exchange rate fluctuations.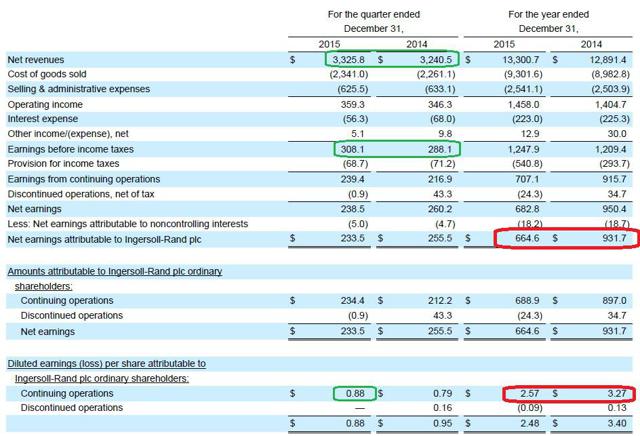 Click to enlarge
Source: SEC filings
Indeed, the revenue increased to $3.3B and on the back of a higher COGS but lower SG&A expense, the operating income increased by approximately 3.5%, meaning the operating margin remained relatively stable in the fourth quarter of the year. There were no surprises whatsoever during the quarter and the net income attributable to the Ingersoll Rand shareholders was $233.5M, or 88 cents per share.
That's pretty good, but if you'd only look at the company's full-year financial results, you might be disappointed considering the net income fell by 29% to $665%. However, as I explained in my previous article, this effect was entirely caused by making a $375M cash payment to the IRS to 'settle' old cases. Should this not have occurred, Ingersoll's net profit would very likely have increased by 5-8%.
And that's probably also the reason why the company's share price has been trading quite weak lately, I do have the impression the market doesn't really understand the underlying strength of the business.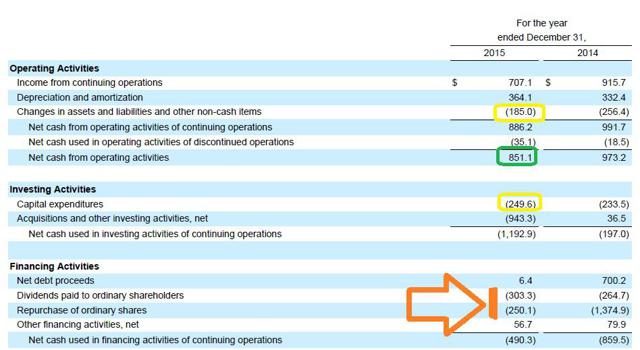 Click to enlarge
Source: SEC filings
Looking at the cash flow statements, Ingersoll generated an operating cash flow of $851M and after having spent the $250M on capital expenditures, you'd think the free cash flow was just $600M, which would indeed have been a bit low. But there are two remarks here; and the first one is the change in the company's working capital position. If you'd exclude the $185M investment in its non-cash working capital, the adjusted free cash flow for FY 2015 would increase to $785M and that's already much better.
But there's another reason why you should look further, much further, than just the headline.
The FY 2015 free cash flow was impacted by the high tax payment. Expect $1B+ and more share buybacks this year!
Indeed, I already explained Ingersoll has signed a deal with the IRS whereby Ingersoll also has to fork over some cash to settle some 'issues' with the tax department. This entire amount has been incorporated and included in the FY 2015 financial statements and as a tax payment happens in cash, the cash flow statements were obviously also impacted.
Ingersoll-Rand was kind enough to give us the exact amount of the IRS settlement and the restructuring expenses of the business ($384M). So if you'd correct the free cash flow for this number, the adjusted free cash flow (adjusted for non-recurring items) would have been approximately $1.1B. You can't just extrapolate this to next year, as the tax payments (on the ordinary profit) will very likely be a little bit higher next year.
This means I would now aim for Ingersoll Rand to achieve $1B in adjusted free cash flow next year. And the main question obviously is what Ingersoll will spend it on.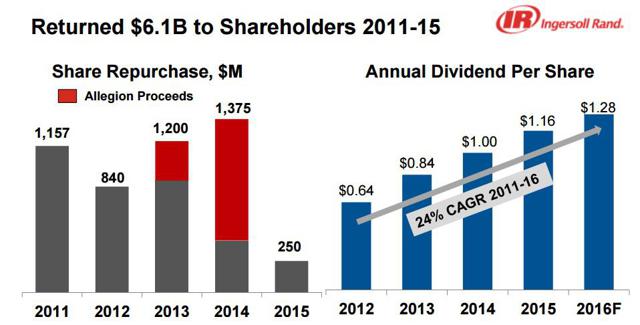 Click to enlarge
Source: company presentation
The company spent $303M on dividends in 2015, $943M on acquisitions and an additional $250M on share repurchases, repurchasing 4.4 million shares. But it gets better, as Ingersoll also repurchased an additional 4.9 million shares at (what I believe are) bargain prices. This resulted in a total share count of 257 million, down from 265 million shares just 4 months ago which basically means Ingersoll has repurchased 3% of its own shares in less than a semester. And whilst I dislike it when companies are 'over'spending on shareholder rewards, I can definitely support a move like this, as the total shareholder rewards vs adjusted free cash flow (including the tax settlement) was less than 71%, so there was some wiggle room.
Additionally, by reducing the share count by 3%, Ingersoll is paving the way to hike its dividend again, as a 3% dividend hike won't cost the company a single additional dollar. Of course, if Ingersoll wants to continue to invest in growth it will also have to keep some cash available for acquisitions and/or debt reduction. But as long as the company is trading at a free cash flow yield of in excess of 8%, I think Ingersoll's strategy to 'buy itself' might be the best choice, and I fully support this move.
Investment thesis
As Ingersoll's share price came under pressure, the management team de-dusted its 'buyback-bazooka' and has repurchased in excess of 3% of its total amount of shares in just 4 months, and I don't think Ingersoll is done just yet. And Ingersoll is in an excellent position to continue to repurchase shares as it is expecting an additional cash inflow of $425M after selling its stake in Hussmann. I would expect this cash to be used to reduce the company's net debt (and perhaps a part of it will be used to fund the buybacks, should the share price remain at the current low levels).
I'm expecting the company to generate $1B in free cash flow this year, and if Ingersoll Rand reduces its share count to 250M shares, the FCF/share will be approximately $4, resulting in a free cash flow of 7.75-7.9%, and that's pretty decent!
Disclosure: I am/we are long IR.
I wrote this article myself, and it expresses my own opinions. I am not receiving compensation for it (other than from Seeking Alpha). I have no business relationship with any company whose stock is mentioned in this article.