By Greg Harrison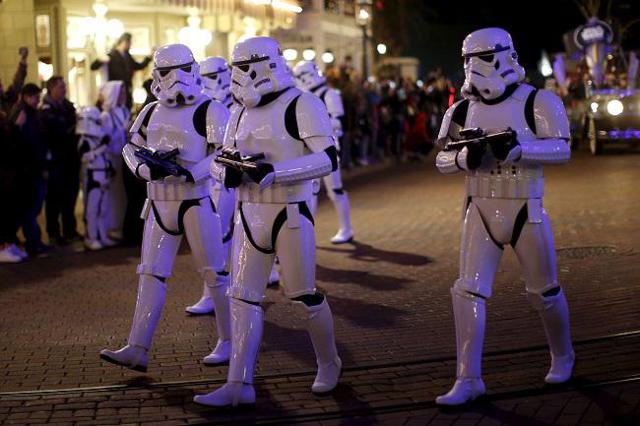 Click to enlarge
This week, 66 companies in the S&P 500 index reported their fourth quarter results. Although 65% of these companies beat their analyst consensus earnings estimates, the blended growth rate for the index barely budged upwards, to -3.9% from last week's measurement of -4.1%. As earnings season is entering the home stretch, the mix of companies reporting their results is changing. Whereas nearly all the Financials and Industrials companies have reported already, there are still significant numbers of companies yet to report in the Consumer Discretionary, Consumer Staples, and Energy sectors.
The Consumer Discretionary sector is expected to add a much-needed boost to fourth quarter earnings. The sector has the highest estimated earnings growth next to Telecommunication Services, and is much larger with 83 companies compared to 5 in Telecom. Sixteen Consumer Discretionary companies reported Q4 earnings this week, in industries spanning automotive, travel, and entertainment. Of these companies, only one posted a negative earnings surprise, as seen in the exhibit below.
Exhibit 1. Consumer Discretionary Sector Companies Reporting This Week: Earnings Surprise and Growth %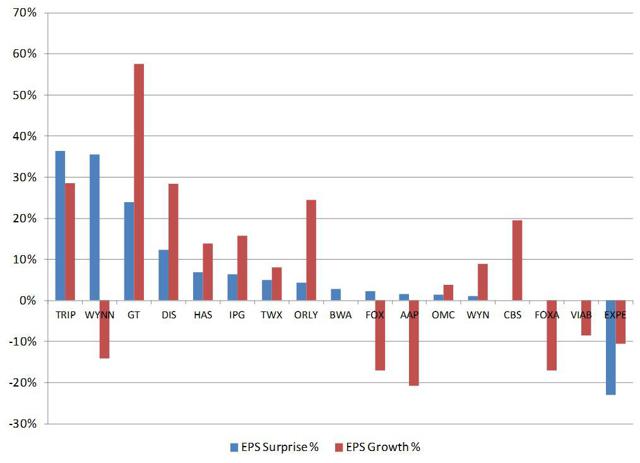 Click to enlarge
Source: Thomson Reuters I/B/E/S
O'Reilly Automotive Inc. (NASDAQ:ORLY) reported Q4 2015 earnings of $2.19, which was 24% higher than the $1.76 the company earned in Q4 2014. This result was also 4.3% higher than the $2.10 consensus estimate. O'Reilly has benefitted from low prices at the pump, which have encouraged consumers to drive more. CEO Greg Henslee cited this factor as a driver of earnings during the earnings call, saying,
"Our performance for the quarter as we have seen over the past year and a half was driven by key hard part categories such as brakes, driveline, chassis and batteries. Through November, the latest data available, miles driven were up 3.5% year to date representing 21 straight months of year-over-year increases. We feel this positive trend driven by low gas prices and improving employment has been an important factor in fueling our robust comparable store sales growth. For 2016, we expect to see positive tailwinds from continued modest improvements in total employment and low gas prices which will continue to support further increases in miles driven and demand in our industry. Although at a lesser degree on a year-over-year basis compared to the significant tailwinds we had in 2015."
Consumers also opened their wallets for entertainment during the fourth quarter. The Walt Disney Company (NYSE:DIS) smashed its $1.45 EPS estimate, reporting $1.63. This represents a 28% growth rate over the year ago figure. The obvious explanation for the strong results is the success of the latest Star Wars movie, which brought in over $2 billion at the box office worldwide. But consumers continued to travel and the company had impressive growth in its theme park business as well, as described by CFO Christine McCarthy during the earnings call,
"Our domestic operations had another great quarter. We continue to see strong demand from guests, specifically at our domestic parks and at Disney Cruise Line. Attendance at our domestic parks was up 10% in the quarter and per capita spending was up 7% on higher admissions, food and beverage and merchandise spending. Per room spending at our domestic hotels was up 9% and occupancy was up 3 percentage points, to 92%."