Yesterday, on February 16, 2016, Barrick Gold Corporation (NYSE:USA) (NYSE: ABX) closed at $11.59 per share from $12.25 per share of the day before, -0.66 (-5.39%), with 24,508,820 shares traded.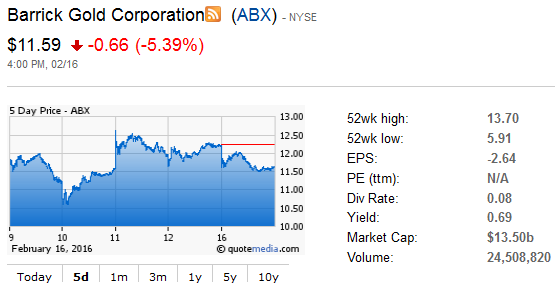 The loss anticipates ABX's earnings report after close today.
Analysts expect EPS being between $0.11 (High) and $0.04 (NYSE:LOW) or between -26.67% (-$0.04 ) and -73.34% (-$0.11), from last year's $0.15 per share.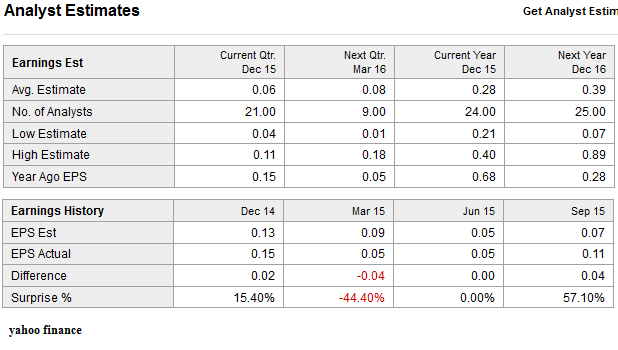 The company has 1.17B shares outstanding.
ABX's profit will range between $0.13B and $0.05 if the EPS becomes reality.
After $0.11 actual earnings per share reported by Barrick for the previous quarter, analysts now forecast -60.00% negative growth for the current quarter and 60.00% for the next quarter.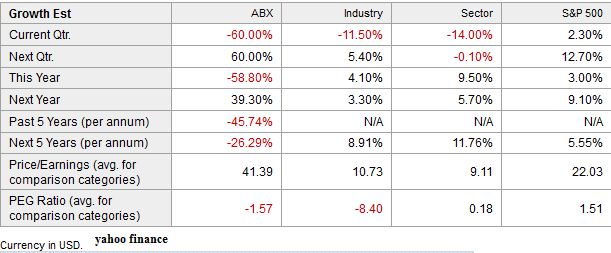 Barrick Gold Corporation has risen 51.03% since August 17, 2015 and is uptrending. The S&P500 fell by 9.36% over the same period (last 6 months).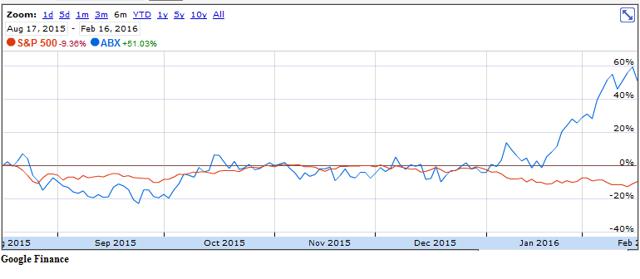 Click to enlarge
Senior management of the company will host a conference call and Webcast February on 18, 2016 at 11:00 AM EST, to discuss the company's Fourth Quarter 2015 and full year financial and operating results.
Barrick Gold Corporation (Barrick) is a gold mining company. The Company is engaged in the production and sale of gold and copper, as well as related activities, such as exploration and mine development. The Company operates in segments: eight individual gold mines, Acacia and Pascua-Lama project. The remaining operating segments have been grouped into two other categories: its remaining gold mines and its two copper mines. The Company sells its production in the world market through the distribution channels: gold bullion is sold in the gold spot market; gold and copper concentrate is sold to independent smelting companies, and copper cathode is sold to various manufacturers and traders. The Company has 14 producing gold mines, located in Canada, the United States, Peru, Argentina, Australia, the Dominican Republic and Papua New Guinea. It also holds a 63.9% equity interest in Acacia Mining plc (Acacia) that owns gold mines and exploration properties in Africa.
My point of view:
The company initiated a program to reduce its net debt by at least $3 billion in 2015.
Why do I think Barrick is doing the right thing in reducing its debt situation?
You will notice that Barrick exhibits a cost-to-sales ratio that increased from 2011 to 2014; from 2013 to 2014 especially. This increase in the ratio is related to an increase in the average grade of the gold mine. When gold ore has a high grade, it takes relatively less effort to extract an ounce of gold from the ground; less ore has to be dug out, which reduces input costs for the gold mining company. This higher multiplier has a higher operating leverage in earnings. I think that the gold stock is well positioned if gold price won't substantially increase during 2016.
Disclosure: I/we have no positions in any stocks mentioned, and no plans to initiate any positions within the next 72 hours.
I wrote this article myself, and it expresses my own opinions. I am not receiving compensation for it (other than from Seeking Alpha). I have no business relationship with any company whose stock is mentioned in this article.