Yesterday, on February 16, 2016, Newmont Mining Corp (NYSE:NEM) closed at $24.56 per share from $25.78 per share of the day before, -1.22 (-4.73%), with 14,389,544 shares traded.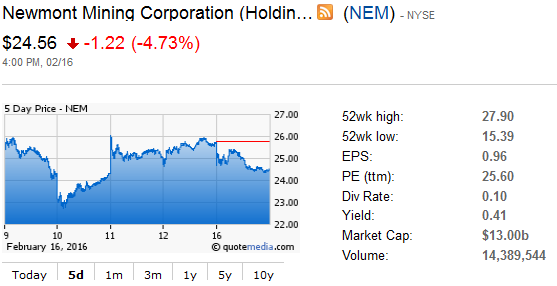 The loss anticipates NEM's earnings report after close today.
Analysts expect EPS being between $0.19 (High) and $0.05 (NYSE:LOW) or between +11.8% ($0.02 ) and -70.6% (-$0.12), from last year's $0.17 per share.
The company has 529.12M shares outstanding.
NEM's profit will range between $100.53M and $26.5 if the EPS becomes reality.
After $0.17 actual earnings per share reported by Newmont for the previous quarter, analysts now forecast -29.40% negative growth for the current quarter and 69.60% for the next quarter.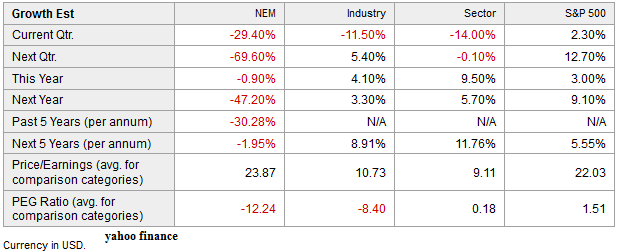 Newmont Mining Corporation has risen 41.56% since August 17, 2015 and is uptrending. The S&P500 fell by 9.36% over the same period (last 6 months).

Click to enlarge
Senior management of the company will host a conference call and Webcast February on 18, 2016 at 09.30 AM EST, to discuss the company's Fourth Quarter 2015 and full year financial and operating results.
Newmont Mining Corporation (Newmont) is a global mining company, which is focused on the production of and exploration for gold and copper. The Company is primarily a gold producer with operations and/or assets in the United States, Australia, Peru, Indonesia, Ghana, New Zealand and Suriname. The Company's business segments include North America, South America, Asia Pacific and Africa. The Company's North America segment consists primarily of Carlin, Phoenix, CC&V and Twin Creeks in the state of Nevada in the United States. The Company's South America segment consists primarily of Yanacocha in Peru. The Company's Asia Pacific segment consists primarily of Boddington, Tanami and Kalgoorlie in Australia, and Batu Hijau in Indonesia. The Company's Africa segment consists primarily of Ahafo and Akyem in Ghana. The Company's product at its gold operations is dore bars. Dore is an alloy consisting primarily of gold, as well as silver and other metals.
My point of view:
According to my point of view Newmont may report better results than its peers.
The stock looks to me to be more prepared than any other gold stocks to face a not substantial but widely expected increase in gold price, rather than a significant increase in the price of the precious metal because of improvement in some macroeconomic variables.
Disclosure: I/we have no positions in any stocks mentioned, and no plans to initiate any positions within the next 72 hours.
I wrote this article myself, and it expresses my own opinions. I am not receiving compensation for it (other than from Seeking Alpha). I have no business relationship with any company whose stock is mentioned in this article.