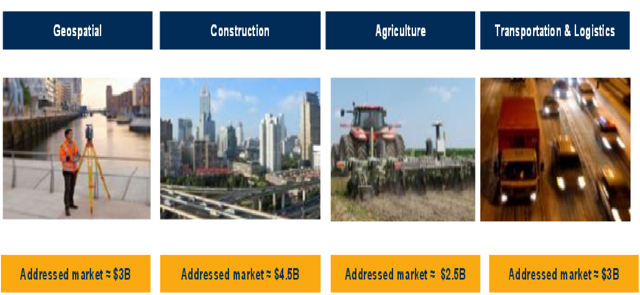 When Trimble Navigation (NASDAQ:TRMB) set its sights on 2016, it probably didn't expect the year to start with such decrement. The PCMA (positioning, connecting, modeling and analysis) technology and solutions provider just wanted to finish 2015 positioned to regain traction in the new year. Though the company generated diluted non-GAAP earnings per share of $1.46 in 2014, Trimble's aim was to break through the $1.00 mark in 2015.
Trimble Navigation reported 2015 fourth quarter and full-year results on February 9th. Diluted non-GAAP EPS for the full year did come in over $1.00 at $1.13. This put the year-over-year decline at 23% for diluted non-GAAP EPS. However, for revenue, the decline was much less at 4%. In 2014, Trimble generated $2.4 billion as compared to $2.3 billion in 2015. Interestingly, currency exchange rates impacted the results by approximately 4%.
Although total revenue in 2015 was within 5% of the 2014 level, the revenue mix shifted significantly. Product revenue declined 10.5% while service revenue and subscription revenue both increased 6% and 17.9% respectively. Since product revenue represents the majority (67%) of total revenue, its decline had the most impact. Therefore, it may seem logical to some that Trimble should focus on recovering product sales.
However, Trimble is confident in its decision to align its focus to be more than a "box product" manufacturer by expanding to solutions provider. A key benefit of functioning as a solution provider is the generation of recurring revenue. Recurring revenue builds stability and predictability in future revenue streams. Maintenance support and subscriptions are typical forms of recurring revenue. Hardware-enabled software, where software relies on hardware sensors, is a distinct offering for Trimble that is growing recurring revenue. The gross margins on recurring revenue are greater than the gross margin on product. By comparison, total revenue in 2013 and 2015 was relatively equal while in the same time frame, the compound annual growth rate of recurring revenue is 8.77%. For the full year, recurring revenue delivered 26% of total revenue.
Increasing recurring revenue is a key evolutionary step. In fact, in the last half of 2015, Trimble allocated $100 million toward the focus. Of the six acquisitions the company made, five were software businesses and the sixth provided a bundle of software and hardware. So, although product sales declined in 2015, Trimble's hardware intent is rational.
"We are re-sharpening our focus and ensuring that our hardware development is creating unique value and in some cases, we are outsourcing hardware elements to better focus on the solution, reduce development cost and improve time-to-market."
Providing solutions may increase revenue for Trimble but it is hardly a one-way benefit. The ultimate purpose of providing solutions, and thus the differentiating factor for choosing Trimble, is to reduce costs on the client's side.
Even though Trimble has experienced progress in shifting its business model, it has not yet experienced much geographical shift in the last three years. A lack of funding for projects plagues the markets in Australia, South Africa and Canada. The markets in Brazil, Russia and South Africa are declining. There has been growth in the Middle East. Europe is a mixed bag of both volatility and hope with Trimble cautiously anticipating an "upward bias". China continues to hold growth potential but is still a difficult market. Decisions in China are stalled due to government indecision, market volatility and corruption fears.
These economic pressures may well become the business driver that, ultimately, works in Trimble's favor. For example, in the depressed agricultural industry, Trimble expects to eventually become a provider of productivity rather than a provider of capacity. In the 2014 first quarter earnings call, Trimble's CEO, Mr. Steve Berglund, explained:
"This next stage of growth in the agriculture technology market will be driven by a transition from a focus on vehicle guidance and control to a full integration of hardware, software and services that will maximize productivity across the entire farm."
So, whether it be an industry or a geography, it is reasonable to project that Trimble's mission to sell cost reduction rather than capacity should be well-received. Mr. Berglund observed in the fourth quarter earnings call:
"If they're going to stay competitive on the world stage and many ways, they're going to have to adapt technology aggressively to keep the edge."
The industry downturns, geographic recessions and economic uncertainty have definitely impacted Trimble's bottom line and, in turn, its share price. Since early June 2014 when it hovered near $40, the stock price has been virtually cut in half. On September 29th, 2015, it hit a 52-week low of $15.90. Trimble has been actively repurchasing shares during this decline. For all of 2015, it repurchased over 4% of its outstanding shares equating to over 11 million shares. At year-end 2015, the company still had authorization to repurchase approximately $250 million worth of its 250+ million outstanding shares.
The company doesn't choose to pay a dividend. But, it does intend to continue to allocate capital toward its active technology acquisition strategy. Trimble is also keenly focused on "leaning out" areas of its organization that have grown unnecessarily due to acquisition. Additionally, it is consolidating its R&D development which has also grown as a result of acquisitions.
The company has a healthy balance sheet. Its debt-to-equity ratio equates, respectably, to under 40. Trimble should continue to grow organically and through acquisition but it won't likely be at a double-digit pace in 2016. Its cost-cutting initiatives will be ongoing. The biggest uncertainty the company faces relates to when global economic pressures will ease.
It's not a bad idea to build positions in market leaders executing well during volatile waiting phases. It's nearly impossible to pick bottoms or tops. As of mid-February 2016, both Trimble's 50-day moving average and 200-day moving average register $19.93. Finding a relatively safe base offers some assurance when waiting for the next build and the $19.93 appears to be a key level. Potential investors could consider Trimble Navigation if it should dip under $20 due to overall market pullbacks.
Disclosure: I/we have no positions in any stocks mentioned, but may initiate a long position in TRMB over the next 72 hours.
I wrote this article myself, and it expresses my own opinions. I am not receiving compensation for it (other than from Seeking Alpha). I have no business relationship with any company whose stock is mentioned in this article.