Millennials have been thought to be more averse to financial risk than older generations. But fresh data from investment suitability expert FinaMetrica has revealed millennials have similar levels of risk tolerance as older people.
The data, drawn from almost 1 million FinaMetrica risk tolerance tests between January 2012 and November 2015, found that individuals born between the 1980s and early 2000s, known as millennials, do not possess a material difference in risk tolerance compared to Generation X -- people who were born between the early 1960s and early 1980s.
Indeed, there is just a 50% chance of a 30-year-old investor being less risk tolerant than the average 45-year-old, according to data analyzed by FinaMetrica, a company that helps financial advisors properly assess their clients' risk tolerance.
Comparing to an even older age group, FinaMetrica's data reveals 69% of millennials are, in fact, more risk tolerant than the average baby boomer, countering general opinion on millennial behavior that they are risk averse.
So, what our data shows is that millennials are no less risk tolerant than their Generation X or baby boomer counterparts.
If it is true that millennials are more financially conservative, risk tolerance - or their lack of it - is not the reason.
FinaMetrica believes that millennials' capacity for and perception of risk may be better indicators of their conservative behavior. Millennials who reached adulthood in 2000 have witnessed two major bear markets. There is high unemployment generally amongst young people in the U.S. and tertiary education debts are a big issue. These challenges have forced many millennials to delay certain milestones that have traditionally categorized adulthood, including home ownership and starting a family.
It is likely that many millennials who were emotionally overexposed to risk in 2007-09 during the Global Financial Crisis still feel bruised and have remained sidelined, where they may stay for an extended period. The downside to this, of course, is that this reluctance to take on risk has crystalized their losses and has left many millennials out of the recovery given their underexposure to growth assets.
On the other hand, problems can also arise if millennials are not receiving proper investment advice and are placed into products which expose them to too much risk. In the U.S., a millennial placed into an increasingly popular target date fund would typically receive a 90% growth asset allocation. However, according to FinaMetrica's data, this type of investment would be too risky emotionally for 96% of millennials.
So what is risk tolerance? Risk tolerance is a psychological trait that reflects how much risk a person is emotionally willing to take. This differs from risk capacity, which is the level of risk an individual can afford to sustain without derailing their short- or long-term goals.
Risk tolerance is typically set by early adulthood and it decreases only slightly with age. Notice from the chart below how little FinaMetrica risk tolerance scores changed through the market crash of 2007-08. What changes as markets swing is more often investors' risk behavior driven by their perceptions of risk, not their risk tolerance.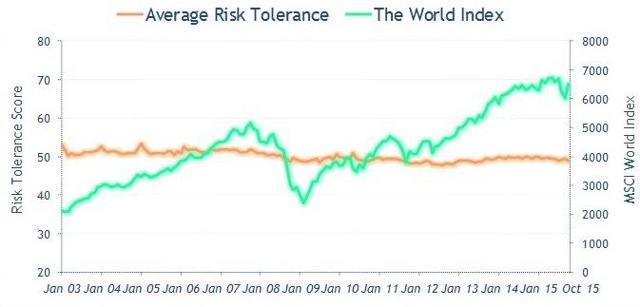 Click to enlarge
Risk tolerance can be easily measured through online tools. The discipline of psychometrics has been developed to measure psychological traits such as risk tolerance. Whether you're using FinaMetrica's risk tolerance tool or any other solution, you need to ensure that you've done due diligence on the tool that you're using to protect your clients' interests and also ensure your own processes are robust.
Disclosure: I/we have no positions in any stocks mentioned, and no plans to initiate any positions within the next 72 hours.
I wrote this article myself, and it expresses my own opinions. I am not receiving compensation for it. I have no business relationship with any company whose stock is mentioned in this article.