There are several cyclic stocks which were severely hit by the recent selloff, and a less well-known representative is the German BASF (OTCQX:BASFY), the world's leading chemical company. In my first article on BASF in August, I wrote about the stock as a solid long-term investment, but rather volatile due to the cyclic nature of its business. Back then, shares traded close to $90, and I said the next market correction could bring new attractive buying opportunities. After shares went on a downward path since last spring, the stock's valuation has become much more attractive.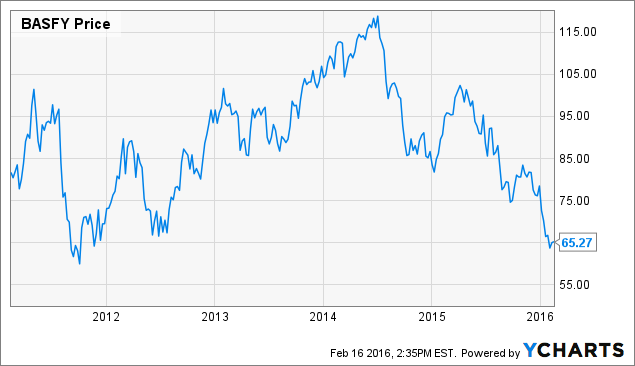 Thanks to the recent selloff BASF's shares are down by 25% from the August level and more than 40% below the all-time high. After this severe drop, I believe that we have reached or are at least approaching an attractive entry point. The present market pessimism offers the opportunity to buy a fundamentally strong company at a reasonable valuation with an attractive dividend yield on top.
On January 27, BASF released preliminary figures for 2015 which were below market expectations, and the company announced a write-down on its oil and gas assets as a result of the oil price decline. BASF is active in oil and gas exploration, a segment which is traditionally BASF's largest EBITDA and EBIT contributor in times of high oil prices. It also serves as an internal hedge against high raw material costs in the chemical segments. Primarily due to the impairments in the Oil & Gas segment, the FY15 EBIT is down by 18% to €6.2B ($6.9B). Without this one-time effect, the EBIT before special items shrank by 8% to €6.7B ($7.5B) - not great, but an acceptable result in the overall challenging environment. Total sales declined from €74.3B ($83.2B) to €70.4B ($78.9B),
However, the low oil price will also have some positive effects. Cheaper oil means lower raw material costs which chemical manufacturers tend to pass on to their customers with a certain delay. Another immediate effect of cheap oil are lower gas prices leading to a higher discretionary income which serves as an economic stimulus package. The fear that the oil price decline is an indicator for an upcoming global recession does not reflect reality, since the drop is not triggered by an economic downturn, but due to supply increasing faster than the growing demand.
Surely, the pace of the decline is not healthy, and it is a certain threat for countries where oil plays an important role for the national economies. Therefore, it is necessary to emphasize that BASF's major markets are net importers of oil, hence the positive effect of low oil prices should prevail.
In addition, BASF will continue to benefit from the weak euro which helps to increase the company's competitiveness globally.
Valuation
2016 will be another challenging year, hence BASF's revenue is forecast to decline again, primarily because of the Oil & Gas segment. After losing almost 50% of its market capitalization in dollars since the 2014 high, the valuation has come down. BASF's forward P/E of close to 11 is the lowest since 2012. Even when considering that the 2016 EPS will likely be revised after the 2015 results, leading to a higher P/E, the valuation continues to remain at the most attractive level since years. This rationale is also supported by the unusually high dividend yield.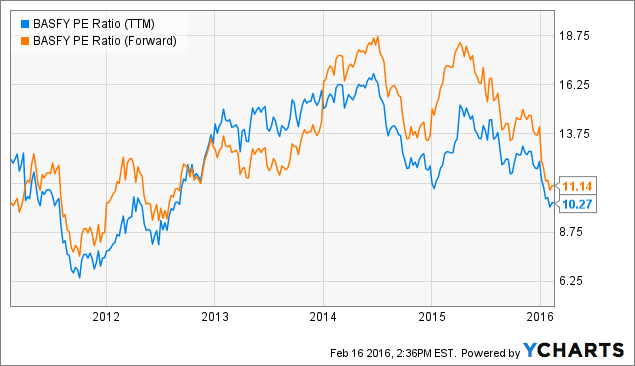 Obviously, it is difficult to judge whether the ongoing correction has already brought us anywhere close to the bottom or if more losses are ahead. Particularly cyclic stocks are vulnerable, and it might not be the time to go all-in, but to act more cautiously. However, if a further market decline would bring another drop of 10% or more, leading to a single digit P/E, BASF would become a screaming buy for me.
An attractive Dividend Yield
BASF pays one annual dividend which stood at €2.80 ($3.16 at current exchange rates) for FY14 (paid in 2015). The company aims to increase the dividend each year or at least maintain it at the previous year's level. The street expects a 10 cent raise for this year which is very well possible, even despite declining earnings. Even if this does not happen, in case of a constant payment, the yield still stands at 4.9%, the highest level since 2012. If the dividend increases to €2.90 ($3.27) as expected, the yield climbs to 5.1% which is clearly above the historical average.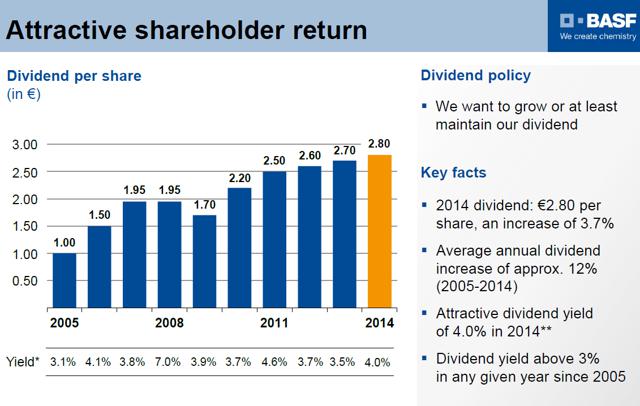 Click to enlarge
Source: Company presentation.
Looking at the dividends and the yields (based on the share price at year-end) over the course of the past ten years, the only time the yield was higher than today was in 2008 during the Great Recession.
Conclusion
BASF is one of the cyclic stocks which came under pressure recently. In addition to concerns about slowing global economic growth and China worries, the weak outlook for the company's Oil & Gas segment became an additional headwind. With a long-term perspective and under fundamental aspects, the stock remains a solid investment which valuation just came down to a much more attractive level. In addition, it offers a dividend yield of close to 5%.
Disclaimer: Opinions expressed herein by the author are not an investment recommendation, any material in this article should be considered general information, and not relied on as a formal investment recommendation. Before making any investment decisions, investors should also use other sources of information, draw their own conclusions, and consider seeking advice from a broker or financial advisor.
Disclosure: I am/we are long BASFY.
I wrote this article myself, and it expresses my own opinions. I am not receiving compensation for it (other than from Seeking Alpha). I have no business relationship with any company whose stock is mentioned in this article.
Editor's Note: This article discusses one or more securities that do not trade on a major U.S. exchange. Please be aware of the risks associated with these stocks.