The financials have taken their turn at the ever rolling bear market we've been living through this year. The current fears:
Big banks have too much exposure to the oil patch
Everyone is pretty familiar with oils story and the likely out come will be that a lot of companies require some sort of restructuring or possible default entirely on their debts. The fear is that the US banks have large exposures to those companies. While clearly the exposure isn't zero it's hard to justify the impact this fear has had on the banks prices. The credit departments in most of the big banks have been empowered since the financial crisis. The banks are under a lot so scrutiny from regulators to keep their balance sheets strong.
Global contagion as European banks get hit
The European banks are still a bit of a mess. They never had the massive capital clean up exercise that the US banks had. They are still carrying too many bad loans and the European economy hasn't come back nearly as well as the US. Deutsche Bank (NYSE:DB) has been the most recent poster child for a dysfunctional bank with their credit being called into question. The CEO came out and said their credit was rock solid (never a good sign). They have now come out saying they are buying back about $5B worth of bonds. If a big European bank did go under it would certainly have an impact on US banks. The banking industry is still inter connected. However, the European banks are generally very closely linked to their government and I think it unlikely that any of them will go down. The ECB has stood ready to do whatever it takes. This may hurt the profitability of the European banks as rates go further negative.
Weakness in Capital Markets activity (M&A, IPOs, Fixed Income and Currency Trading (FIC))
It's definitely been a less than stellar year in M&A and IPOs this year. There are a lot of Unicorns that haven't come out yet whose valuations have been reduced. Until the market calms down I'd expect the IPO market to stay fairly closed. M&A was very big last year with a some monster deals. With the current negative stock market it will be more difficult for C-Suites to get on the same page over price. Any deals finance with shares will now be more expensive given the sell off. These are big fee generator for all the big banks. FIC trading desks are being reduced because the performance hasn't been there this year. These have historically be big profit generators for the banks.
Delay of the interest rate rises from the Fed that was expected at the beginning of the year.
Banks were looking forward to a steeper yield curve being prompted by rate hikes by the Fed. With ECB and BOJ both cutting rates this year, ECB continuing to say they'll do whatever it takes and 10yr. Treasuries trading well below 2% it's highly unlikely we get 4 rate hikes this year.
The above are all real and some of them substantial reasons for being weary of the banks. However, I believe the market has been overly zealous in slamming them. They are now trading close to their Price/Book values in 2009. I believe their credit quality, asset structure (i.e. no more prop trading) and balance sheets are all better than they were in 2009. With the current regulations they are much better capitalized than they were in 2009. From a longer term perspective they all have franchises that would be difficult to duplicate as there's higher barrier to entry with regulatory reporting and the economies of scale that come with being big banks.
The chart below is based on information taken from Morningstar.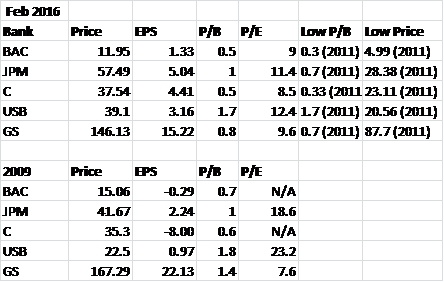 As you can see Bank of America (BAC) and Citigroup (NYSE:C) are trading at lower P/B's than they were in 2009 a year both had significant losses. I would argue there was also much less certainty around what the book value was in 2009 vs. 2016. These two aren't trading historically low by any means in 2011 both traded a lot lower than they are currently. At current levels with greater certainty of what their book values are, better capitalization and being profitable now looks like a good time to buy either.
Goldman Sachs Group (GS) and U.S. Bancorp (USB) are a bit different than the other three names I've highlighted but I've included them in for comparison purposes. GS had a great year in 2009 with EPS higher than any time in the last 10 years. That was probably a bit of a one off however it is interesting that their earnings have gone down significantly but tangible book value has gone up. GS is now trading at a discount to book value. GS has always been in a league of their own. With the new environment that may have changed but I wouldn't bet against GS.
USB is a regional bank and really held up well through the financial crisis. Their book value has continued to rise and their earnings per share with it. In the past they've had Price/Book ratios as high as 3.6 (2006) according to the data or Morningstar. More recently it's been in the 2.1 range. So USB could be a good slow and steady way to play banking if you aren't ready to take the plunge with one of the money center banks.
JPMorgan Chase (JPM) has proved it's self one of the best managed of the big banks and because of that usually trades at a premium. Trading at book value JPM seems like a bargain. You also have the confidence of Jamie Dimon putting a full years salary into the stock. Even though that only adds to his already large position in JPM it still sends a message of confidence in the bank.
The current market stress has created a good entry point for the banking sector. I do not believe banks are looking into the abyss as they were in 2009 even though the market is pricing them as if they were.
Disclosure: I am/we are long GS.
I wrote this article myself, and it expresses my own opinions. I am not receiving compensation for it (other than from Seeking Alpha). I have no business relationship with any company whose stock is mentioned in this article.
Additional disclosure: I'm considering both option and direct purchases of BAC and JPM.