In a previous article on June 15 of last year, I argued that while the Thai baht had seen increasing weakness against the US dollar, the currency could be in for a reversal given that domestic consumption had accounted for a higher proportion of growth than exports.
In truth, when comparing the USD with the THB, the movements of the former will always influence the latter. The trading volume of the dollar is vastly larger than the Thai baht, and as a result it is unlikely that the baht would have seen significant strength for as long as the dollar itself remained strong. However, what can we expect now that the dollar is weakening?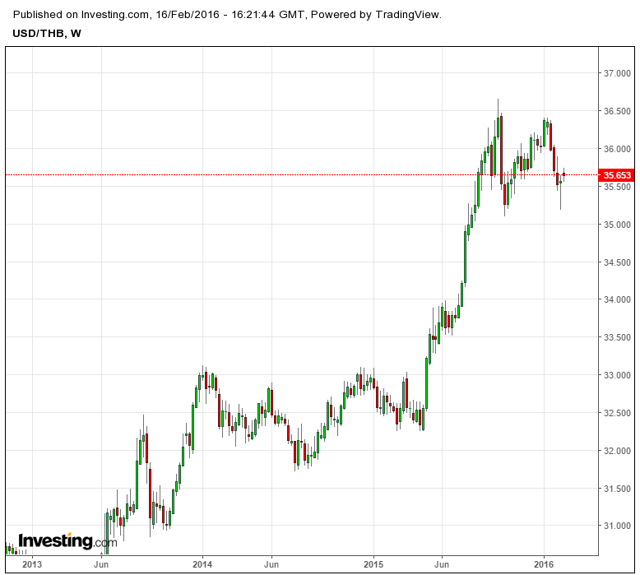 Click to enlarge
When we look at the above trend for the USD/THB, we see that while the baht did not necessarily weaken against the dollar, the currency pair ranged from around the 35-37 mark in a somewhat volatile fashion for the latter half of 2015. However, the economy did expand more than forecast, with GDP climbing by 2.8 percent in the three months through to December 2015 compared with the previous year. However, the central bank has indicated that monetary policy would remain accommodative to bolster exports and in this regard the currency could remain at current levels without strengthening too significantly.
With that being said, Thailand has just recorded its first trade surplus in five years, thanks to imports dropping by a larger proportion than exports. Additionally, it is important to remember that while exports have been lower, prices have not exactly been favorable either. For instance, while oil and rice exports have been decreasing slightly, it remains that both oil and wheat prices have continuously been heading lower. In this regard, revenue from exports will be affected even if lower prices should bolster export markets this year.
In this context, I do not see the Thai baht strengthening all that much on the basis of trends in 2015. Given the uncertainty of economic growth in the US and China, I instead see the Thai baht trading in a zig-zag fashion with the dollar; one of the classic characteristics of emerging market currencies. While there could be significant volatility ahead, I do not see any particular trend for this currency pair and would avoid a position on that basis.
Disclosure: I/we have no positions in any stocks mentioned, and no plans to initiate any positions within the next 72 hours.
I wrote this article myself, and it expresses my own opinions. I am not receiving compensation for it (other than from Seeking Alpha). I have no business relationship with any company whose stock is mentioned in this article.