The big story in front of trading Tuesday was that Saudi Arabia and Russia agreed to "freeze" their production levels at January levels along with Venezuela & Qatar. Oil initially surged as this news leaked but crude ended the day lower as details of this "agreement" came out. The freeze will only take place if other big O.P.E.C. producers do the same.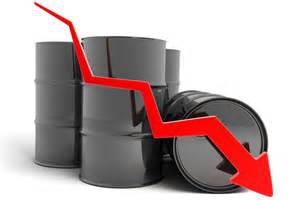 This is very unlikely. Iran has already openly dismissed complying in front of their meeting with OPEC ministers. The country was pumping some 2.5 million barrels a day before sanctions. They currently pump just over one million barrels a day. Now that the West has capitulated in its recent nuclear deal, it is going to be flush with some $100 billion in unfrozen assets on the lifting of those sanctions. Given that Russia and Saudi Arabia took "market share" during the sanction period, the Iranians have a legitimate grievance from their point a view for not voluntarily limiting production at just over 40% of pre-sanction levels.
Saudi Arabia, if of course aware of this as it is with the fact that Iraq is unlikely to freeze their production given the perilous state of their country's finances. Saudi Arabia and Iran of course are also still fully engaged in a proxy war for influence in the Middle East.
In short, this proposed agreement is nothing more than a trial balloon that will change nothing in the glutted energy markets. Only production cuts will stabilize the market and I don't think that is forthcoming in the near future. I do find it ironic that for decades O.P.E.C. stood for the Organization of Petroleum Exporting Countries and the West spent a good portion of that timeframe extolling these countries to boost production and keep energy prices low.
Thanks to the shale revolution and the huge production increase in crude and natural gas in the United States in recent years, the dynamics have changed. Some investors want O.P.E.C. to now stand for "Oh Please Ensure Cuts" due to the recent severe pain in the domestic energy sector. Unfortunately, this is not going to happen, at least in 2016 in my opinion. This means I will continue to be completely out of the energy sector and still believe we are in the early innings of the "end game" for many domestic producers.
Although I am not sanguine on the prospects for crude, oil prices do seem to have at least stabilized at just under $30.00 a barrel. This has lowered volatility in the market for the time being and one reason we have a couple of days of nice rallies in equities. I also still think there are three great values in the market right now.
First, is the beaten down biotech sector which is in the middle of it worst bear market since the end of the financial crisis. However, the sector has had a nice bounce over the past two days of trading. In addition, big biotech stocks are selling at their lowest valuations since 2011 and seem to be pricing in a recession I don't believe is in the offing. As I noted yesterday, this is how I am adding funds to the sector at the moment.
Next up are some of the lodging REITs which have been pummeled over the past few months despite the fall in the 10 year treasury yields. As I articulating recently, this sell-off is overdone and there are a lot of cheap plays yielding six to eight percent here with good growth prospects. Good results and forward guidance from Hersha Hospitality Trust (NYSE:HT) and Host Hotels & Resorts (NYSE:HST) after the bell last night just strengthened that view.
Finally, some stocks that will benefit from continued low energy prices have been hit in the recent downturn in the market unjustifiably. One of my favorite of those stocks right now that is ridiculously cheap is Ford (NYSE:F). The company is benefiting as low gas prices are driving the highest amount of trucks & SUV sales as part of the overall sales mix domestically in over a decade. This is critical to the automakers as trucks and SUVs have massive margins compared to small and midsize cars.
In addition, Ford is gaining market share in Europe as vehicle sales there continue to improve off recessionary levels. The company is also gaining market share in the critical market of China where it is now producing over 100,000 vehicles a month through joint ventures. The stock is very cheap at six times earnings with a five percent dividend yield.
The recent news and meetings going on within O.P.E.C. as well as Russia will make for some interesting kabuki theatre over the next few weeks. However, nothing substantial that will alter the dynamics of the crude market seems forthcoming in the near term. Therefore, my investing game plan remains the same.
Disclosure: I am/we are long F.
I wrote this article myself, and it expresses my own opinions. I am not receiving compensation for it (other than from Seeking Alpha). I have no business relationship with any company whose stock is mentioned in this article.