In my latest article on Apple (NASDAQ:AAPL), Apple: If iPhone Keeps Shrinking, I provided models based on Apple's guidance and predictions for Q2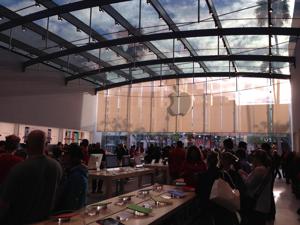 FY2016, Q3 FY2016 and a possible mid-term future.
In the meantime, there have been some developments that are important to cover and analyze in light of those predictions. This article covers those developments.
Foxconn Monthly Revenues
The first development is that Foxconn (OTC:FXCOF) has just published its January sales report.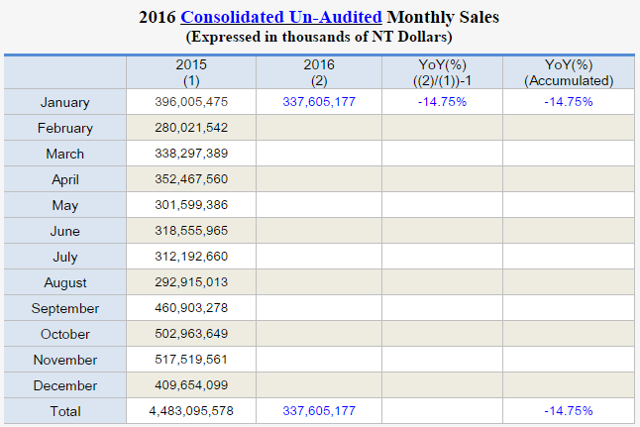 Click to enlarge
Source: Foxconn
As per Mark Hibben's work in Apple: Foxconn Results Indicate Strong iPhone Growth This Quarter, Foxconn is believed to draw 60-80% of its recent revenues from Apple. Thus, its timely monthly sales report works as a kind of advance signal for Apple's iPhone production, which in turn will track iPhone demand.
During December 2015, Foxconn's revenue dropped 20.5% year on year, and as such was an early harbinger of Apple's impending negative guidance for the iPhone when it reported Q1 FY2016.
For January, however, Foxconn has reported a year-on-year drop of "just" 14.7%. This could, on the surface, be construed as positive as it would seemingly represent a slowing down of the iPhone demand deterioration.
Digging Deeper
Another result of Mark Hibben's work on Apple is that Foxconn's revenues track Apple's particularly well if we exclude a fixed $14 billion/quarter component that allows for Foxconn's business ex-Apple. This comes to approximately $4.67 billion/month.
Merely taking Foxconn's monthly revenues and checking their year-on-year variations can thus be slightly misleading. This is so because as Apple-derived revenues drop, they also become a smaller piece of the pie. I thus decided to recalculate the last year + one month of year-on-year changes while accounting for this effect. This is what I came up with: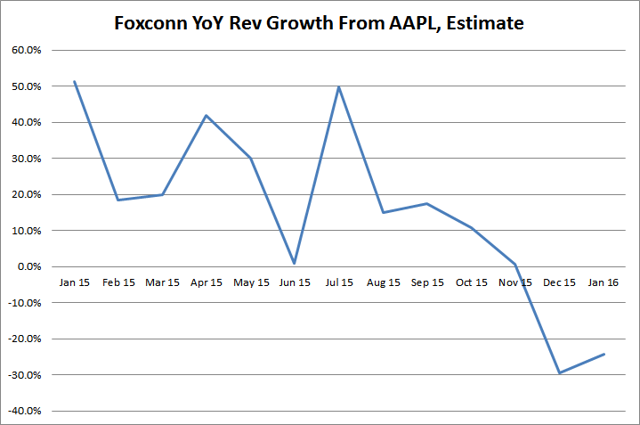 Click to enlarge
The conclusion here is that the effect of the fixed component is stronger than I expected. As such, what first seemed like a significant slowdown in the deterioration of the iPhone really isn't.
It's clear that December 2015 orders from Apple, at -29.4% year on year, overshot the deterioration certainly because of inventory accumulation. However, January 2016 should be nearer ongoing demand (though probably still somewhat affected by the need to draw down inventory), and the year-on-year change, at -24.3%, still looks ugly.
This drop in Foxconn orders thus remains compatible with my Q2 FY2015 iPhone estimate, which was for a drop in iPhone revenues of 12.4-19.9% and a drop in units sold of 16.5-23.6%. This implies Q2 FY2016 iPhone sales of 46.8-51.1 million units.
The Samsung S7
The Samsung (OTC:SSNLF) S7 will be unveiled on February 21 and is rumored to be available for sale in early-to-mid March. In 2015, Samsung made tremendous advancements in design with its Samsung S6, but then blundered in several fields, which ultimately compromised its sales. These included:
A smaller battery, leading to rather poor battery life.
The absence of something that's widely loved by Android users: the storage extensibility enabled by a microSD card.
The lack of a swappable battery (which in my view is a minor consideration, given the availability of external battery packs for emergencies).
The lack of water resistance, which it had with the Samsung S5 but dropped for the Samsung S6.
I do believe the lack of the microSD card and the smaller battery might have had an impact on sales. I further believe that the cooling of the smartphone market and the large increase in competition by mid-tier phones were significant factors in limiting the Samsung S6 sales.
However, with the upcoming Samsung S7 it seems Samsung will address most of the shortcomings it can actually address. These include:
A larger battery.
A more efficient SoC, which, together with the larger battery, will provide much better battery life.
The return of the microSD card.
Water resistance, which is likely to be either to IP67 or IP68 standards.
Revolutionary camera tech, which is likely to blow everything else out of the water.
Regarding the camera, something must be added - the Samsung S6 already had the best camera in the market. So, if Samsung chose to include a lower-MP camera with new technology, we can only infer that the new technology will significantly outperform its previous effort.
This new technology is actually Samsung's, whereas the previous effort could be sourced both from Samsung and Sony (the Samsung S6 interchangeably used camera sensors sourced internally and from Sony). As with the Qualcomm Snapdragon 810, Samsung only turned entirely to its Exynos internally-sourced SoC when it was obvious that it outperformed the alternatives by a wide margin (this will be over with the Qualcomm Snapdragon 820). Hence, we can expect the same criteria to have been applied to the camera.
I'll also say that from the existing leaks, I actually expect the phone to be slightly less beautiful than the S6 it replaces (it's slightly thicker, as happened with the iPhone 6s). However, this time Samsung seems to have hit all the right chords on everything else - to an extent where the new Samsung seems like a portentous competitor both to everything else running Android, and to Apple's iPhone. This is thus likely to increase competitive pressure on the already-declining iPhone.
Conclusion
Foxconn's January numbers continue to indicate the iPhone is seeing serious year-on-year deterioration. While on the surface these numbers seem to point to lesser deterioration, when we dig deeper they confirm existing predictions. Indeed, the numbers indicate faster deterioration than existing predictions, but for now, I'd put that down to the need of drawing down channel inventory.
At the same time, the Samsung S7 looks to be more competitive than its previous Samsung S6, which was beautiful but flawed in several ways. This, too, will increase pressure on the iPhone.
As a result, the existing predictions for Q2 FY2016 and Q3 FY2016 remain valid. The iPhone will continue to experience pressure and significant year-on-year drops in sales. These will lead to a need to revise Q3 FY2016 revenue and EPS estimates lower, which is likely to keep AAPL stock pressured on the downside, at least until July/August comes and the iPhone 7 speculation starts.
Disclosure: I/we have no positions in any stocks mentioned, and no plans to initiate any positions within the next 72 hours.
I wrote this article myself, and it expresses my own opinions. I am not receiving compensation for it (other than from Seeking Alpha). I have no business relationship with any company whose stock is mentioned in this article.
Editor's Note: This article discusses one or more securities that do not trade on a major U.S. exchange. Please be aware of the risks associated with these stocks.