The current year for Enterprise Products Partners (NYSE:EPD) is off to a rough start. The master limited partnership's units have declined 19.5% this year, and may remain under pressure for some time. Enterprise Products offers a yield of 7.6%, below the industry's average of around 14%, as measured by ALPS Alerian MLP ETF (NYSEARCA:AMLP).
Enterprise Products owns 49,000 miles of natural gas, NGL, crude oil, refined products and petrochemical pipelines as well as storage plants, natural gas processing facilities, fractionators and condensate distillation facilities. It is one of the largest midstream energy entities in the US. But it gets 70% of its annual gross operating margins (a non-GAAP measure of earnings) from NGL and crude oil pipelines and related services, rather than natural gas and refined products. Enterprise Products' future, therefore, is closely aligned with the amount of NGLs and crude oil that flows through pipelines.
Oil prices have now fallen to new lows in the high-$20s to low-$30s a barrel range on the back of growing concerns related to China's sluggish economic growth, US dollar's appreciation and increase in crude exports from Iran and Iraq. Barring any major change in strategy from OPEC members and other major producers, crude prices could remain low for a while. Moody's has painted a grim outlook with an average price of just $33 a barrel for this year and $38 a barrel for 2016.
The persistent weakness in NGL and crude prices (NGL prices generally move in line with oil prices) could negatively impact commodity volumes, hitting Enterprise Products' cash flows. That's also true for nearly every other midstream energy MLP. But Enterprise Products is better positioned than most. Here's three reasons why I believe that's so.
1. Low leverage
The weak oil price environment has already shaken the fundamentals of many midstream companies, some of which were forced to reduce distributions, such as the pipeline giant Kinder Morgan (NYSE:KMI), which technically is not an MLP anymore but trades with the group. The balance sheets of even some of the well established MLPs have weakened, with increase in leverage and decline in distributable cash flows.
Plains All American (NYSE:PAA), for instance, one of North America's leading crude oil pipeline MLP, has recently reported 5.8% drop in distributable cash flows for 2015 while its leverage ratio (debt/EBITDA) has climbed to 4.8x. The leverage of a number of other MLPs, such as ONEOK Partners (NYSE:OKS) and MPLX (NYSE:MPLX), has also approached close to 5x - a level which is generally considered alarming.
Enterprise Products' leverage ratio has also increased from 3.2x at the end of 2014 to 4.2x at the end of last year, but the metric is still significantly better than that of most of its peers and well below the 5x level.
The MLP increased distributable cash flows by 5% in 2015 to $5.6 billion, after excluding the gains from asset sales, despite the downturn. In addition to this, Enterprise Products is one of the few MLPs with BBB+ investment grade credit rating, which is also a testament to its good financial health.
2. Strong coverage ratio
Enterprise Products also offers a decent coverage ratio of 1.3x, meaning it generated more cash flows than it spent as distributions. That's in contrast to other MLPs, such as Plains All American, whose coverage has fallen to less than 1x. Enterprise Products' distributions appear more secure than others.
Moreover, if the business environment worsens, Enterprise Products can tap into equity or debt markets to fund its growth and distributions. That's because the MLP not only benefits from an investment grade credit rating, but also has no IDRs and gives a below average yield on its common units. Therefore, it has one of the lowest cost of capital in the industry. Though with liquidity of $4.4 billion, including funds available from the credit facility, Enterprise Products currently does not have significant equity or debt needs.
3. Minimum counterparty risk
The sub-$40 a barrel oil prices could force the exit of a large number of shale drillers, particularly as hedges roll off and capital markets become inaccessible. According to Wolfe Research's estimates, up to one-third of US oil and gas producers may either file for bankruptcy or go through major restructuring by the middle of next year. That's going to be bad news for MLPs who rely on these drillers for cash flows.
Williams Cos. (WMB, WPZ), for instance, does a great deal of business with Chesapeake Energy (NYSE:CHK). The latter has been the biggest casualty of the downturn as compared to other S&P-500 energy companies. Analysts believe that Williams could be forced to accept a large pay cut from Chesapeake which could drag the former's cash flows by $300 million.
But Enterprise Products does not face significant counterparty risk - a threat to MLP's earnings or cash flows if one of its customers goes under. Most of its cash flows come from well-established energy companies and utilities that have investment grade credit rating.
Although it does business with eight independent oil and gas producers which do not have an investment grade credit rating, these account for just 2.4% of its annual revenues. Earlier in January, Enterprise Product said during a presentation that it received 70% of its 2014 revenues from its top 30 customers, of which 86% came from companies that either had an investment grade credit rating or were backed by a letter of credit.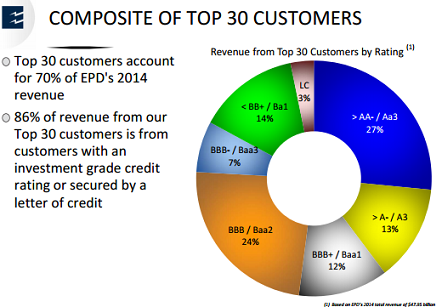 Conclusion
Enterprise Products, like other MLPs, is at the mercy of the market. It offers below-average yield, but it is one of the few MLPs that can actually grow distributions this year. With a low-levered balance sheet, strong liquidity, low cost of capital, decent distribution coverage, I believe Enterprise Products is well positioned to fund its $6 billion growth projects that are expected to fuel its growth over the next couple of years while continuing to reward investors through higher distributions. On top of this, it faces minimum counterparty risk. This makes Enterprise Products one of the best positioned midstream MLPs in the downturn.
Disclosure: I/we have no positions in any stocks mentioned, and no plans to initiate any positions within the next 72 hours.
I wrote this article myself, and it expresses my own opinions. I am not receiving compensation for it (other than from Seeking Alpha). I have no business relationship with any company whose stock is mentioned in this article.