Vishay Intertechnology (NYSE:VSH) is a $1.65B company that churns out semiconductors in the U.S., Asia, and Europe. While extremely diversified, Vishay is victim to the temperaments and pricing of its markets.
Though this isn't always a terrible thing, some weaknesses certainly stood out in Q4 earnings, reported Tuesday, February 9th. Record-setting short-sales subsequently occurred in dark pools.
There are three things...
All of which are worrying, that stand out from Q4 earnings, the press release and the conference call. They are worrying not only because they are nominally negative, but more importantly because they are difficult to quantify.
See for yourself why the uncertainty might cause some consternation, and why this might be a good short candidate in today's market.
1. Unprofitability and "belt-tightening."
Vishay has been wanting to post better operating margins for a while now, and their emphasis has been on cutting SG&A expenses. This effort shows up frequently in press releases and calls it "belt-tightening," and according to the most recent 8-K, it has been successful.

But then - admirable as it may be - you can see that operating margins haven't exactly improved.
We already mentioned that Vishay is a victim of its market. Ignoring operating expenses, this vulnerability comes through in the deterioration of the top line - gross margins simply don't hold up against a lower-volume environment. From the call:
Reconciling versus prior year, ... average selling prices had a negative impact of $21 million, representing a 3.6% ASP (average selling price) decline; volume decreased with a negative impact of $6 million, representing a 2% decrease.
Later in the call, CEO Gerald Paul says he doesn't expect any changes to gross margins in the coming year. Which leads straight to our next "worrying thing," which is the broadly uncertain macro environment that Vishay finds itself in.
2. Asia and "softening."
The "traditional" bread-and-butter business for Vishay is resistors and inductors that aim at auto, industrial and medical sales.
... starting with resistors and inductors, Vishay's traditional and most profitable business basically continues on a good level, but in 2015 also experienced the general weakening of the economy.
Offering more color, management seems happy with the business coming from medical, and even auto (with caveats), but nothing else seems to come without some downside.
So is there any potential for growth in any of Vishay's many segments? What about in capacitors, sensors, diodes and MOSFET transistors? Management's growth prospects begin here:
We continue to see opportunities for growth in the Asian, predominantly in the Chinese market.
But the only real "growth" segment that management seems to put any stock in is infrared sensors. And with regard to sensors in particular, they once again look directly East:
We also increased further our selling efforts in China, which undoubtedly will pay off in the future.
And to conclude?
... we enter 2016 with confidence, in particular we believe in an eventual turnaround of the Chinese economy.
The broken-record talk about China isn't exactly inspiring, especially when they acknowledge the "general economic softening in Asia," but wait, there's more! Apparently, CEO Paul has a history of worrying about the auto business. Remember, now, that management refers to automotive as a "stabilizer" for their MOSFET segment.
It sounds like a broken record, but I am always every year I am somehow skeptical about the continuation of growth in automotive...
Strangely enough, these operational and macro worries aren't really what drive the Q&A session at the end of the call, though, nor what pop out in the press release, because there's another, more unusual concern.
3. Tax loss and "domestic cash needs."
Vishay's foreign subsidiaries have been sitting on over $1 billion in liquid assets, avoiding repatriation and U.S. taxes. Not an uncommon phenomenon, but unfortunately, owing to foreseeable "domestic cash needs," some cash is going to be repatriated at some as yet unknown cost.
... we have recorded a tax expense of $164 million in order to repatriate $300 million to the U.S. This is the book tax amount. The actual cash taxes paid will be significantly less when considering available net operating losses and other tax attributes.

We anticipate the effective tax cost of the repatriation will be approximately 15%, which could vary significantly depending on the timing of the repatriations over the next several years.
So, that $1 billion might be taxed at 15%, or it might not. And it might take two years to repatriate it, or it might take five. There's really no way to know.
When asked the inevitable questions (and there were plenty) about if, whether, when, how much and to what extent that cash would be used for dividends and share buybacks, management repeatedly refused to provide any guidance.
This degree of uncertainty is never well received in any company, and as we've seen before, uncertainty particularly with regard to share buybacks and dividends is a clear path to alienating investors.
As if on cue...
The morning of February 12th featured two large back-to-back short sale transactions in dark pools. In total, over 1.6M shares were shorted - the highest one-day dark pool short volume number in VSH in years.
In the chart below, red bars represent daily dark pool short selling volume.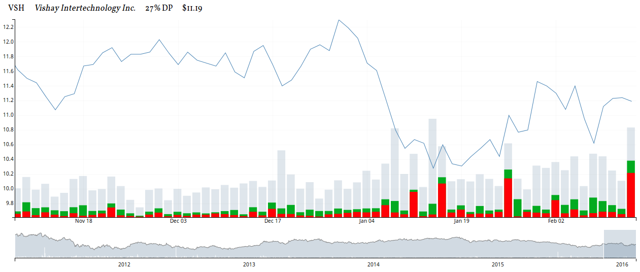 Source: sqzme.co
So while there's no real way to tell who is shorting Vishay or why (or how long they intend to hold their shares short, for that matter), it's almost always worth taking note when over 50% of a stock's daily volume is dark pool short selling.
And with Vishay's short interest most recently reported at 22.9M shares (over 15% of the float), we think it's safe to say that some folks are genuinely bearish on Vishay - and with good reason, too.
Shopping for shorts?
Vishay has a lot of what you might be looking for. There's a trend, there's uncertainty and there aren't any upside catalysts.
What's more, there are entrenched shorts - and to wrap things up with a bow - there's an unfavorable macro environment that doesn't seem to be changing for the better. What more could you want?
---
Well, maybe you wanted a ham sandwich - but that's not what you're getting. Short or long, there's no such thing as a free lunch.
In case you want to look more into riding the short sale bandwagon, check out FINRA's TRFs, which is where the referenced dark pool short sale data comes from.
Alternately, drop us a line at info@sqzme.co if you have any questions. We look at this stuff all day.
Matt
Disclosure: I/we have no positions in any stocks mentioned, and no plans to initiate any positions within the next 72 hours.
I wrote this article myself, and it expresses my own opinions. I am not receiving compensation for it (other than from Seeking Alpha). I have no business relationship with any company whose stock is mentioned in this article.