Vivus (NASDAQ:VVUS) investors have pretty much gotten used to a very flat trajectory when it came to sales of Qsymia. That dynamic was painful for many to see, but solace was oft reached by knowing that the company was cutting costs, so the bottom line would not look as bad. Thus far in 2016 what we are seeing is a new norm. The sales trajectory is no longer flat with a small upward angle. The sales trajectory is now down. That does not bode well when costs have already been cut to the bone. There is no avoiding anymore for passionate longs. The insurance issue is carrying an impact on Qsymia sales and the trajectory is suffering because of it. In any year, the fourth quarter with two major holidays, is the worst sales performer of the year. Sadly, current sales levels of Qsymia are not even keeping up with Q4. Q1 is weight-loss season. It is the "Black Friday" in anti-obesity. Qsymia sales are simply missing the mark, and sales of 9,100 last week do not give investors much to be confident about on the Vivus weight loss front.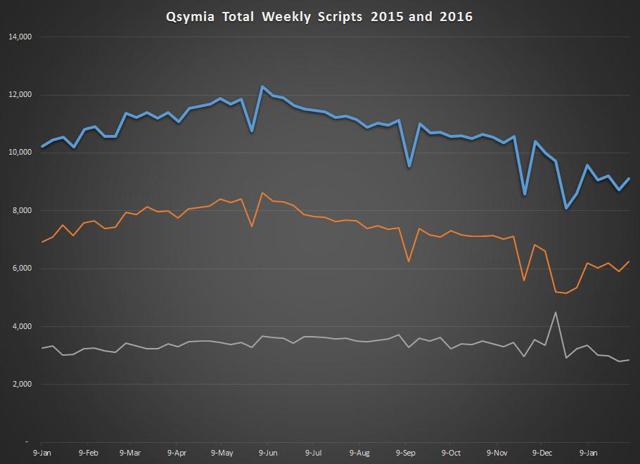 Click to enlarge
Chart Source - Spencer Osborne
On a quarter over quarter basis, sales are down almost 14%. Simply stated, if Q1 is supposed to be the "good quarter", then investors will have several frustrating weeks ahead. In fact, sales in the current quarter are below each and every quarter for the past 18 months. Qsymia is the revenue driver for Vivus. Sales dips are to be expected, but this is far more than a sales dip. In the past, we have seen the chart below have lines overlapping and virtually on top of each other. This current quarter is separated from the pack of other quarters on the bottom.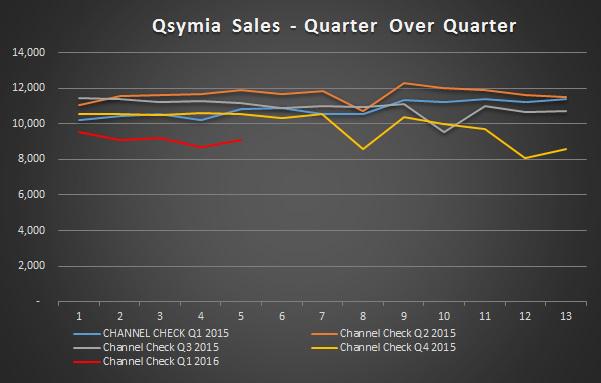 Chart Source - Spencer Osborne
On a year over year basis, the story is not any better. Qsymia sales are down about 13% from what we were seeing a year ago. Vivus has not been a stranger to year over year numbers that are not impressive, but seeing a Q1 that is trending in the negative is new territory for this company and its investors.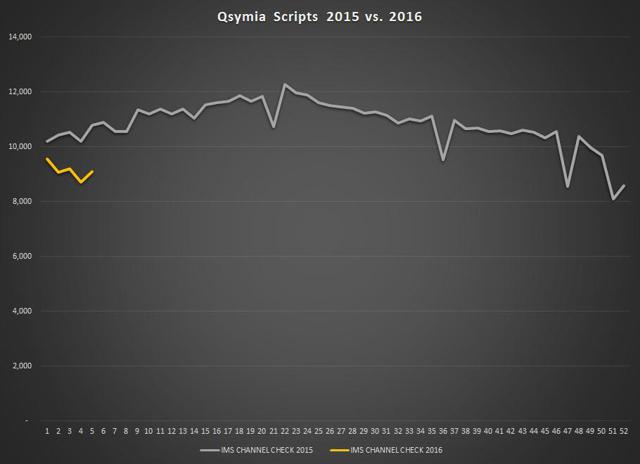 Click to enlarge
Chart Source - Spencer Osborne
In terms of market share, Qsymia is now at its lowest market share level since it launched. The Qsymia share of the branded anti-obesity pill market now sits at 27.4%. The anti-obesity sector has grown a bit over 9% in 2016, but every bit of that growth has gone to competitor Orexigen (NASDAQ:OREX) with its drug Contrave. Qsymia from Vivus and Belviq from Arena (NASDAQ:ARNA) are both negative in growth in 2016. That being said, even Orexigen investors do not have anything meaningful to celebrate. Sales of Contrave are flattening out and are still four times lower than needed to generate some excitement in its stock. Vivus needs to stay above 25% market share to even be in a conversation about the sector, and it is quickly dipping lower in that statistic.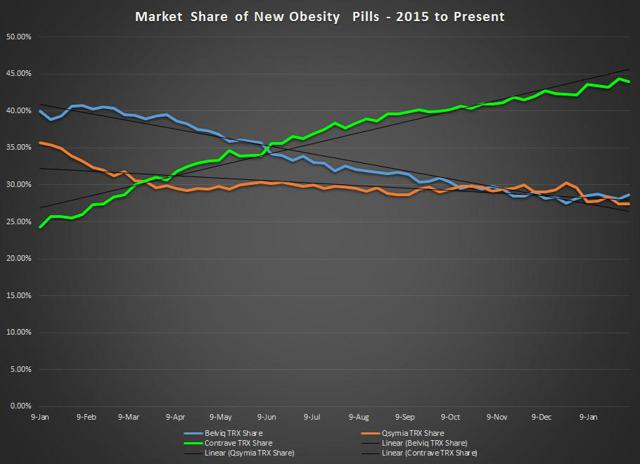 Click to enlarge
Chart Source - Spencer Osborne
Vivus investors have to pin their hopes on something. The two popular things these days are the return of the erectile dysfunction drug Stendra, and a hope that billionaire Carl Icahn will scoop up the company. Of those two things, the first is perhaps the one with the best potential. Icahn's move to buy bonds was not shareholder friendly, and in my opinion, if he makes any move, it will not be shareholder friendly either. Stendra is a novel erectile dysfunction drug with an impressive 15-minute onset labeled. The drug seems to be compelling, yet saw a stale launch in the U.S. Ultimately, the U.S. rights are being returned to Vivus. As yet, Vivus has not found a new partner. It could try to market the drug itself, but we have seen with Qsymia what happens when Vivus attempts such an endeavor.
With Vivus stock on the dollar menu, there is some wisdom to a speculative play here, but if you are looking for mega-bucks, you may need to look elsewhere. A partnership deal on Stendra would deliver a decent percentage move in the stock, but after that the challenges will once again arise. Even with generics of Viagra and Cialis in the market, those drugs still dominate.
The bottom line is that Qsymia is the main revenue driver of this company and sales are shrinking. That is never a good dynamic to bet on. Stay Tuned!
Disclosure: I am/we are long ARNA, OREX.
I wrote this article myself, and it expresses my own opinions. I am not receiving compensation for it (other than from Seeking Alpha). I have no business relationship with any company whose stock is mentioned in this article.
Additional disclosure: I have no position in Vivus