Acorda Therapeutics (NASDAQ:ACOR) is acquiring Biotie Therapies (NASDAQ:BITI) in a strategic acquisition via cash tender offer of EUR 23.568 per ADS (to be paid in USD at the spot rate at closing), or EUR 0.2946 per NASDAQ Helsinki share (1 ADS = 80 shares). The tender is expected to commence by early March. Both Acorda and Biotie management show a high level of enthusiasm for the deal, and holders of 59% of voting rights have committed to tender shares. Baupost is a 17% owner and is among the 59%. The parties have entered into a combination agreement with limited break conditions.
There is currently a relatively wide deal spread, possibly due to the headline USD purchase figure and the need to hedge to manage exchange rate risk. The trading volumes are also relatively low at approximately $1M per day on NASDAQ and even lower on the Helsinki exchange.
Biotie is a drug development company headquartered in Finland with a portfolio of neurodegenerative and psychiatric development candidates in phase 2 and 3 testing. It also has a recently commercialized product for the treatment of alcohol dependence. Acorda Therapeutics is a US drug development company focused on nervous system disorders, with a number of successfully commercialized products and multiple products undergoing trials.
The conditions targeted by the two companies' products overlap, but the products are complementary rather than competitive.

Sales Synergies
Acorda has a robust sales arm which the CEO has called "the best commercial organization in all of specialty". The combined product portfolio is dominated by treatments for nervous system disorders and a significant leverage benefit should be realized when Biotie's products are marketed by the experienced Acorda team. In fact, the CEO stated recently Acorda sales team has spare bandwidth and expect to be able to take a commercialized Tozadenant to market with no additional sales staff.
Upon approval of both Tozadenant and CVT-301, Acorda will have two highly complementary products for the treatment of Parkinson's disease. Tozadenant is a "base" treatment used for all-day symptom control, whereas CVT-301 is a short-duration inhaled product used for "OFF" periods (Parkinson's base drugs do not have a perfectly smooth symptom control profile). Dual-marketing should increase sales of both products.
Development Synergies and Culture
Both teams appear to have similar approaches to development and design and conduct of trials, and Acorda's CEO stated that their review of and confidence in the trials of Tozadenant are what led them to do this deal. The other Biotie drug candidates are icing on the cake. Overall, the two companies appear to be an excellent fit.
Acorda did not include rationalization of development and support organizations in their discussion of the deal, but there will be opportunities. It was noted in their press release that Biotie has a facility in the San Francisco Bay area that they intend to keep, as Acorda does not currently have a west coast presence.
Key Details and Conditions
Announcement Date: 19 January 2016
Pre-Announcement Share Price: ADRs $13.20 (NASDAQ); EUR 0.15 (NASDAQ Helsinki)
Deal Price: US$25.60 per ADS (EUR 23.5680 at USD/EUR=1.0864 on announcement date); EUR 0.2946 per Helsinki NASDAQ share; The final USD payment amount will be based on the spot rate at the time of tender closure.
Premium: ~95%
Total Deal Value: US$363M
Acquirer Break Fee: Nil
Target Break Fee: US$4.5M
Potential Downside Price: US$13.20 if no other offerors come forth
Key Conditions and Status:
1. More than 90% of outstanding share and voting rights tendered
2. Financing - Not conditional on financing. Acorda has over $400M cash on hand and is cash flow positive.
3. Regulatory approval/Expiration of waiting periods:
a. Hart-Scott-Rodino Act - Cleared 17 Feb
b. Other - SEC relief for conflicts between US and Finnish securities regulations - Expected by end of February, and necessary to commence tender.
4. No material adverse effect post 19 January 2016; No prior undisclosed material adverse effects.
5. Public and privately provided Biotie information is not materially inaccurate, incomplete, or misleading
6. No court or regulator orders/injunctions
7. No change in Biotie BOD recommendation for the Tender Offer
8. The Offeror reserves the right to complete the Tender Offer even if the conditions to completion of the Tender Offer have not been fulfilled.
Earliest Closure Date: 20 business days from commencement of tender plus 1 to 3 days for settlement
Author's Expected Closure Date: early to mid-April
The following tables illustrate unhedged annualized returns with a range of starting prices, exchange rates, and closure dates to account for market movements and timing of deal closures. Highlighted are what I believe to be a conservative range of most likely outcomes with the mid case presented first.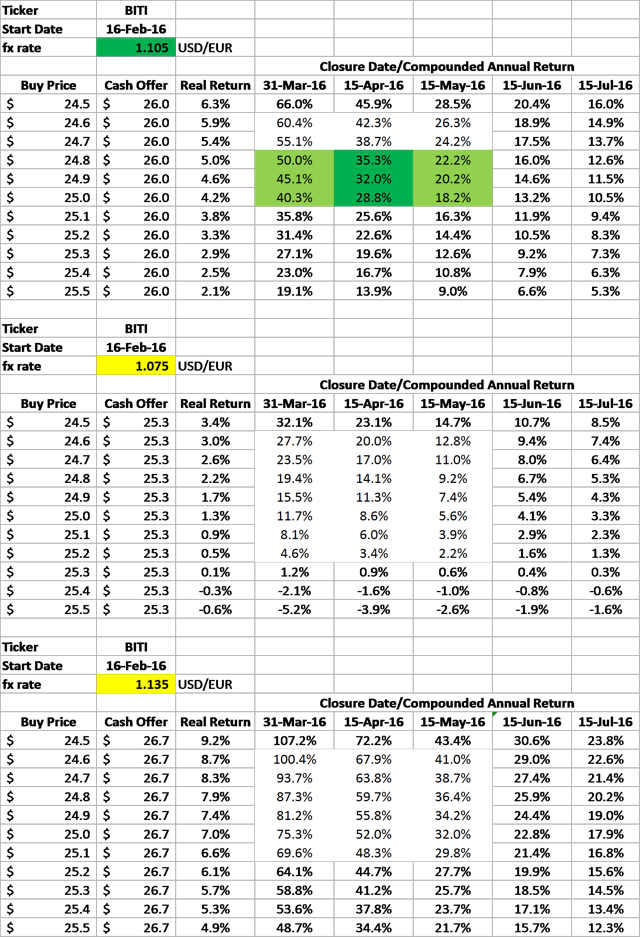 There are no traded options for Biotie.
Risks
90% tender threshold -The companies took care to line up a majority of shareholders pre-announcement, and it's my expectation that even if 90% is not achieved in the first round, Acorda will accept the shares tendered. The acquirer is extremely enthusiastic about this deal.
Material Adverse Effects - Biotie financials are in order and short of fraud it is highly unlike that there will be any surprises. None of the Biotie drug trials will return results during tender process or the 1st half of 2016.
Exchange rate fluctuations - the spot rate was 1.086 at deal strike and is 1.115 at the time of this writing. Hedging using EUR/USD futures is advisable for those not wishing to roll the dice on the euro. The June e-micro EUR 12,500 futures are currently priced at 1.1172. Sale of one contract will hedge approximately 530 American Depository Shares.
What if the deal breaks?
The deal provisions allow Biotie to consider higher offers and for Acorda to match or beat any such offer. The combination of this provision and the high deal premium are likely to have dissuaded any other interested parties, and certainly none have come forth publicly. Thus we don't know if anyone else is waiting in the wings, and there may be no one.
The potential value of Tozadenant is many multiples of the current market price, and the publicity from the acquisition process may bring out new suitors if the deal breaks for reasons other than a trials failure of Tozadenant. The drug has a potential annual market value of ~$400M, and very positive Phase 2 trial data.
Acorda's CEO discussed the deal logic at a recent conference by comparing the failure of a Merck phase 3 trial for Parkinson's drug Preladenant in 2013 to the trials of Tozadenant. Both drugs have similar mechanisms, but flaws in the Merck trial design and conduct resulted in phase 3 failure after very successful phase 2 data. In his estimation this very public failure depressed the perceived value of other Parkinson's candidates, and now that the logic is public it could encourage others to look more favorably on Biotie. I certainly would consider hanging on to my shares in a failed deal scenario.
Conclusion
opportunity,
Biotie in from the cold
tender Spring brings gold.
Those looking for additional arbitrage opportunities should consider following fellow contributors Maude's Capital, Andrew Walker and his Investing with an Edge series, and Chris Demuth's M&A Daily. Please use the comments section to let me and the other readers know whether you have a position or are considering one, and to highlight concerns and other opportunities.
Author's note: Comments, suggestions, and criticisms are welcome. Feel free to send a personal message if you prefer not to comment publicly. If you liked this article and want to be notified the next time an article is published, please click Follow beside my name at the top of the article.
Disclosure: I am/we are long BITI.
I wrote this article myself, and it expresses my own opinions. I am not receiving compensation for it (other than from Seeking Alpha). I have no business relationship with any company whose stock is mentioned in this article.