Introduction
This is part of a series of quarterly reviews that analyze the performance and portfolio characteristics of interesting equity managers running either public (mutual funds) or private pooled investment vehicles (hedge funds) that are not accessible by retail investors. Our aim is to provide readers:
An analysis of the manager's return and risk characteristics.
An analysis of the manager's top portfolio holdings.
An opinion on whether readers should replicate their portfolio.

All analysis is based on a clone portfolio of the manager's top 10 disclosed holdings, which allows readers to replicate the portfolio with ease if desired. It may not be an accurate reflection of the manager's actual investment performance.
That said, it is possible for some clone portfolios to outperform the manager's actual portfolio over time due to the following factors:
No Fee Drag: Absence of management fees (high base fees + performance fees in some cases). Investors can buy the stocks directly to access the manager's stock-picking skill.
Higher Concentration: Managers typically over-diversify. Returns from the best ideas are usually diluted by a long tail of lower quality ideas. We focus only on the top 10 holdings.
Equal-Weighting: Managers may have good stockpicking skills, but can be terrible at sizing ideas correctly. Our clone portfolios are equally-weighted so all ideas have an impact on returns.
Lower Trading: Managers typically add/trim positions on the margin too often. Quarterly rebalancing in line with 13-F releases reinforces a buy-and-hold discipline and reduces costs.
Manager Brief
| | |
| --- | --- |
| Manager Name: | Lone Pine Capital |
| Location: | Greenwich, CT |
| Year Established: | 1997 |
| Investment Style: | Global Equity Long/Short, Growth |
| Portfolio Manager: | Stephen Mandel |
| Number of Employees: | 88 |
| MV of Latest 13-F Holdings: | $23.4bn |
Lone Pine is one of the prominent "Tiger Cubs", a term used to describe hedge fund managers that were trained by Julian Robertson, the founder of the highly successful Tiger Management. Tiger is known for its highly successful style of long/short investing characterized by deep fundamental research and a growth tilt. According to Julian Robertson himself:
"I believe that the best way to manage money is to go long and short stocks. My theory is that if the 50 best stocks you can come up with don't outperform the 50 worst stocks you can come up with, you should be in another business ... For my shorts, I look for a bad management team, and a wildly overvalued company in an industry that is declining or misunderstood."
Mandel was formerly a senior managing director and consumer analyst (1990 to 1997) at Tiger.
Performance Analysis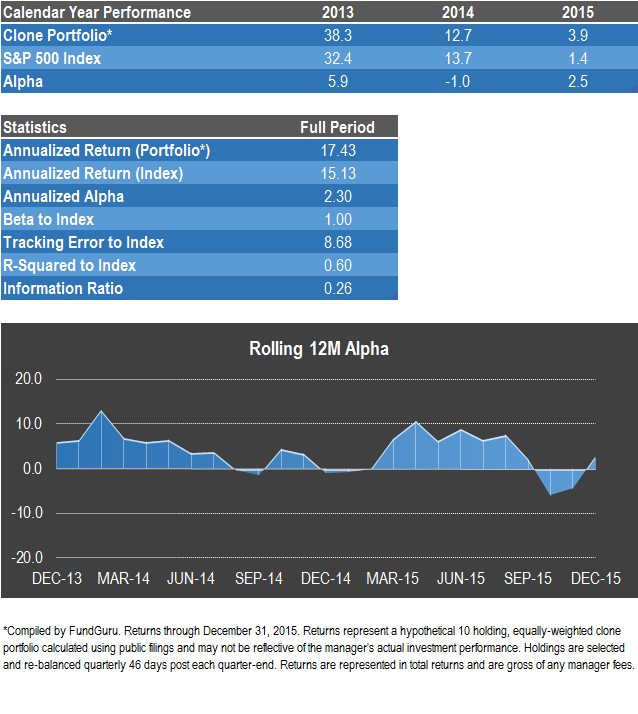 Our Lone Pine clone portfolio returned an annualized +17.4% p.a. over the last 3 years, versus +15.1% for the S&P 500 Index. Most of the outperformance came in 2013, where it outperformed by 6%. Recent performance has been less impressive.
Portfolio Analysis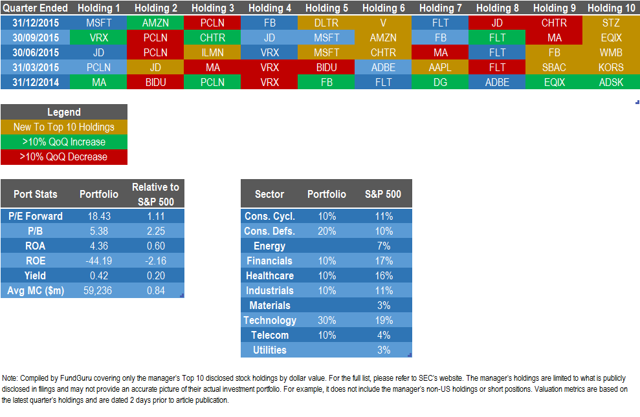 Portfolio Characteristics
Like all Tiger-style hedge funds, Lone Pine practices a growth style of investing. Its portfolio exhibit a large-cap growth tilt, with an avg. market cap of $59bn, and higher P/E and P/B relative to the S&P 500. The portfolio is fairly diversified across sectors.
Individual Holdings Performance
This is high turnover portfolio which makes evaluation of individual longs challenging. The manager actively trades in and out of names, indicative of short time periods and intense focus on quarterly earnings. Only 3 names have remained in the portfolio over the past year: Priceline (NASDAQ:PCLN), Facebook (NASDAQ:FB) and Fleetcor (NYSE:FLT). This is how they have performed: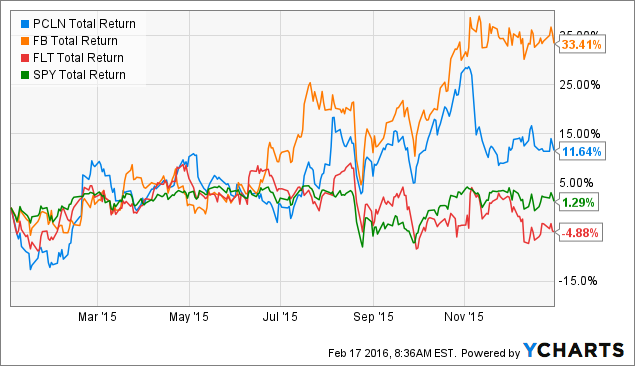 We covered PCLN in our previous review of Valiant and encouraged investors to look at this business due to its high historical earnings growth and attractive valuations. The company reported results today (02/17) and impressed. According to SA:
Priceline reports gross travel bookings rose 12.7% to $12.02B in Q4.
International bookings were up 15.9% (+29% constant currency), while U.S. bookings fell back 7.6%.Gross profit was up 12.2% to $1.879B.
Operating expenses increased 11.5% to $1.221B.
The company sees Q1 gross travel bookings growth of 12% to 19% and EPS of $9.00 to $9.60 vs. $9.60 consensus.
The stock is up +10% pre-market to $1,228, which represents a +16% return since we our initial coverage.
FLT (a provider of payment cards and services for workforce transportation and lodging expenditures) is another company that have grown its earnings steadily over the past couple of years but recently struggled. It's off 25% from its 52-week highs and is now trading at a 6% free cash flow yield.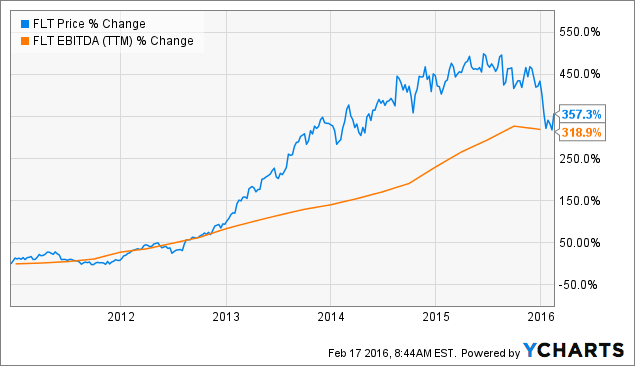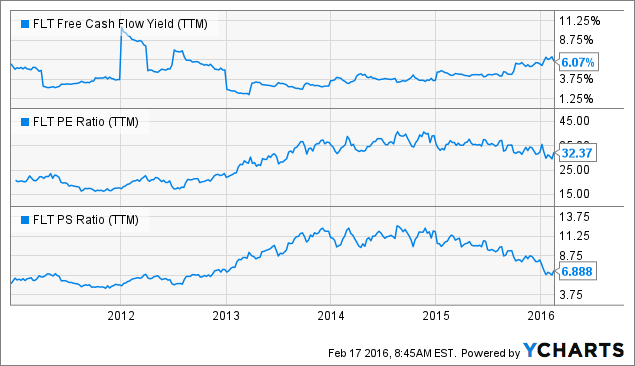 The company recently reported earnings that topped estimates but provided a light guidance. Recent weakness may provide an attractive entry point for long-term investors.
Finally, This is the YTD performance of current names:

Recent Portfolio Activity
The most noteworthy change during Q4 was the reduction in Valeant (NYSE:VRX), which drops it from the top 10 holdings. It also added to Dollar Tree (NASDAQ:DLTR) and Visa (NYSE:V). The story with VRX is well-known, and Lone Pine clearly does not see near-term improvement in the company.
Visa is a wide-moat, "buy-and-hold" stock that has underperformed of late. Together with Mastercard (NYSE:MA), the two dominate their market and have generated strong returns for shareholders in the past decade.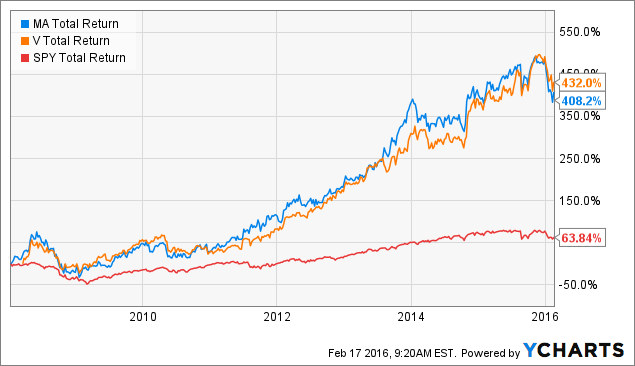 We regard these businesses as compounders (see our previous article on this), although with slightly more cyclicality. We do not believe they are attractively valued at present despite their recent drop. Of the two, we like MA more due to its higher growth trajectory. We recommend investors acquire them on any pronounced weakness.
The manager also increased its position in Amazon (NASDAQ:AMZN) during Q4 at a price of $506-$696. AMZN was trading at $521 at of yesterday's close, some 22% off its highs reached late in December.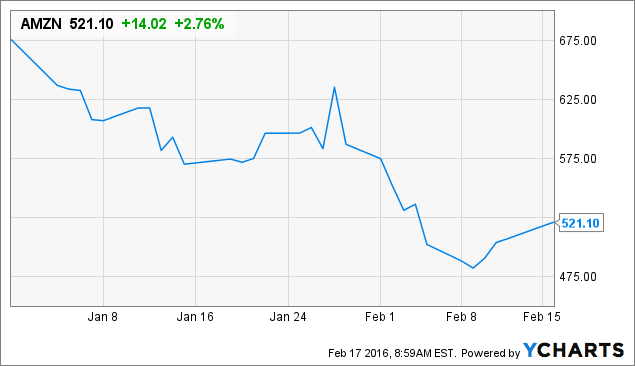 Despite some glitter in Amazon Web Services, we remain skeptical of jumping into high multiple names like this one in the current market environment, which will likely favor value over growth. For more information on this, see our previous article "Move Out of Momentum And Into Value".
Summary Thoughts
We Liked
Veteran hedge fund manager focused on fundamental analysis of companies
Stellar long-term track record according to public sources
We Didn't Like
High turnover portfolio and frequent position management, indicative of shorter investment horizon and focus on quarterly earnings numbers
Alpha has not been significant over the past 3 years
Growthy portfolio which will likely struggle in the short to medium term
Huge assets under management which will no doubt force the manager to invest in more large cap names
Lone Pine has a stellar long-term track record. However, due to the high valuation of the US market we don't believe now is the time to buy this portfolio as a whole. Readers should take a look at individual holdings such as FleetCor and Priceline .
We will monitor for a more attractive entry point into Lone Pine.
Interested in following more alpha?
Follow us now and get live updates as we publish more manager reviews. For now, take a look at some of the recent articles we've published in this series:
Disclosure: I am/we are long PCLN.
I wrote this article myself, and it expresses my own opinions. I am not receiving compensation for it (other than from Seeking Alpha). I have no business relationship with any company whose stock is mentioned in this article.