It appears that the dividend trend will continue for the next two years as the Federal Reserve has declared to keep interest rates low until at least 2014. This means there are few places to find income with interest rates below inflation rates. One solution is to invest in dividend stocks for income and capital increases over time. I use a stock valuation model to determine the fair value of a stock's price and the future dividends based on growth rates. My methodology is shown at the bottom of this article. I have identified four stocks with growing dividends that are trading below their fair value. Here is a discussion of each with the details shown in the chart below.
Cisco Systems (NASDAQ:CSCO) designs, manufactures, and sells Internet protocol (NYSE:IP)-based networking and other products related to the communications and information technology industry worldwide. CSCO recently began paying a dividend, and the shares yield about 1.6%. The technology bellwether's payout ratio is a low 17.5%, leaving plenty of room for potential dividend growth. The future dividend yield on cost is 6.4% in 10 years. CSCO has an equity summary score of 9.7 of 10 points indicating a very bullish outlook. The stock trades at a healthy discount to fair value of $29.42 a share.
CSCO reported Q2 EPS, before one-time items and after stock compensation, of $0.41, vs. $0.33, $0.02 better than estimates. Revenue came in 2.9% better than expected. In particular, service provider revenue was up 12%. That bucks the trend that other vendors are seeing.
Expeditors International of Washington Inc (NASDAQ:EXPD) provides logistics services in the United States and internationally. EXPD shares yielded 1.1%, with a payout ratio of 28%. EXPD has a future dividend yield on cost of 5.5%. Shares are trading at a 33% discount to the fair value on the stock at $58.
EXPD had Q4 EPS of $0.43, vs. $0.45, missing the $0.44 estimate. Gross revenue was lower than expected, but EXPD did a good job improving gross margins and managing other costs. We have made adjustments to our model for slower assumed revenue growth in the first half of this year, with improved net revenue margins. Analysts kept the 2012 EPS forecast at $1.98. However, the revenue picture is clouded by a weak air and ocean freight environment. Investors should wait for more visibility before going all-in on these shares.
Oracle Corp. (NASDAQ:ORCL), an enterprise software company, develops, manufactures, markets, distributes, and services database and middleware software, applications software, and hardware systems worldwide. The shares yield 0.8%, while the company's payout ratio is around 11%. Its shares trade at a steep discount to the $50 fair value price based on future EPS growth of 12%. ORCL has a future dividend yield on cost of 3.4%. ORCL growth will come from recent and future acquisitions.
ORCL announced the pending acquisition of Taleo (NASDAQ:TLEO), a provider of cloud-based talent management solutions, for $1.9B, net of TLEO's cash and debt. As we have mentioned, we think ORCL has been vulnerable from a strategic and competitive perspective given its historical focus on more traditional software models and offerings. We think the recent acquisition of RightNow has bolstered, and the pending purchase of TLEO should further bolster ORCL's technologies and potential in the area of cloud solutions. Below the fair value price, we view ORCL shares as attractive.
Visa Inc. (NYSE:V), a payments technology company, engages in the operation of a retail electronic payments network worldwide. It facilitates commerce through the transfer of value and information among financial institutions, merchants, consumers, businesses, and government entities. V has a 17.6% payout ratio even after a substantial dividend hike last year. The credit- and debit-card payment processor's shares yield 0.8%, and are trading 17% below the fair value estimate. V has a future dividend yield on cost of 4.7%.
Visa had Dec-Q EPS of $1.49, vs., $1.23, that was $0.04 above estimates. The operating margins expanded more than expected. Net income grew 16% on revenue growth of 14% and expense growth of under 6%. U.S. credit volumes rose 10%, faster than debit usage up 6%. CEMEA volumes held up nicely at 24.3%. Guidance was raised as the Street boosted its FY 2012 EPS forecast to $6.05 and FY 2013's at $7.15.
(Click charts to enlarge)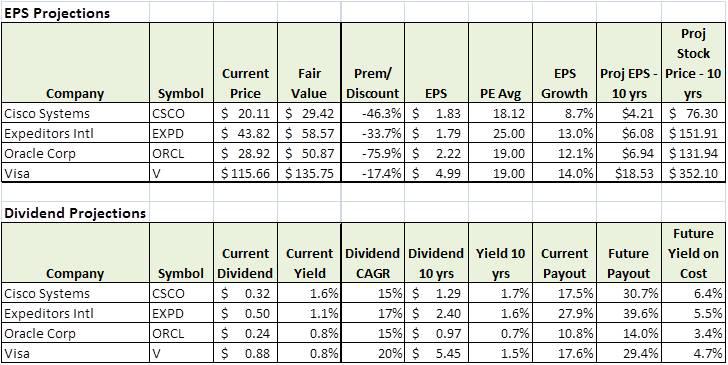 METHODOLOGY: By using the average PE ratio and projected EPS growth, you can use the future time value formula to get an estimate of earnings X number of years into the future. Once you have the future projected earnings per share, just multiply by the PE ratio to get a future stock price. All of the projected growth rates are available on most websites providing detailed stock information. This is great information when looking at the future of a stock in comparative terms. Take this one step further, and you can determine the intrinsic value of a stock. Here, you are using the present time value formula based on your required rate of return. The end result is having a fair value estimate of the stock to compare to the stock's current trading price. This comparison will determine if a stock is overvalued or trading at a discount. We use the same concept to determine the future dividend payout and yield in future years. For me, I prefer to project 10 years forward based on past compound annual growth rates [CAPG] of 10 years of data. The number of years can be adjusted for shorter time periods for stocks with less than 10 years of public data. I am currently using a 10% return on invested capital.
Disclosure: I have no positions in any stocks mentioned, and no plans to initiate any positions within the next 72 hours.