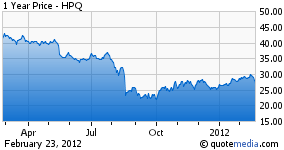 Investors waiting for signs that Hewlett-Packard (NYSE:HPQ) has turned the corner, they must wait for much longer. On Wednesday afternoon, the company reported lackluster financial results that beat on EPS but miss on revenues.
The revenue miss had to do with pricing pressures, especially in the hardware segments, and reflects three strategic mistakes the company made in the last 12 years.
In 2001, Hewlett-Packard made the first strategic mistake, the purchase of Compaq Computer that supposed to provide the company with the scale advantage in the PC market to compete effectively against Dell Computer (DELL) -- which also reported disappointed results this week, IBM, and all sorts of emerging Asian competitors. The problem, however, is that the PC market was already saturated and ravaged by price wars, as the PC was turning into a "commodity" Besides, Compaq Computer itself didn't have an internal innovation system, but it relied on external acquisitions to expand its product portfolio (buying up Tandem Computer, and Digital Equipment Corporation).
In April 2010, Hewlett-Packard made the second strategic mistake, the purchase of near-bankrupt Palm that supposed to help the company enter the fast growing market for mobile devices that began to replace PCs. The problem, however, was that Hewlett-Packard was a follower rather than a leader in this market, going against Apple that enjoyed the first-mover advantage in this market.
Now, Hewlett-Packard is about to make the third mistake, announcing the acquisition of enterprise software maker Autonomy (at a hefty price of $10.3 billion), as this move will pit the company against three major competitors, Salesforce.com (CRM), Oracle (ORCL), and IBM (IBM).
But what would have been the alternative for Hewlett-Packard? Return to the company's innovative trait: develop its own internal capabilities as Corning Inc. (GLW) -- a 160-year old company -- and Apple have been doing, coming up with the one innovative product line after the other, pioneering their own markets rather than trying to colonize the market of others.
What should investors do? Stay on the sidelines until there is better visibility on the company's prospects.
Disclosure: I am long GLW.