Cutting Right To the Chase...
On Tuesday evening earlier last week, Aware (NASDAQ:AWRE) released its earnings for the fourth quarter and the 2015 year. The revenue figure for the quarter showed a significant spike compared to 2014's Q4. Revenue came in at $6.9 million, far surpassing last year's figure of $4.3 million. This 61% increase is underscored by the operating income managed by the company. Operating income was $2.6 million vs. $.2 million from last year. Why do these numbers matter? Glad you asked. Aware managed to translate revenue into operating income at a margin of 37.7%, while 2014's lowly figure comes in at only 7.7%. Obviously, there are a number of reasons for this drastic increase, and I will focus on two below:
1- Medical Imaging Sale
2- Software License Sales
The Medical Imaging Sale
In a time where healthcare M&As are announced seemingly weekly, it is no surprise the companies are pushing forward medical imaging sales. Many (almost all) pharmaceutical companies have an R&D team that needs quality equipment to conduct the numerous tests that are required to submit an NDA (New Drug Application) to the FDA. This sale really intrigued me - can Aware really break into the medical imaging space? While it only had one sale in the quarter, it is worth it to look closely. This is what the press release had to say:
In October 2015, we signed an agreement with a systems integrator to license our imaging software for inclusion in a U.S. government healthcare management system. The arrangement included a $4.5 million license fee plus a software maintenance fee. We delivered the licensed software and the customer paid us in the fourth quarter of 2015.
Alrighty then. You may be thinking "$4.5 million? That's more than all of last year's Q4 sales." I got you covered. Because maintenance couldn't effectively be charged for at an appropriate rate, the company decided to split up the $4.5 million into a $.9 million payment for 2015. The rest will be made up between January and October. This should be a sigh of relief to investors who feel that medical imaging sales are uncommon, as that would have only left a $2.4 million sales figure for every other segment, far below previous quarters. When you subtract $.9 million, you get a Q4 sales figure of $6 million.
Chart Trend
This still represents a sizeable increase in sales for Aware, part of a unique rebound that the chart below indicates: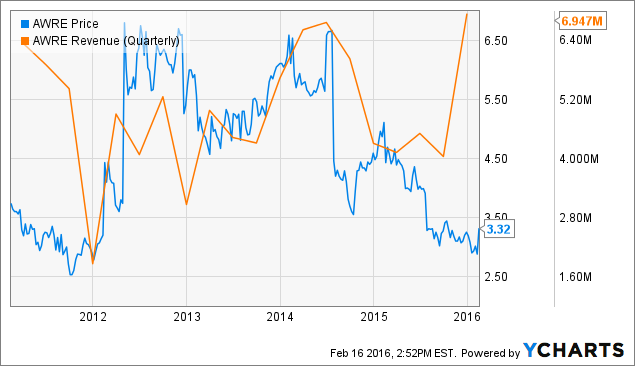 AWRE data by YCharts
What's unique is that last time revenue came in at the $6 million level, the stock was trading at a $6.50 per share range. Right now? A meager $3.52. To reach the levels seen in 2014, the company's stock price would have to rise nearly 80%. Do I think that's possible? You betcha.
Innovation and Industry Demand Will Spur Growth
A piece came out last week about the mass adoption of biometrics in the business version of Windows 10. This comes in the form of finger scanners and the works. BIO-Key, the company that sold its biometric fingerprint scanner, had the chance to tour with Microsoft across 12 cities in the United States. In an interview, the CEO of BIO-Key Michael DePasquale had this to respond to the question:
Has the 12-city tour helped users in the US appreciate the benefits of biometric security?
Indeed and the numbers speak for themselves. Microsoft had more than 5,000 IT managers, directors and executives register for the events. BIO-key was referred to as "the star of the show" as more than 40% of those who attended requested additional information, scheduled follow-up meetings or purchased our products.
This exposure for BIO-Key should motivate biometric companies such as Aware Inc. As the world shifts toward a more cyber-focused strategy, companies and the government are forced to adopt more protective measures for their products and services.
Another story worth mentioning is that of Fingerprint Cards AB. The company had sales in Q4 that showed a 12-fold increase due to strong demand from China. I'm under the belief that China is shifting strategy to becoming more tech-heavy as opposed to manufacturing-heavy, and this clearly shows that mentality. This Bloomberg article alludes to the potential growth of Fingerprint in China, as the country is now heavily focused on fingerprint technology and secure online payments.
Aware is in a great position for expansion. The agreement it has in place with Certisign, Brazil's top producer of digital certificates, will provide per-transaction revenue (Aware licensed out its technology so Certisign can develop a cloud system). It has all the tools necessary to thrive in the near term.
Conclusion
Aware is a little-known gem in the biometrics field. With a well-timed medical imaging sale and per-transaction revenue from Certisign, short-term revenue will be a non-issue. As seen with BIO-Key and Fingerprint AB's success, Biometrics are a hot commodity right now. This is the time to invest in Aware.
Disclosure: I/we have no positions in any stocks mentioned, and no plans to initiate any positions within the next 72 hours.
I wrote this article myself, and it expresses my own opinions. I am not receiving compensation for it (other than from Seeking Alpha). I have no business relationship with any company whose stock is mentioned in this article.
Editor's Note: This article covers one or more stocks trading at less than $1 per share and/or with less than a $100 million market cap. Please be aware of the risks associated with these stocks.