Within the comments section of my prior article discussing my thoughts on primarily healthcare but also other types of REITs, a reader mentioned what I'll call the tendency for Seeking Alpha articles to exaggerate the downside risk and impact of RMR management (NASDAQ:RMR) on the companies they manage. This includes a diverse set of REITs including Hospitality Properties Trust (NYSE:HPT), Senior Housing Properties Trust (NYSE:SNH), Government Properties Income Trust (NYSE:GOV), Select Income REIT (NYSE:SIR), Five Star Quality Care (NYSE:FVE), and last but not least Travel Centers of America LLC (NYSE:TA).
We'll analyze the RMR management system and its impact on various transactions and business relationships associated these stocks. In addition, we'll discuss three of the six REITs in Part I in detail. In Part II we'll cover the remaining firms and come to conclusions regarding the effectiveness of RMR management as well as the value presented by the companies it is involved with. This will include commentary on the June 8, 2015 announcement that RMR managed REITs acquired approximately half of RMR management company in an attempt to mitigate obvious conflict of interests.
First, let's take a look at the aggregate performance and see if we can draw any conclusions.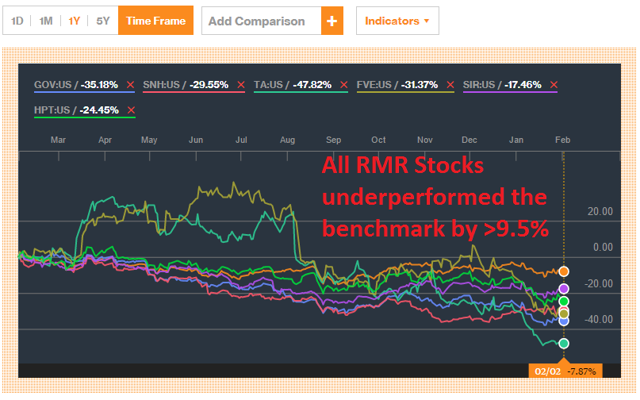 Click to enlargeSource: Bloomberg.com
Using the Vanguard REIT ETF (NYSEARCA:VNQ) as the benchmark (orange in the above chart), all RMR stocks underperformed in the last 12 months by 9.59% to 39.95% percent. Five Star Quality Care and Travel Centers of America initially outperformed in Q2 and Q3 of 2015 before falling abruptly in value last August. The rest of the RMR group has been trailing the REIT sector for an extended period of time. I chose VNQ but other indices produced similar results.
A valid point can be made that while capital gains is important, income, usually measured in the form of distribution yield, is also critical. This is particularly true for the type of income investor interested in REITs. So let's take a look: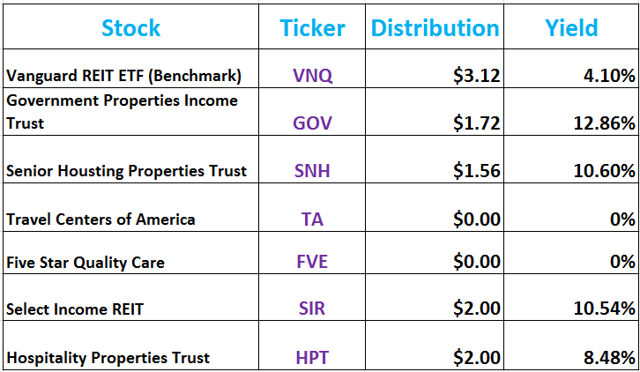 Click to enlarge
Source: Data from SEC Filings compiled by the author.
Several are yielding two to three times more than the Vanguard REIT ETF and 25%-50% higher than sector peers. There may be some validity to the distribution argument but to know definitively, we need to analyze the underlying cash flows and business models supporting these distributions.

Let's start with the only RMR company I've personally invested in (for a memorable ~10% loss excluding dividends before I sold it), Government Properties Income Trust. GOV does not have an overly complex business model on the surface: it engages in long-term leases with government institutions providing secure and stable income. It's down 33% since its IPO in 2009. It has a consistent distribution policy, so while the total return for initial GOV investors is likely positive, it is not by much. GOV has had an investment grade credit rating for over 5 years with 93% of its revenue derived from government entities.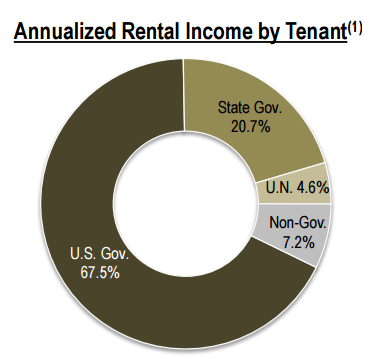 With over 10 million square feet of space and a sufficiently well diversified portfolio given its market capitalization and interests in 71 properties, GOV has what appear to be decent fundamentals. Its stock price, however, tells a different story.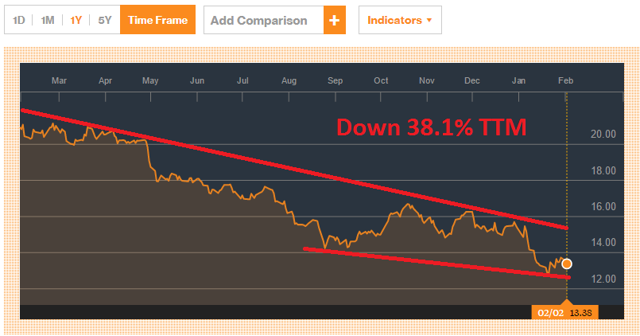 Click to enlarge
Select Income REIT Investment
Going back farther tells an even more dismal story. Something has the market spooked as the stock yields twice that of the average office REIT. GOV owns 28% of the outstanding shares of another RMR entity, Select Income REIT. As a working analyst and risk officer, this immediately makes me extremely cautious. Just about every bad story starts this way. American Realty Capital, which has gone from (ARCP) to (NYSE:VER) and RCS Capital Corp (NYSE:RCAP), which has simply disappeared, are examples of what happens when an incestuous empire inevitably crumbles.
In 2014, GOV purchased what came to be a 28.2% interest in SIR. GOV paid what any reasonable person would conclude to be somewhere between a small and hefty premium for the shares. It was certainly not at a discount. Why did this transaction take place? Did it have to do with RMR trying to maintain board positions at the expense of GOV shareholders? Was it to support SIR's share value in the wake of its purchase of Cole Corporate Income Trust earlier in 2015? Frankly, it doesn't really matter because the bottom line is there is no rationale behind this purchase and it would have never occurred with independent management that was not entangled in several questionable relationships with multiple REITs. This sounds very familiar to Nicholas Schorsch's dealings with American Realty Capital. Mr. Schorsch is lucky not to be in prison and shareholders in ARCP and RCAP suffered huge losses, in some cases losing everything, in the wake of manipulation of financial statements related to its unorthodox practices of absorbing non-traded REITs into the empire with minimal transparency.
Fundamentals
Per the firm's latest 10-Q, GOV's standard REIT performance metrics are actually quite good. The firm's payout ratio has been steady between 70%-80%. There is some renewal risk in 2016 (~14% of the portfolio) but nothing alarming. The existing flat rate contracts could be negotiated up given real estate is generally more costly around the U.S. now than in prior periods. Concentration risk in geographical areas the federal government has a greater presence, such as Washington D.C. (~20%) and Atlanta, Georgia (~9%), are not high enough to be worrisome. There is no recent or planned growth (based on management's commentary) in the REIT's asset base. We will dig into SIR's portfolio later but overall GOV's interest represents fairly solid assets.
Valuation and Final Thoughts on GOV
Trading at approximately 6-7 times annualized FFO, GOV is a full 35%-50% cheaper in terms of price paid per unit of excess cash flow than its peers. The market has seriously punished GOV because of its external manager RMR. Can the stock really go much lower? Personally, I think GOV is at or very near a bottom short of a material unexpected event occurring. One could be an aggressive shrinking of the government by a new republican president. I put this at a low probability; both parties tend grow the government, whether they admit to it or not. Second, RMR could take other actions contrary to GOV's best interest. For instance, RMR doesn't seem interested in buying back shares despite the huge drop in equity value. It is more concerned with maintaining its control and fee stream than the long-term health of GOV or its share holders. Or it could make a large acquisition of or investment in an entity with an almost totally unrelated business and pay a high premium in the process... never mind, that one already happened.
For those willing to take on this risk, they can at least know going in that they have a large margin for error through the steep discount the moderately healthy REIT is trading at relative to peers.

Next we'll discuss the REIT GOV owns a piece of, Select Income REIT. SIR has made significant progress since Q3 2014 as outlined below.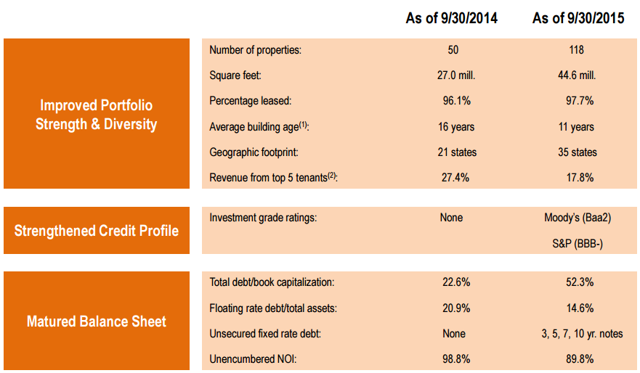 Click to enlarge
Due to the $3.0 billion acquistion of Cole Credit Income Trust that completed on January 29, 2015, there has been significant change in the firm's standing. The number of properties have doubled as has its leverage. SIR added unsecured fixed rate debt and reduced unencumbered net operating income by 9%. The firm's portfolio is unique in that it has approximately 20% exposure in terms of revenue and square feet in the state of Hawaii where it is also the largest tenant.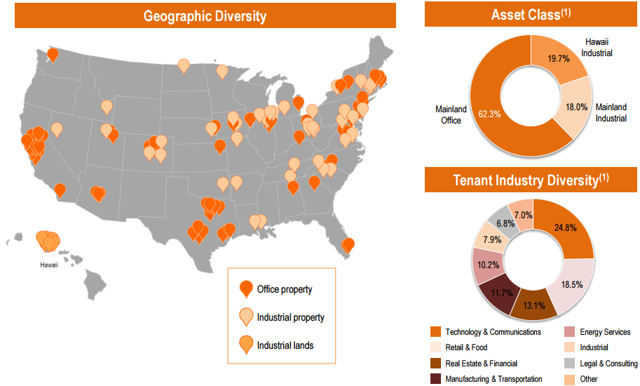 Click to enlarge The payout ratio of 69.4% is similar to that of GOV and healthy enough to suggest a low probability of a distribution cut even if the portfolio experiences significant stress. Tenant diversification is adequate outside of an overweight position geographically to Hawaii.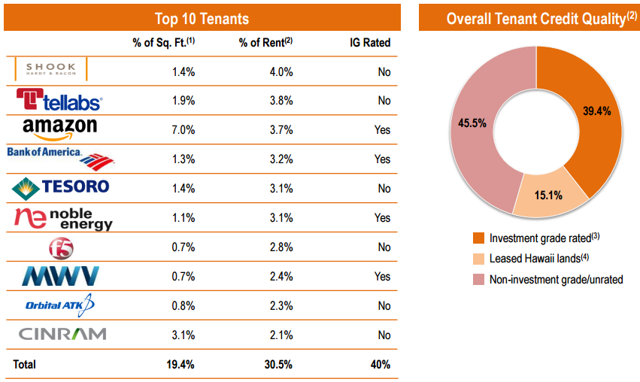 Tenant credit quality is in line with other REITs of this type.
Valuation
With an FFO multiple of only 7 times, SIR is substantially cheaper than its peer average of 12x-18x. Since this is similar to that of GOV's, this confirms our thoughts on GOV's relative valuation are accurate. Even a very conservative 10 times FFO ratio results in a share price of $26, which is nearly 45% higher than current levels. This should be the bare bones multiple of a REIT in this sector with these qualities (e.g., long-term triple net leases in the office space with adequate diversification by region and tenant with a 10% yield and corresponding 70% payout ratio). If the agreement with RMR were to further be restructured toward aligning incentives or for some other reason the market's faith in the external management company were at least partially restored, a 12 multiple would likely be the minimum, which is still below the 15x average of its peers. Like GOV, it is safe to say a very substantial discount has been applied to shares of SIR not because of its balance sheet, assets, or cash flows, but rather RMR.

Click to enlarge
Senior Housing Properties Trust fits well after the other two. It has a large portfolio to the tune of $7.5 billion in real estate assets. It is also investment grade with an even more diversified asset base in terms of geography and real estate types. It does have a high concentration to Five Star Quality Care at 27% of revenue. This has been trending downward from nearly 50% of revenue. But since RMR is involved, things cannot be that simple. In fact, RMR has its hands in many pots. Just how many? Let's let RMR do the talking.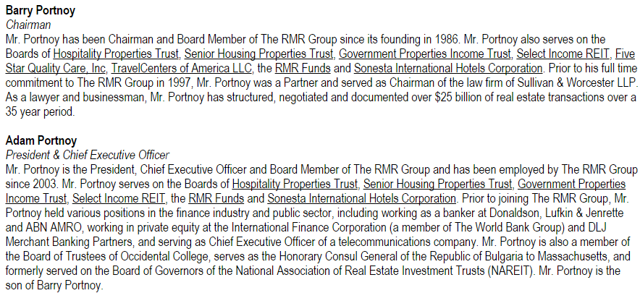 Click to enlarge
Surprise, surprise -- Barry Portnoy, the Chairman of the RMR group, has over 220,000 shares of both entities and is the #1 shareholder in SNH and #2 in FVE. These types of shady arrangements are not the exception when looking at business relationships and transactions led by RMR -- they are the norm. Nothing is better than being on the boards of all these entangled firms and having a son and father in charge for icing on the cake.
Similar to SIR's deal with Cole, SNH also could not resist getting a taste of the non-traded REIT space by acquiring the CNL Lifestyle Portfolio for $790 million in mid-2015. This purchase is the primary reason reliance on FVE decreased in recent periods.
The firm has exposure to medical office buildings ("MOBs"), assisted living, memory care, and independent living. In aggregate, private pay senior living represent 50% of its properties with MOBs making up the majority of the rest at 45% of properties. SNH's payout ratio is a little higher than its aforementioned colleagues but is still in the acceptable range of 80%-83% in recent periods. Dividends per share have remained flat since 2013 but the long-term track record is undeniable as shown below.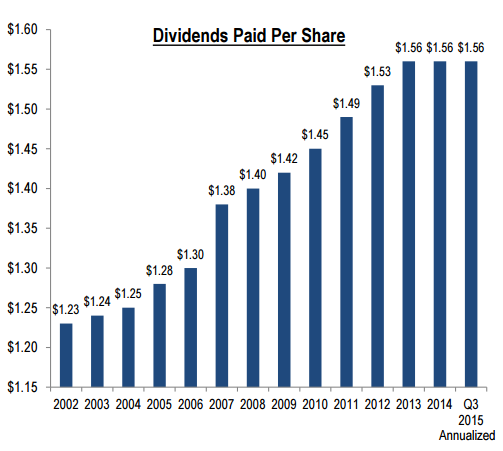 From a tenant balance sheet perspective, only FVE really justifies closer examination since it is material to SNH's financial well being. FVE's total assets that exceed $500 million versus its total liabilities of just of $300 million do not raise any red flags on the surface. As someone with experience calculating the "hidden" impact of leases (thank you CFA Institute), a firm like FVE can seemingly reduce its operating leverage by using operating leases rather than taking on capital leases or debt-financed purchases. Current accounting practices provide significant "flexibility" in how firms report these obligations. This usually means they hide or try to downplay the associated costs. While I did not calculate it to the penny, it comes in at approximately $2 billion (likely higher). Converting it to a debt-financed purchase results in a liability of approximately $1 billion that we'd need to add to total liabilities to get a true picture of FVE's leverage which then becomes quite high. Here is an interesting chart I ran across from New Constructs, a specialty accounting consulting firm.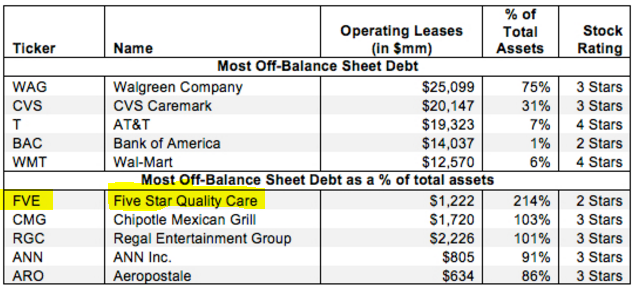 The data is a few reporting periods old but "Most Off-Balance Sheet Debt as a % of total assets" is not a list you want your firm to be #1 on. This is also not the kind of chart you'd prefer to see for a long-term investment.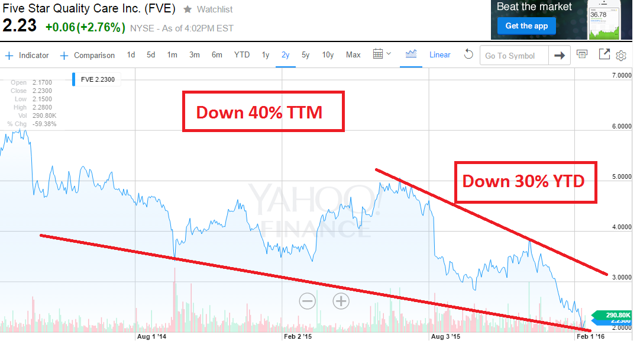 Click to enlargeFVE's operating metrics have not been stellar either as of late.
Conclusion on Senior Housing Properties Trust
SNH has a few challenges ahead of it. It is going to have a hard time getting traction with RMR's questionable management on its back. Its largest tenant is struggling operationally and financially, which represents a fourth of SNH's revenue. Lastly, it does not have the "edge" that more focused companies like Physicians Realty Trust (NYSE:DOC) does because it has buildings all over the place with ~45% biotech related, a highly volatile sector, 40% on campus, and 15% off campus. As I personally consider allocating more to stronger names in the space that have sold off significantly in the past few months, like Healthcare Trust of America (NYSE:HTA), Ventas, Inc. (NYSE:VTR), and Welltower (NYSE:HCN), it seems difficult to justify investing in SNH given the issues I detailed above even though its valuation is 30%-40% lower than those firms. As a final point, let's remember that a $10 annual distribution for a 10% yield becoming a 12% yield isn't going to make any difference in terms of income if all it did was decrease from $100 a share to $83.33. Even reinvesting on the way down only does so much.
Part II
Next, we'll tackle the other RMR entities and get my final thoughts on the RMR group's management practices and attempt in mid-2015 to offset some of the conflicts of interests in its business model.
Thank you for reading, and as always, please follow me if you'd like to read similar analysis in the future. I strive to reply promptly to all private messages from followers.
Disclosure: I am/we are long MCEP, MEMP, GST-A, LNCO, WPC, VTR, HCP, HTA, DOC, VNRBP, MAIN, BXMT, RY, BNS.
I wrote this article myself, and it expresses my own opinions. I am not receiving compensation for it (other than from Seeking Alpha). I have no business relationship with any company whose stock is mentioned in this article.
Additional disclosure: The author may enter into long or short positions in any part of the capital structure of any of the firms mentioned in this article. Readers should always conduct their own independent due diligence and not rely upon information or opinions provided by the author.
Editor's Note: This article covers one or more stocks trading at less than $1 per share and/or with less than a $100 million market cap. Please be aware of the risks associated with these stocks.