By Rupert Hargreaves
Long only funds are continuing to buy Chinese equities, in particular, Chinese Tech stocks and Financials according to Copley Fund Research, which tracks 120 global emerging market equity long only funds with a combined AUM of more than $250 billion.
Copley Fund Research's data shows that despite China's volatile markets, funds have continued to plow cash into the country's equity markets with the pace accelerating over the past 12 months. That being said, the total value of assets invested in China's markets (including H-shares from the Hong Kong Exchange) by the 120 funds Copley Fund Research tracks has fallen from a peak of $50 billion at the beginning of 2015, to around $42 billion, tracking China's stock market slump.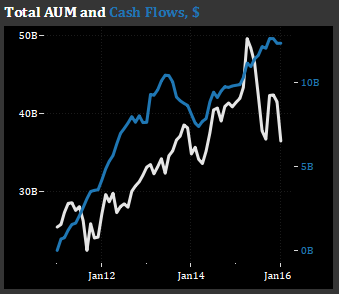 China flows
Financials and Info Tech are the two main sectors that are attracting the interest of funds. On average, Chinese financial stocks make up 5.3% of each fund's exposure to the region. The average weighting towards the Info Tech sector is 5.1%.
China: Most loved stocks
Tencent Holdings (OTCPK:TCEHY) is the most loved Chinese stock of the 120 emerging market funds tracked by Copley Fund Research. 67% of the funds hold a position in the stock with an average weighting of 2.06%.
According to Steve Copley, founder and owner of Copley Fund Research:
Tencent is now the largest China holding by a considerable margin and the third most widely held stock outside Samsung and TSMC globally. Tencent's popularity among EM investors has continued unabated over the last 12 months, with eleven funds opening new positions and only one fund selling down taking ownership to 67% EM Funds, 34% of whom are overweight versus the index.
The second most loved stock is China Mobile Limited, and the third is Baidu, Inc's US equity. China Construction Bank (OTCPK:CICHY) and the Industrial and Commercial Bank of China (OTCPK:IDCBY) round off the top five positions held by the funds with exposure to the region. Only 26% of the funds in the universe own JD.com (NASDAQ:JD), a favorite of hedge funds managed by Julian Robertson's Tiger Cubs. Warren Buffett's only Chinese investment, electric automaker BYD (OTCPK:BYDDY), in which Berkshire Hathaway (NYSE:BRK.A) has a 10% stake, is one of the most unloved stocks on the whole Chinese market. None of the 120 funds tracked by Copley Fund Research own an interest in the company.
However, despite the fact that China sits near its largest allocation ever in EM portfolios at around 19%, Steve Copley notes that EM funds, "find themselves with the largest shortfall against the benchmark index" after the benchmark provider MSCI decided to add US-listed Chinese stocks to its MSCI Emerging Markets index at the end of last year. Stephen Copley continued:
Whether EM funds will chase the index to high levels remains to be seen. It's certainly not out of the question as many funds already hold north of 25% their fund in Chinese stocks. If funds do decide to increase China allocations into the current market weakness, it will likely be the Consumer and Tech sectors that will take the lion's share of any new inflows.
The funds tracked by Copley Fund Research are also wary of Warren Buffett's other major Asian investment POSCO (NYSE:PKX). While the figures show that funds have $94 million invested in the South Korean steel producer, this is down from a peak of $700 million as reported back in March 2011. Funds have been steadily selling down their positions since the first quarter of 2011. According to the most recent data, Brandes EM Value Fund is largest fund investor (as tracked by Copley Fund research) with $22 million invested.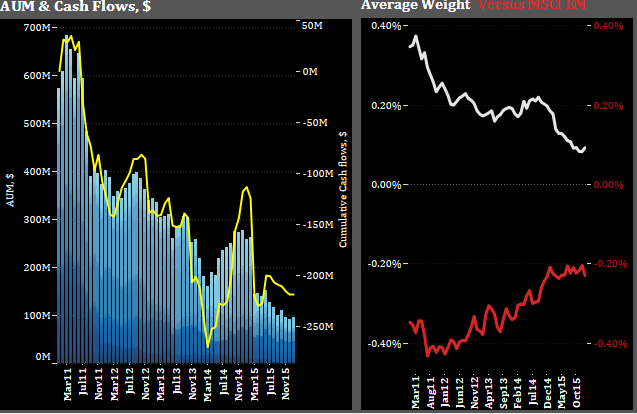 POSCO flows
China: By far the most popular country among funds
China is by far the most popular country among EM funds with exposure to the region making up 19% of AUM. In comparison, India, the second most popular EM market, only makes up 11.9% of the universe's AUM. Korea and Taiwan make up 11.2% and 10.2% respectively. Brazil, which is the fifth most popular market among EM funds could be described as the fallen angel of the group. The average weighing towards Brazilian equities now sits at 6.1%, down from 10% two years ago and the value of AUM invested in the region has plunged from $40 billion (mid-2014) to $15 billion today.
"As if to hammer home the point that EM has a new world order, allocations towards the EM powerhouses of China, India, Korea and Taiwan posted a new high within EM portfolios of 53% this month. As the BRIC era comes to an end, more funds are opting for a greater share in technology stocks and selling the more traditional EM commodity and energy companies," said Steve Copley. He continued, "As of December 2015, 63% of all funds held more than a 50% weight in stocks across China, India, Korea and Taiwan compared to only 10% of funds for BRIC countries."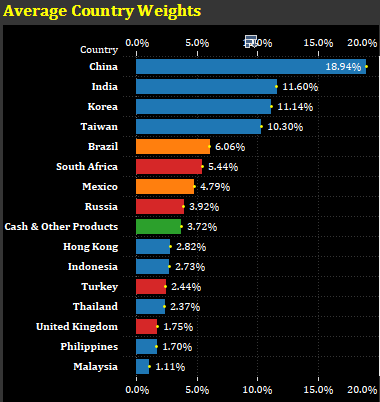 Average country weights in EM funds
China may be the most popular EM for the 120 funds tracked by Copley Fund Research, but the size of the country's equity market means that it will always demand a higher weighing than its smaller regional peers. A detailed breakdown of the most popular individual stocks gives a better picture for investors of where EM funds are looking for growth going forward.
Taiwan Semiconductor is by far the most owned stock by funds in the EM universe. 94.2% of the funds tracked by Copley Fund Research have a position in the stock with $7.2 billion invested. Samsung Electronics is number two on the list of most popular stocks. 73.3% of the funds in the universe have a position. Tencent Holdings, China Mobile Limited (NYSE:CHL) and Naspers Limited (OTCPK:NPSNY) make up the rest of the top five most-owned. Says Steve Copley:
The demise in fortunes for the old bellwethers of EM investment can be seen with Gazprom, Vale and Petrobras seeing a considerable flight from EM funds over the last five years. The percentage of funds who hold Gazprom, for example, fell from a peak of 62% in 2012 to only 32% as of December 31, 2015.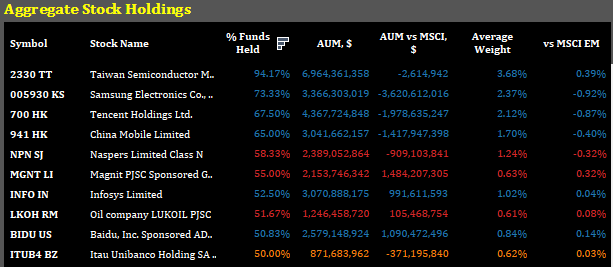 Top stock holdings in EM funds
Disclosure: None
Editor's Note: This article discusses one or more securities that do not trade on a major U.S. exchange. Please be aware of the risks associated with these stocks.