When you are standing in a lobby waiting for an elevator, you wait till the bell rings and the elevator signals it's on its way up. You step on board, and although you'd like to ride it all the way to the penthouse for the view, you decide how high you want to go and press the button. On the way up you can change your mind at any time by getting off at the next floor.
Elevator stocks are just like that. They are stocks that have signaled they are on the way up. You press the buy button, hop on board and ride it until you decide to hop off by pressing the sell button.
For over 50 years, I've been looking to make investing just that simple but have never found the holy grail of investing. I have spent thousands of hours in libraries and on the Internet reading everything I could find on how to pick stocks and manage portfolios, and although my method is not perfect, it continually gets better.
After reading hundreds of books on statistics, sampling and predictive decision making, I came across two books, Big Data and Predictive Analytics, that gave me new insight on how to use data screeners, and I now have a method I have faith in.
With my computer, the Internet and some screening tools, I no longer have to sample; I can screen from the entire universe of stocks. Each morning I start with a universe of 10,000+ tradable stocks and first screen using dozens of fundamental criteria, both historical and forecasted including, but not limited to, growth in revenue, earnings, dividends, cash flow, book value and price-to-earnings ratio to funnel the 10,000+ down to just a few hundred. Next, I use several dozen technical and momentum indicators to see which stocks on that list are actually showing current upward momentum. My third step is to review each stock's momentum using custom charts I have developed to make sure the momentum is consistent and better than the benchmarks I use to measure the market. My last step is to use the Internet and various financial sites to see if the stocks have the attributes I think will make them successful choices for my portfolio. Today, you have more information available through your Internet connection than even the biggest institutional investors and hedge funds had just a few years ago.
Today, Hormel Foods (NYSE:HRL) made it all the way through my screening process. Next, I will gather information from public sources on the Internet to see if this stock really has the attributes I desire for an addition to my portfolio. I share this information with you so you too can decide for yourself if you want to add it to your portfolio.
I want to make sure the stock is outperforming the market. Why would I want to add a stock to my portfolio unless it significantly does better than the market? I use the Value Line Arithmetic Index as my market benchmark for two reasons: 1) It contains 1,700 stocks with a total capitalization of almost 95% of the U.S. stock market, and 2) it is not weighted by capitalization, so the big stocks have the same weighting as the small ones.
During the last year, while the market was down 17.03%, Hormel was up 57.92%. As reflected in the chart below, in the last 2 1/2 months, the market was down 9.72% and Hormel was up 13.51%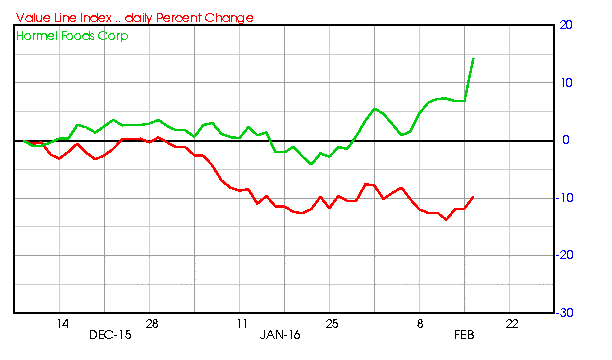 I next research the stock's underlying fundamentals to see if that price momentum was warranted:
Market Cap: $23.36 billion
P/E: 31.30
Dividend yield: 1.40%
Revenue expected to grow 4.50% this year and another 4.40% next year
Earnings estimated to increase 12.90% this year, an additional 6.00% next year and continue to compound at an annual rate of 15.08% for the next 5 years
Financial Strength A-
The overall sentiment of the investing community is very important. I never buy a stock just because it is popular, but I realize that a stock cannot maintain its upward momentum if some of the major players have announced they are bailing out.
Wall Street analysts have issued 2 strong buy, 1 buy and 6 hold recommendations to their clients.
Institutional investors presently own 32.13% of the outstanding shares. During the last year, 234 institutional investors added to their positions while 210 decreased their stake for a net gain of 3,291,712 shares.
In the last year, a growing number of short sellers have increased their positions from 9 million shares a year ago to around 16.1 million shares recently.
On TheStreet, Jim Cramer's staff rates the shares A+.
On InvestorPlace Media, Louis Navellier and his Portfolio Grader rate the shares A.
Motley Fool polls 3 groups of investors and asks them to predict if the stock will outperform or underperform the market:

The individual investors voted 331 to 24 on it to outperform.
The more experienced All Stars voted 106 to 5 for the same result.
Featured analysts and columnists voted 9 to 2 for outperformance.
I use Barchart for technical momentum data and only consider data from the current 6-month period:
100% technical buy signals
Trend Spotter buy signal
Above its 20-, 50- and 100-day moving averages
9 new highs and up 16.24% in the last month
Relative Strength Index at 72.75%
Technical support level at 41.80
Recently traded at $44.33 with a 50-day moving average of $39.66
I always compare my stock to the other large companies in the same industry. In the meat products sector, while Hormel Foods gained 59.94% in the last year, Tyson Foods (NYSE:TSN) gained 53.48%, Sanderson Farms (NASDAQ:SAFM) gained 8.85% and Pilgrim's Pride (NYSE:PPC) lost 15.84%.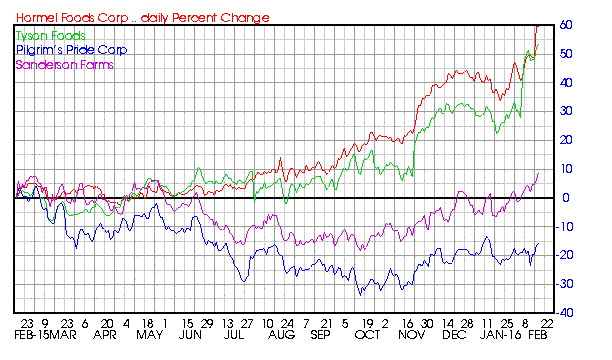 Additional comparisons:
Tyson Foods
Market Cap: $22.61 billion
P/E: 17.05
Dividend yield: 0.66%
Revenue expected to decrease 8.60% this year but grow again by 1.40% next year
Earnings estimated to increase 27.00% this year, an additional 7.30% next year and continue to increase at an annual rate of 12.36% for the next 5 years
Wall Street analysts issued 5 strong buy, 2 buy and 4 hold recommendations on the stock
Financial strength B++
Pilgrim's Pride
Market Cap: $5.89 billion
P/E: 8.67
No dividend
Revenue expected to be down 0.10% this year but up 2.60% next year
Earnings estimated to decrease 21.50% this year, decrease again by 2.90% next year but be up by an annual rate of 9.00% over the next 5 years
Wall Street analysts have 2 strong buy, 1 buy and 3 hold recommendations in place on the stock
Financial strength B+
Sanderson Farms
Market Cap: $1.95 billion
P/E: 8.79
Dividend yield: 1.60%
Revenue expected to shrink 4.10% this year but grow again by 9.50% next year
Earnings are estimated to decrease 44.30% this year, increase by 24.50% next year but overall decrease by an annual rate of 16.00% over the next 5 years
Wall Street analysts issued 1 strong buy, 1 buy, 6 hold and a sell recommendation on the stock
Financial strength B++
SUMMARY
Hormel Foods has meet all my screening criteria and appears to be a better choice than the other companies in the same sector. It has a better price momentum, higher financial strength rating, a more consistent revenue and earnings consensus and looks to have a positive total return over the next 3- to 5-year horizon.
Below I have included a 6-month chart comparing the price to its 20-, 50- and 100-day moving averages plus a 14-day high/low turtle channel confirming its recent upward momentum. I have reviewed various technical trading strategies and found the 50-100 Day MACD Oscillator to be a reliable technical trading strategy for this stock.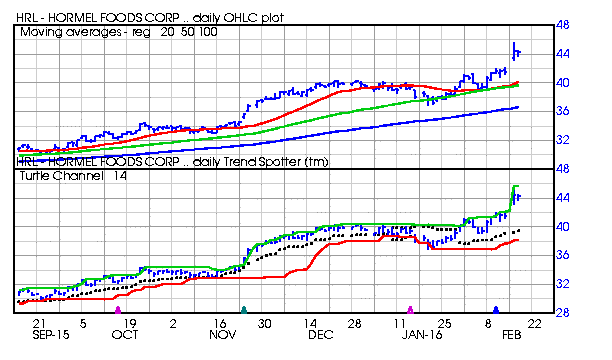 I hope I have given you enough information on this Elevator Stock to determine if it should be an addition to your portfolio. If not, I monitor the comments made and will answer any question promptly.
Disclosure: I/we have no positions in any stocks mentioned, but may initiate a long position in HRL over the next 72 hours.
I wrote this article myself, and it expresses my own opinions. I am not receiving compensation for it (other than from Seeking Alpha). I have no business relationship with any company whose stock is mentioned in this article.