Over the past few days "oil (NYSEARCA:USO)" ministers from Russia, Qatar, Saudi Arabia, Venezuela, and separately Iran have met to discuss the severe decline in "oil (NYSEARCA:OIL)" prices, which these countries depend on for a significant portion of their revenues. The result from Russia, Qatar, Saudi Arabia, and Venezuela was an output freeze at January 2016 levels. This disappointed the market which was looking for the long awaited output cut that would help reduce the oversupply in the market. The market reacted with the price of West Texas Intermediate falling as did Brent.
The meeting is a good step in the right direction, but it lacks tangible results for the supply/demand equation. First, the agreement will have to get the agreement of all OPEC members. It has been reported that Iran will support such an agreement, but the actual agreement will include a way for Iran to continue to increase their production. Iran will not simply allow their production to be limited to January 2016 levels of 3.4 million barrels per day. It is simple, Iran will not allow a freeze to be put on its production. Second, it is only a band-aid that will NOT solve the issue of supply that I discuss more below.
The only two results that balance the market are:
A cut by OPEC that will balance the market and may lead to excess demand. The problem with this is that there is a history of OPEC members not abiding by the cut. Once the price of crude starts to rise, members could disobey the agreement and pump for increased profits. Also, in this scenario the American producer that has become a dominant force as described in the chart below by the EIA which lists 2014 production (latest available by a government source).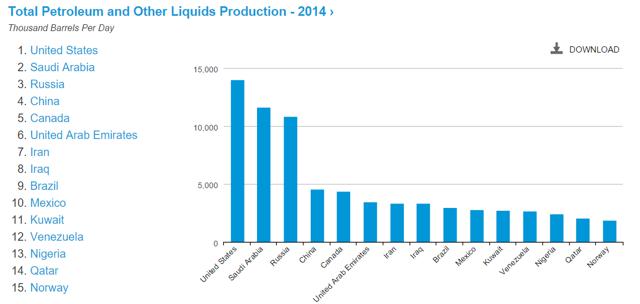 Click to enlarge
Letting supply work itself out and allowing for demand to eat away at the surplus. This is the more probable scenario due to the fact that it would not be a temporary band-aid. The low price of crude will cause production to decrease in Canada and the United States, which will help minimize the supply surplus.
Middle East unrest is not that farfetched of an idea that could disrupt oil production. Do not be fooled that Iran has supported a supply freeze along with Saudi Arabia. They are still rivals in the region and Saudis have proposed sending soldiers to Syria, which will only add another dimension to a highly complex war. A small disaster in Saudi Arabia, Iraq, etc. could wipe off a million or more off of the supply side. While I think this is highly unlikely, I wanted to present all possibilities.
Price Movement:
Over the past month, the price of crude has been swinging up and down and is currently recovering off a low point for the month as the OPEC meeting caused the price to rebound. Investors should be cautious of the legitimacy of any OPEC action, or is it just lip action.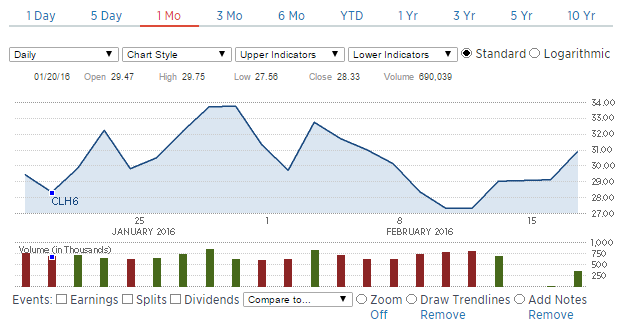 Thesis:
As I have stated in previous articles, the fundamentals of oil are still negative and there is 2 million barrels per day of oversupply. While the oversupply is not substantial, the effect of low crude prices need time to take effect on producers. The American producer which has a break-even in the 40s will need time to be reduced and for hedges to roll off. For oil investments that might fit your risk profile, see here and here.
Disclosure: I/we have no positions in any stocks mentioned, and no plans to initiate any positions within the next 72 hours.
I wrote this article myself, and it expresses my own opinions. I am not receiving compensation for it (other than from Seeking Alpha). I have no business relationship with any company whose stock is mentioned in this article.