Amazon's (NASDAQ:AMZN) shipping problems are what you could call a well-known secret. As the company's business grows, its shipping costs expand equally fast, putting it in somewhat of a dilemma.
AMZN's rapid growth makes it stand out for another reason - it's possibly the only company in the world where the revenue path is exponential but net profit remains flat.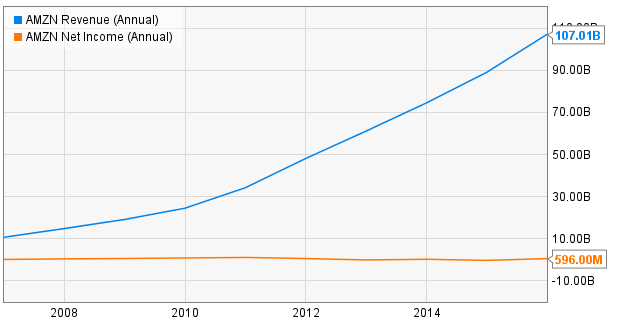 Amazon's Weakest Link: The Cost of Shipping
They say a chain is only as strong as its weakest link, and this is where Amazon's supply chain is at its weakest - the cost of shipping the sheer volume of products the company deals with and getting them to individual customers.
As the e-commerce top dog, Amazon offers unparalleled convenience. At the click of a button, people have come to expect their product to be delivered right to their doorstep. It is this very convenience that differentiates online sellers from brick-and-mortar retailers.
Next in importance is the element of choice. No brick-and-mortar retailer can ever hope to match the range than an online retailer can. Not even Wal-Mart (NYSE:WMT). To put this in perspective, Amazon sells over 250 million different products, of which only 52 million are books. WMT, on the other hand, only manages a relatively meager 4.2 million individual products despite having revenues over five times that of AMZN.
While all this is well and good, Wal-Mart doesn't have to contend with the logistics costs of last-mile shipment. In order to be truly value-oriented, Amazon must deliver to its customers' homes.
And that's where the problem begins. What originally started out as a convenience and choice advantage now turns out to be one of the most painful overheads a company can imagine. Below, I've put together some data on what Amazon actually made and spent (gross and net) between 2011 and 2015 on shipping its products.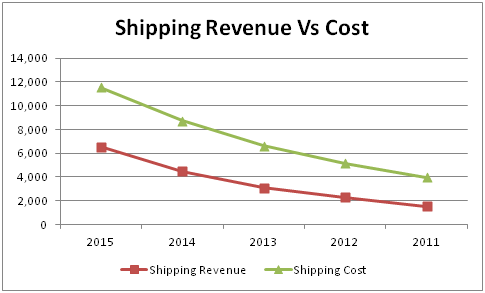 From the divergence of the two graph lines, the problem is clear: Amazon needs to control its shipping costs now rather than later.
Admittedly, it has done a brilliant job of keeping the cost of shipping-related expenses as a percentage of net sales at a steady 4.7% since 2012, but the last leg of fulfillment remains the most expensive part of the supply chain. As you can clearly see from the graph below, the growth in terms of size and scale did not have a significant impact on reducing shipping costs. Since 2012, it added a whopping $50 billion in sales, but shipping as a percentage of sales remains stuck at the same level year over year.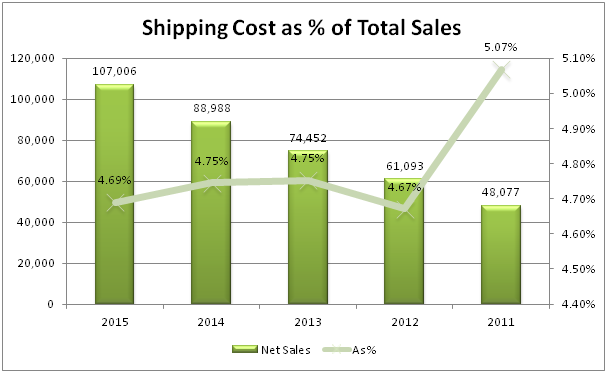 There seem to be no economies of scale at work in the business of online retailing, but what's exacerbating the problem even more is the success of Amazon Prime.
The Prime Pain for Amazon
First of all, Amazon is offering free two-day shipping on ALL Prime-eligible products for an annual cost of $99.
According to one source, the average order per Prime member (excluding digital sales) was $47.31 in June 2012. Even if we retain that figure for 2015, at a spend of $1,500, that means at least 30 orders over the course of a year.
Now, Amazon already offers free shipping for products over $35, so a Prime customer making an order of $47.31 on average merely gets upgraded to two-day shipping free of cost. The cost of that shipping for the test order that I took to the final checkout page showed me this: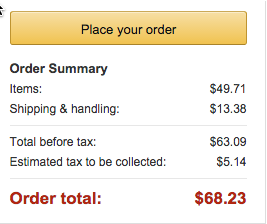 Look at that two-day shipping cost for a $50 product. If I were an "average" Prime customer, the company would essentially be footing a bill of $13.38 X 30 orders per year, or $400!
This is what I fail to understand: how can an average $400 shipping cost per customer be supported by a $99 subscription?
Out of that gross mismatch is where I believe lawsuits such as this are coming from. I cannot imagine that a company would spend anywhere near $400 per customer from its own pocket to meet the shipping needs of each "average" Prime member paying $99 a year. It just doesn't make sense.
No matter how you tweak those numbers - lower/higher per-order value, lower/higher spend per Prime customer or lower/higher average orders per year per customer, the end result will still be the same - there's a $400 charge to ship 30 orders worth $50. My math might be off because of several other factors, but I'm sure that I'm approximately right rather than completely off the mark.
This is the biggest problem Amazon is facing.
Amazon's Escape Hatch
So what is Amazon doing to mitigate this situation and possibly turn it to its advantage?
The best possible way out for the company is to enter into the shipping and logistics segment and thereby directly compete with logistics partners like UPS (NYSE:UPS) and FedEx (NYSE:FDX). But the company knows that this will jeopardize any preferential treatment it currently receives as UPS's biggest customer, for example. With margins already sliver thin, this isn't something it can afford.
Nevertheless, AMZN seems to be putting together the technology and capability in bits and pieces, all the while claiming that its intent is to "complement" its current vendors during peak season.
Here are some of its recent activities in that direction:
Some of the recent moves by Amazon to strengthen its shipping and logistics
In 2014, Amazon moved in to acquire a 4.2% stake in Yodel, a U.K.-based parcel delivery service; it also bought a 25% stake in Colis Prive, a French delivery service company and took that to 100% last year.
These two were minor acquisitions far away from AMZN's home ground in the United States so they didn't cause that many ripples. But when the company started negotiating a lease for 20 cargo planes, analysts went berserk speculating on what Amazon's intent was. To further complicate the matter, this was shortly after the company made the news for acquiring a conspicuously large consignment of trucks to aid delivery.
A few weeks ago, Amazon China was awarded a license to operate as an ocean freight forwarder - a move that will allow the company to ship directly from Chinese factories to consumers in the United States.
Now, when you look at the pieces together, it makes sense. The company has a license to ship products to the U.S.; has a fleet of cargo carriers to take those consignments to various warehouses around the country; and has a shiny new fleet of trucks that can be used for last-mile delivery. Light bulb!
I don't believe the analysts had it right when they said Amazon was going to take UPS and FedEx head-on. I think what's happening is that AMZN is merely trying to reduce its shipping fee and gain more control over customer experience. Besides, this is happening on a miniscule scale to what the likes of UPS or FedEx are capable of.
If Amazon does intend to compete with logistics giants, it would have to invest billions of dollars into technology, hardware and manpower. It doesn't (yet) have the expertise it requires to manage shipping operations country-wide in the United States.
All of its key acquisitions in this domain are happening outside the country, and in small but steady increments. I believe it's gearing up to handle a significant portion of its own shipping needs while slowly acquiring the expertise required to run such an operation efficiently; but not moving so fast that it will upset its current arrangements with local and national shippers within the United States.
Strategically, I think the company is doing the right thing: protecting its interests by focusing on its customers' needs and their obligations to shareholders.
Investor-speak: What to Expect from AMZN
There have been several reports on how Amazon is trying to get into the delivery business and topple UPS, FedEx and DHL, but I think that's just imaginative speculation. In fact, I'm surprised that highly respected publications would even buy into that sort of faulty deductive reasoning.
My strong belief is that AMZN is trying to do four things:
Gain more control over the shipping component of its supply chain in order to avoid or at least mitigate the effects of peak season demand.
Understand the logistics business by acquiring the know-how and technology one piece at a time.
Prepare for any unexpected rises in shipping costs, which will severely impact its bottom line and, therefore, its already faltering profitability as a company.
Reduce its dependency on major carriers across the world.
As I briefly mentioned earlier, Amazon faces the unique problem of a flat profit margin despite aggressive sales growth year after year. I expect this trend will continue for several more quarters until one of these things happens:
AWS becomes a significant contributor to the bottom line.
Amazon Prime can sustain its growth while improving its margins.
Both of the above.
As the competition intensifies within the e-commerce space, there will be plenty of opportunities to buy into AMZN. This is not the company to get into for the short term. You will have to put on your telescopic goggles and increase your exposure whenever opportunities arise, which, I believe, there will be plenty of over the next few years.
Disclosure: I/we have no positions in any stocks mentioned, and no plans to initiate any positions within the next 72 hours.
I wrote this article myself, and it expresses my own opinions. I am not receiving compensation for it (other than from Seeking Alpha). I have no business relationship with any company whose stock is mentioned in this article.