Of late, the stock market and oil price gyrations have felt like the changing fortunes of Furiosa and Mad Max in the movie "Mad Max: Fury Road." Oil and gas firms and energy portfolio managers have been in survivor mode, identifying routes and options, similar to Furiosa's feat as she plows the War Rig through the terrible, deadly towering dust storm that swallows up those chasing her. Many bargains exist if one has the stomach.
Today, after numerous trial balloons from OPEC members about addressing the market's woes, a relatively more believable story was offered up. The heartiest oil producers of Saudi Arabia, Russia and Iraq (plus Qatar, Venezuela, Kuwait) offered to stay production at January levels. The only holdout is Iran, with approximately 3 million barrels per day and hopes to produce 500,000 more in a month's time. The Energy Information Administration (EIA) says Iran's production, which included condensates, was 3.5 million in December and January, and 2.8 million of it was oil.[i]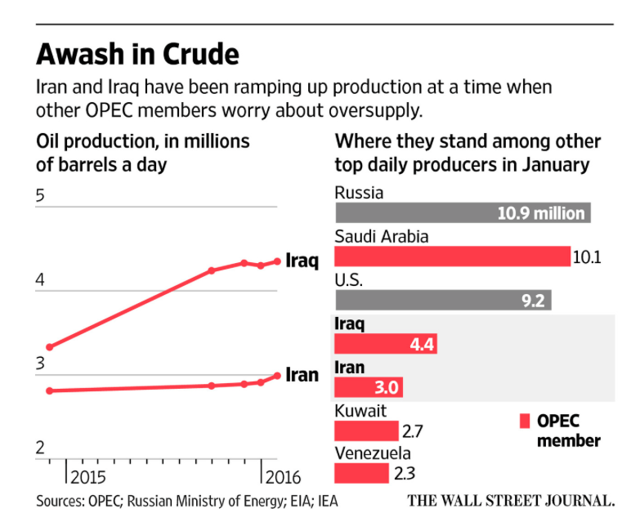 Click to enlarge
Iran's return to selling oil has weighed on prices as sanctions were lifted on January 16th. In 2015, they were pumping 2.8 million b/d, or 9% of OPEC's production. The experts forecast 3.3 million by year-end 2016, and then 3.7 million. Even an extra 500,000 barrels anticipated in 2016 provides another blow to supply.[ii]
On the U.S. side, oil production, including liquids, declined 300,000 b/d in December and January. The EIA says from February to March, oil production should decline by 92,000 b/d in the shale basin areas. In spite of rig count declines, a proxy for activity in the past, production has remained near flat because of productivity gains, particularly as it relates to initial production. Pioneer (NYSE:PXD), RSP Permian (NYSE:RSPP) and Occidental Petroleum (NYSE:OXY) have both acknowledged their capabilities in pumping out more oil from wells in the last one-year and even six-month time periods. This is the case industry-wide as best practices are passed along.
The EIA documents:
"The total number of rigs in drilling productivity regions has fallen from a high of 1,309 rigs in October 2014 to 475 in December 2015, a decrease of 64%, while the production levels in those months have declined by only 8% from their peak in March 2015."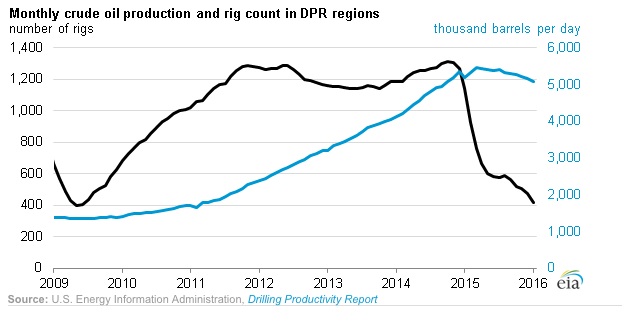 While production declines have been evident in the Eagle Ford and Bakken, the Permian had been rising still, though ever so slightly. This is expected to change quite soon, with WTI at $30, and expected to average $37 in 2016 and $50 in 2017.
Global oil production growth indicates known trends. OPEC has been in market share mode with the U.S. reducing production. In 2017, OPEC is expected to decline slightly with U.S. production picking up slightly.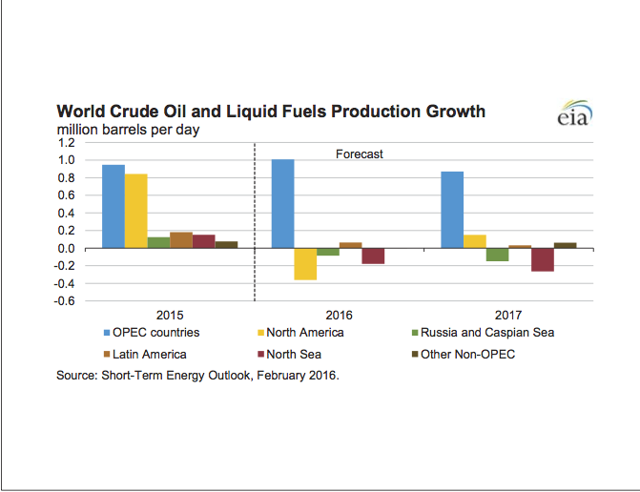 Click to enlarge
Consumption growth holds steady in developing Asia and continues to increase in "other" non-advanced countries. Generally increasing oil demand continues to hold steady.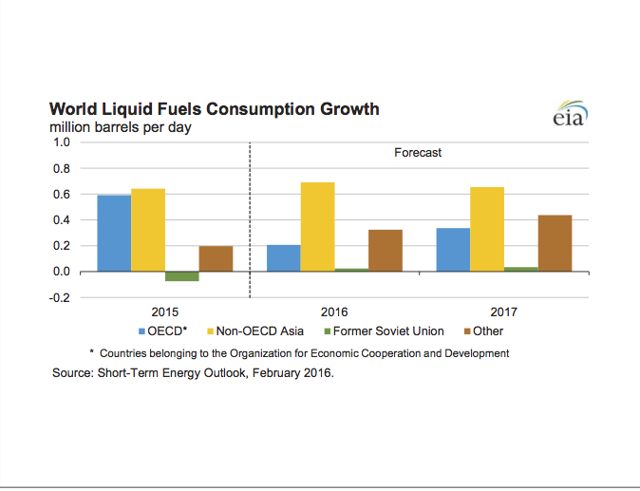 Click to enlarge
World demand
In the last 15 years, oil demand has increased 20 million barrels per day in developing countries. Demand for oil in advanced economies like the U.S. and European Union reduced slightly.[iii] The world consumed 94.5 million barrels per day (b/d) last year.[iv]
In OPEC's new outlook, they suggest a 30.7 million b/d call on their production to 2020. This is nearly one million less than their 31.4 million "peak" pumped in November, with Iraq and Saudi Arabia leading the charge.[v] They predict $80 oil by 2020.[vi] However, advanced economy demand picks up again in 2016 after a five-year hiatus.[vii] And large non-OPEC producers, including the U.S., Russia, Canada and now Mexico, are also pushing for a piece of the action.
In 2020, the world is expected to consume 97.4 million b/d, or 6% growth. However, 6% growth comes from developing countries with advanced economies slightly declining between now to 2020.[viii] But by 2040, developing countries are over 26% of the growth in demand compared to advanced economies' reduction by 8.0%.[ix]
By 2040, a final count of nearly 110 million barrels per day is expected to be required. An OPEC "pivot to Asia" is largely driven by customers in China, India and other Asian nations. Saudi Arabia's exports to Asia comprise half of its exports of oil, and China consumes 12% of global supply. The concern is more acute about China's demand outlook, given slowing growth as it changes to a consumption-driven economic model like the U.S. vs. an industrial-focused, export-led one.[x]
A few other variables
Also noteworthy in the outlook for oil is the amount of surplus capacity. Globally, the EIA estimates that surplus capacity was 1.8 million b/d in December and January. Typically an amount below 2.5 million b/d is considered a tight market. (High inventory levels globally are dampening the "tight market" effect, for one.) Perceived tightness will raise prices. The many variables influencing oil markets make for a volatile mix, if one or two pieces move out of place in succession or simultaneously, like unplanned outages or Iran deciding its interests are better served by slowing down production increases. Iran is effectively negotiating with OPEC as it comes back onto the world stage. Currently, however the marginal price of oil is dictating the trend, and that is low-ish until it is not.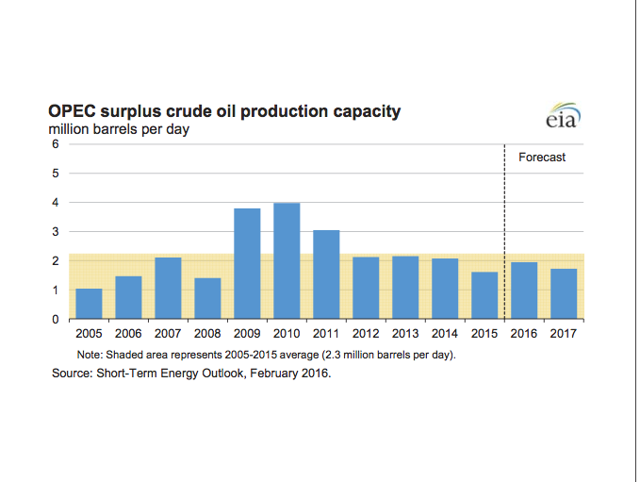 Click to enlarge
Prognostications about the trajectory of oil prices have run rampant. In February, the U.S. Energy Information Administration forecast the price of the U.S. benchmark West Texas Intermediate, or WTI, averaging $37 for 2016, from $51 in the December 2015 month's forecast. That $14 difference is a big deal for U.S. oil and gas production firms.
The last time $30 oil was touched was in late-December 2008, when the financial crisis was in full swing.[xi] Before that, it was December 2003. Most producing firms and countries need a break-even oil price greater than $40 to operate with any profit, according to Rystad Energy analysts in a January Economist article. If national budgets are considered among petro-countries, it's higher: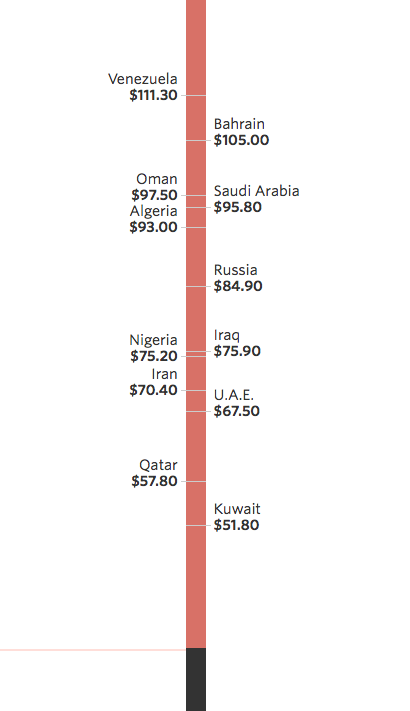 (Source: Wall Street Journal, Feb 17, red line left indicates Brent at $35.70 GMT 17:28)
The other major problem with pricing is a persistent supply glut. The Paris-based International Energy Agency projects that oil markets will still have a surplus of 1.5 million barrels a day in the first half of 2016.[xii] The energy analysts for the U.S. government, the EIA, say U.S. crude oil production averaged an estimated 9.4 million barrels per day (b/d) in 2015. They forecast a reduction of 700,000 in 2016 and a further 200,000 b/d in 2017.[xiii]
In conclusion
Stock market sentiment and the fundamentals that drive oil have been in a state of disconnect. Oil and gas-related stocks have been hard hit repeatedly, with many valuations returning to levels seen three years ago before the shale oil revolution really took hold. While exploration and production firms have been dinged by oil prices, the infrastructure part of the industry - firms that transport and process hydrocarbons - has been heaped upon as well. A fund manager-analyst that runs the MLP ETF (NYSEARCA:AMZA) claimed in mid-January the market was in "total insanity" mode. It's as if the price of oil was all that mattered.
The market share gauntlet laid down by OPEC has worked in a way, but a high price has been exacted from the spillover effects being revealed. The resulting reduced economic activity from capital investment reductions may backfire into reduced demand. The demand curve for oil also is inelastic in the short run.
It looks like it may be time to blink. But will those producers seeking a consensus agreement actually live up to their positions?
---
[i] EIA, February 9th, 2016 report required for US National defense.
[ii] www.eia.gov/todayinenergy/detail.cfm?id=...
[iii] See chart from WSJ
[iv] Economist, Jan 23, p17.
[v] www.eia.gov/forecasts/steo/report/global...
[vi] OPEC World Oil Outlook, 2015, Executive Summary, p8.
[vii] www.eia.gov/forecasts/steo/report/global...
[viii] OPEC World Oil Outlook, 2015, executive summary, p 7.
[ix] ibid, p8.
[x] www.wsj.com/articles/why-chinas-thirst-f...
[xi] www.bloomberg.com/news/articles/2016-01-...
[xii] www.wsj.com/articles/oil-sinks-below-28-...
[xiii] www.eia.gov/forecasts/steo/report/us_oil.cfm (see blue sidebar production)
Disclosure: I am/we are long OXY,RSPP, AMZA.
I wrote this article myself, and it expresses my own opinions. I am not receiving compensation for it (other than from Seeking Alpha). I have no business relationship with any company whose stock is mentioned in this article.