Click to enlargeTilly's Inc. (NYSE:TLYS) is a chain of specialty retail stores that operates across 220 stores in 33 different states. They aim to sell the most sought after brands of clothing, footwear and accessories for the young adult and teen markets. They also sell their merchandise through their website which you can check out here. They offer a mix of proprietary branded products and third party branded products and are always striving to catch onto the most relevant fashion trends.

Click to enlarge
I believe that Tilly's is trading at a 42.3% discount to its true value based on conservative assumptions. We will get into the exact details of how I came to this figure. Right now let's put Tilly's into context of the specialty retail industry as a whole so we can better understand why this opportunity in Tilly's exists.
What has created this opportunity?
This opportunity has largely come about due to headwinds that the specialty retail industry is facing as a whole, which has led to depressed valuations. As you can see in the below chart, the S&P has rallied by 22.7% over the past 3 years but the Bloomberg North American Specialty Retail Index has fallen 51.6% during the same period. This gives us a total underperformance of 74.28%. The situation has been far worse for Teen & Young Adult Retailers however, with a fall of 67.8% over the same period for a total net underperformance of 90.6% compared to the S&P 500.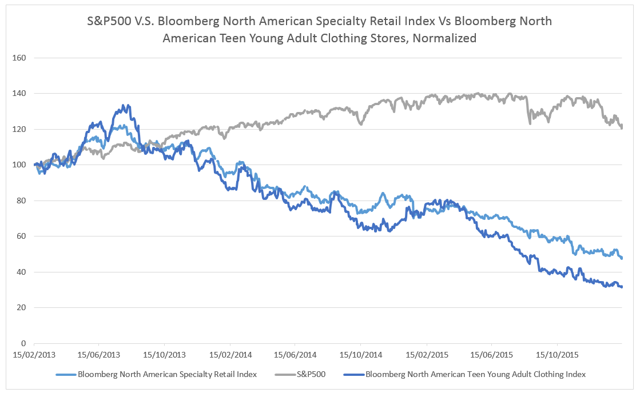 Click to enlarge
Source: Bloomberg
The root cause of this underperformance has largely been due to the steady and prolonged decline of foot traffic through shopping centers. According to Prodco foot traffic declined 2.6% YTD alone. On a side note, even the oil price is not giving retailers any relief as I pointed out in my first article which you can check out here. Lackluster apparel demand, increased competition and promotion within the sector has also led to margin pressure across the board.
Despite this doom and gloom, however, I believe Tilly's has been performing strongly and is currently a cheap growth opportunity. In the below chart I have displayed Tilly's quarterly revenues from the past 7 years. As you can quite clearly see they have been in a consistent uptrend. You need not be concerned about the fluctuation between quarters as this is a result of seasonal factors. Q3 and Q4 of the fiscal year include back to school and holiday sales seasons and therefore produce disproportionately stronger results than Q1 and Q2.
However, despite being a company which has consistently grown sales over the past 7 years even in the face of strong headwinds the share price has fallen 68% from its peak. It should be noted that the last light blue dot on this chart is what analysts are forecasting what sales will be. The market does not see this as a growth stock, even though this is essentially what Tilly's is managing to accomplish. Right now the market can only see the pain in this space.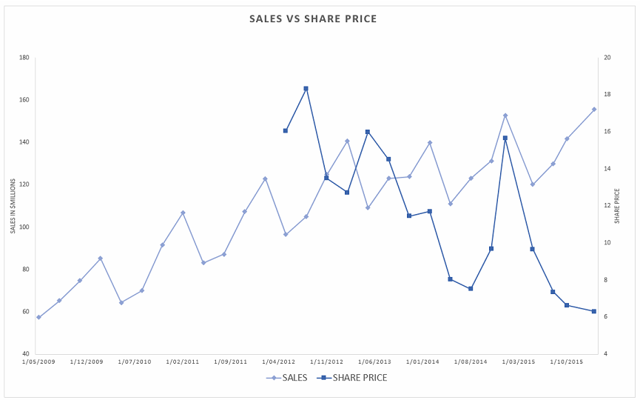 Click to enlarge
Source: Financial statements
What's the opportunity?
One word: E-commerce. The growth in e-commerce sales has been phenomenal over the past 15 years as you can see in the below chart. Online sales have grown from below $10billion a quarter in 2001 to $87.5billion a quarter today which represents a 775% increase. E-commerce sales as a percentage of total retail sales has also made a massive leap from under 1% to 7.4% today. If the trend is meant to be your friend then you should count E-commerce as the dearest friends you could ever have. This is a one way train and this ride is far from over.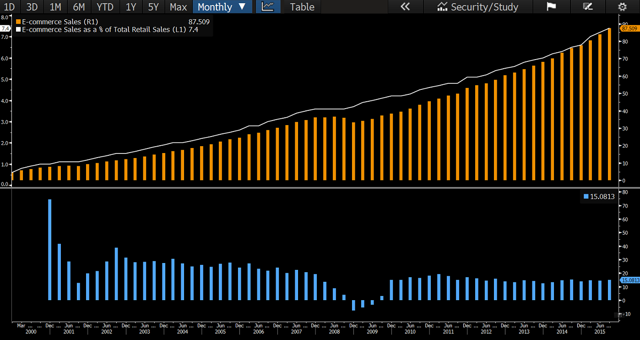 Click to enlarge
The opportunity for Tilly's is that millennials and young adults are fueling this boom in E-commerce as they are the most tech literate. This demographic also so happens to be Tilly's target market. They are very comfortable with online shopping and making purchases even through their mobile device is second nature to them. Tilly must shift focus away from its brick and mortar business and do all that it can in the ever growing E-commerce market. I believe this is already what management are doing and you will soon see why I think they will succeed. I believe they also have the financial flexibility in their balance sheet to take advantage of shift to E-commerce as they have a net cash position in excess of $80million.
Tilly's sales & its brick and mortar
Tilly's stores are typically located in the most popular areas possible in order to generate the most customer traffic possible, such as in well-known popular malls and lifestyle centers. Because mall traffic continues to decline, management's focus is on developing their digital capabilities as discussed in their quarterly report:
"[We have]… substantially integrated our investments and operations for our stores and e-commerce platform to give our customers seamless access and increased ease of shopping."

Source: SEC
It would be easy to assume everything has been doom and gloom for Tilly's, however looking at the sales figures paints a different picture. Despite the headwinds the sector is facing, Tilly's has surprisingly been performing quite strongly on the sales front. This chart represents total sales, both in-store and online, compared to the total number of physical stores. Although the number of physical stores has increased from 198 to 220 between FYQ1 2014 and FYQ3 2015, total sales over stores has remained flat on a comparative basis. As noted by management in the recent quarterly announcement comparable sales by stores has indeed fallen so it is apparent that their online sales must be making up for the lost ground. This is proof to me that their online strategy and their omni-channel distribution and loyalty strategies have been working and thus they are adapting well to the challenges of the current market environment.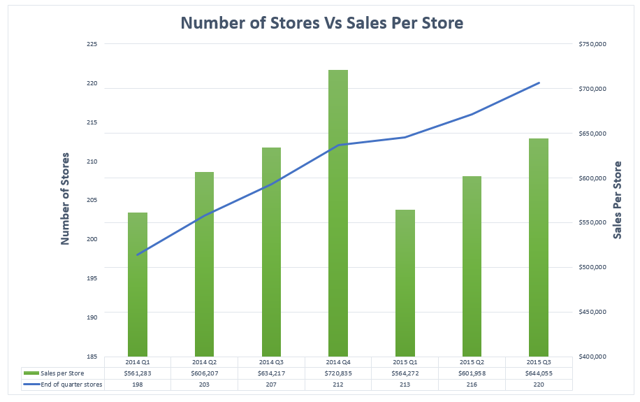 Click to enlarge
Social media presence
Having a social media presence will obviously be key for TLYS in implementing its online strategy. Thus far they have built up an impressive online following; their Facebook page has over 600,000 "likes" and their Instagram has over 290,000 followers. This may seem little compared to Gap (NYSE:GPS), for example, which have over 12x this number of "likes" on Facebook. We must keep in mind however that Tilly's only has a $100 million EV. For example, let's compare Tilly's and Gap on an unconventional valuation metric: EV / Facebook "like". On an EV / Facebook "like" basis, TLYS is trading at an 87% discount compared to Gap as shown below.

Click to enlarge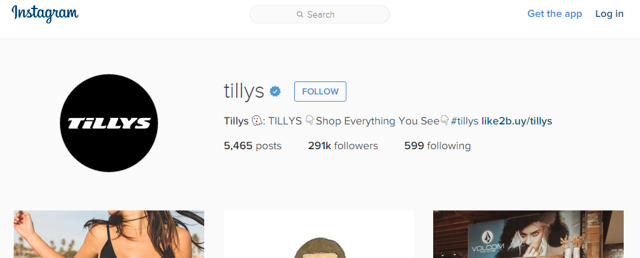 Click to enlarge
Financial analysis compared to peers
For the financial analysis below I have screened for speciality retailers that operate in North America with market capitalizations over $100 million and under $2 billion. By comparing Tilly's to companies of similar size in the same sector I hope to allude to the following things;
How pessimistic the current valuation of Tilly's really is,
How efficient TLYS's distribution systems are, and;
How effective TLYS is at providing consumers with what they want when they want it.
Relative valuation
Tilly's shines on this front relative to its peers. As you can see, Tilly's has the 2nd highest $ Sales / EV ratio after NWY. Tilly's generates $4.92 of sales for every $1 of its EV. This is almost double the industry average of $2.49.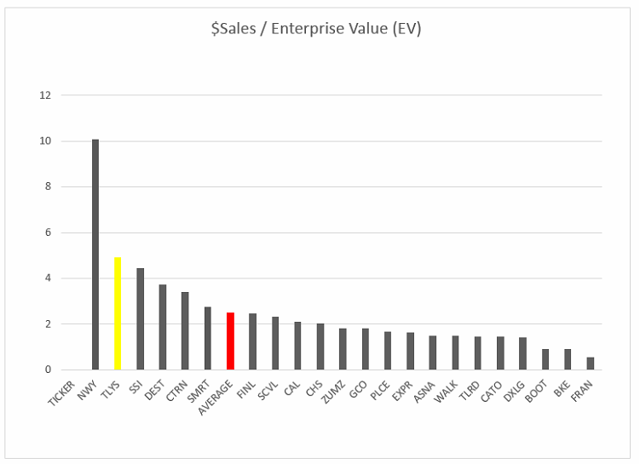 Click to enlarge
Most compellingly, Tilly's is trading at a mere 2.37x EV / EBITDA ratio. In this regard it is the cheapest amongst this sample of peers. Compared to the average of its peers which stands at 7.19x Tilly's is trading at a whopping 203% discount. With such a pessimistic valuation you would think that TLYS had declining sales, a truckload of debt and a large chance of insolvency, but the opposite is actually true.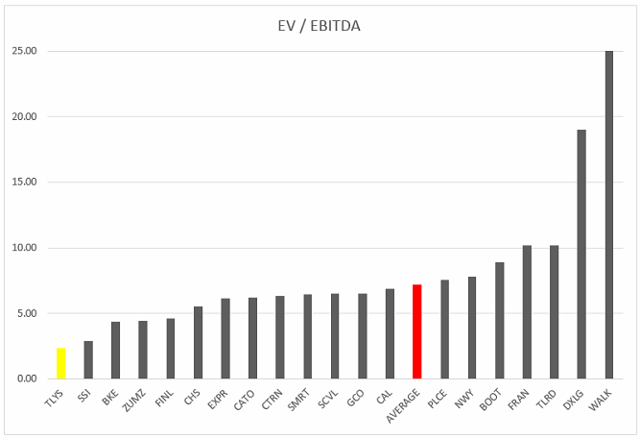 Click to enlarge
Speaking of EBITDA, let's look at the stability of Tilly's EBITDA Margin (EBITDA / Net Sales) over time. As you can see from the chart below it is relatively stable if we exclude the FYQ2 2012 results as an outlier. Over the past 5 years EBITDA margin has fluctuated between roughly 6% and 14%. The past 3 years however show that EBITDA margins appear to be under pressure as they have begun to develop into a downtrend. This is largely to be expected considering the headwinds that are impacting the retail specialty sector as a whole.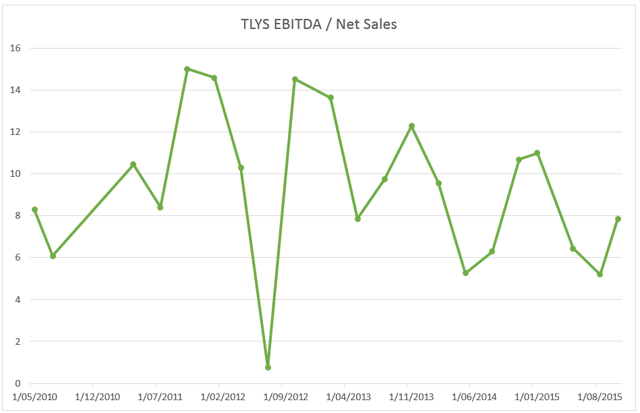 Click to enlarge
If you aren't convinced yet Tilly's is trading well below its peers in terms of valuation then hopefully the below chart will convince you. Tilly's operating cash flow over its EV is a massive 45% which is triple the industry average. After taking out capital expenditures we arrive at 23.4% free cash flow yield to EV which is six times the industry average. At a 23.4% free cash flow yield to EV this means that the market is valuing Tilly's business excluding net cash at just over 4x its own free cash flow. I believe such a low multiple is simply unwarranted and that the market is dropping the ball on this one.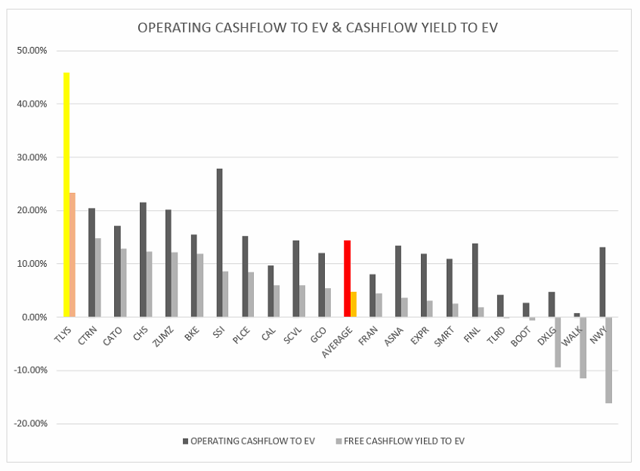 Click to enlarge
Market cap to tangible assets also remains compelling for Tilly's which sits just below its peers average of 1.77x at 1.13x. Essentially what this means is that the market has only applied a 13% premium to the book value of TLYS's tangible assets. This is understandable given the headwinds to brick and mortar stores, however such a pessimistic valuation obviously discounts the ability of Tilly's to grow their sales online. Please note this does not include intangible assets so it does not include the value of TLYS' brand or goodwill, for example. These are tangible assets only.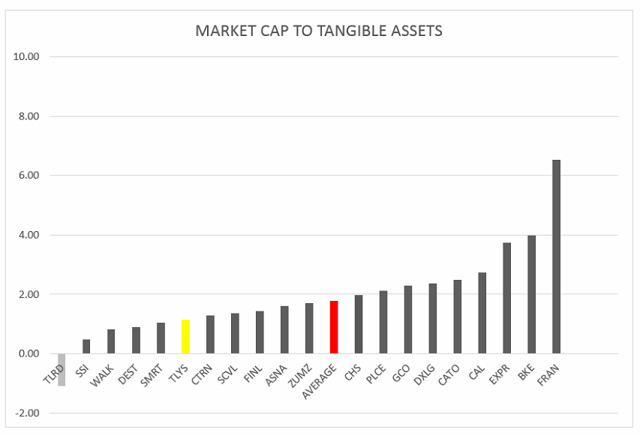 Click to enlarge
Efficiency ratios
As you can see in the below chart Tilly's ranks number 1 in terms of its inventory turnover and is almost double the average of its peers which is incredible. Such a high inventory turnover ratio is critical for Tilly's for a number of reasons;
Tilly's are able to respond faster to the wants of its customers. This is particularly important for TLYS because their success is largely dependent upon being able to respond swiftly to new fashion trends that emerge. Let's face it, teens and young adults can be very fickle with what they think is stylish or not.
It reduces Tilly's holding costs and hence improves their overall profitability. In an industry that is seeing margins continuously compressed it is essential to squeeze out every penny and Tilly's are doing that in spades.
Tilly's are in less danger of overstocking a particular good. In specialty retail there is always the potential danger of holding onto stock that suddenly falls out of fashion that could well lead to nasty write downs.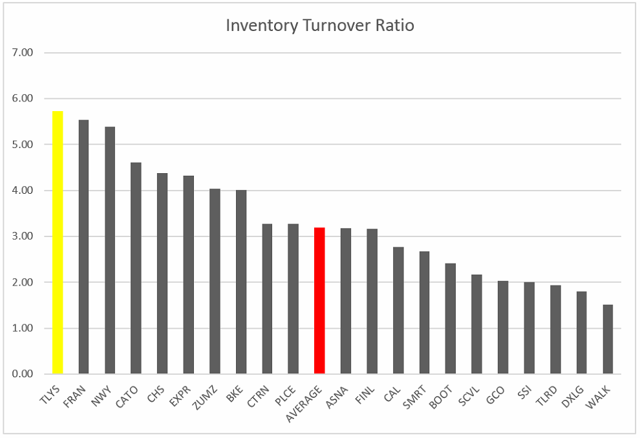 Click to enlarge
Before we move on I would like to add that such a high inventory turnover ratio is testament to the competence of the management of Tilly's from a logistical stand point. It is clear that the development of their omni-channel distribution and loyalty strategies are working. They know what their customers want and when they want it.
Tilly's cash conversion cycle also remains well below the industry average as you can see below. Again, this is a strong indication that the management of Tilly's know exactly what is in favor by its target market, hence the quick conversion cycle. It is also proof that they have very efficiency inventory management systems in place. This is again proof to me that management know exactly what they are doing and they are doing it well.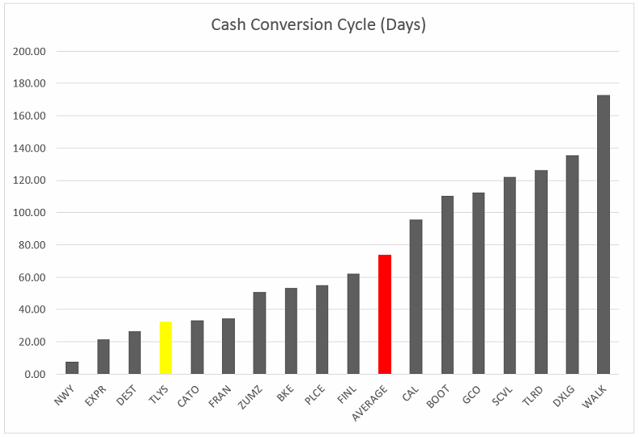 Click to enlarge
To end the efficiency section off, the accounts receivable turnover is above the industry average, again, illustrating that Tilly's have efficient systems in place for timely collection of credit. For the retail industry this is not much of an issue; even the average is in excess of 50 which is extremely high.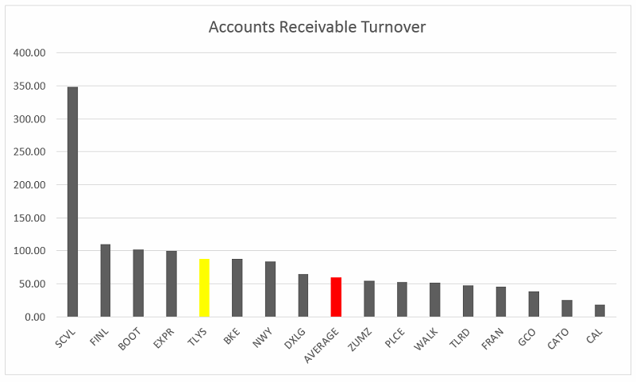 Click to enlarge
Profitability Margins
Tilly's has proven itself to be a phenomenal performer up until this point, but this is where Tilly's stumbles a bit. As you can see in the chart below, gross profit margins for Tilly's sit at 30% which is 9.3% below the average of its peers. This is obviously not a positive because a low gross profit margin relative to its peers may indicate a lack of competitive advantage. However it is quite possible that this weaker than average gross profit margin is a reflection of Tilly's product mix largely incorporating third party brands as opposed to only stocking their own proprietary brands.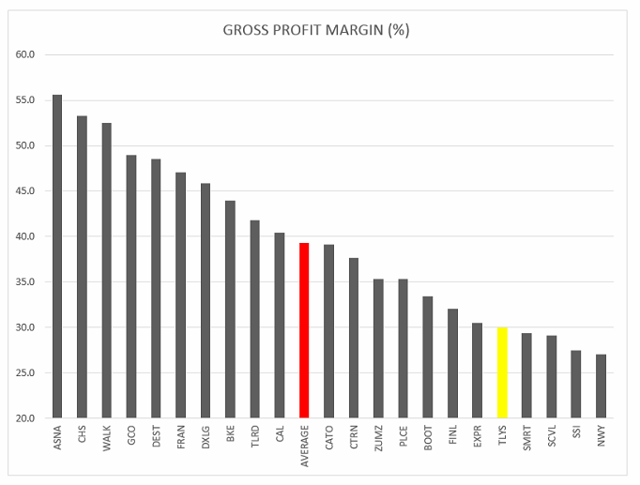 Click to enlarge
Tilly's scores better on its EBITDA margin when compared to its peers, sitting just above the average as illustrated below. Also keep in mind that we have already looked at Tilly's EBITDA margin over time and it has remained stable over the past 5 years ranging between 6% and 14%. Using this chart of their peers as a guide Tilly's EBITDA margin are therefore fluctuating in an acceptable zone.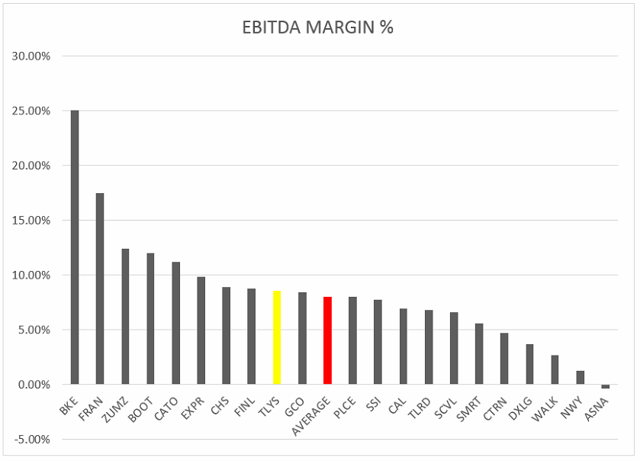 Click to enlarge
Finally profit margins as well are largely in line with its peers.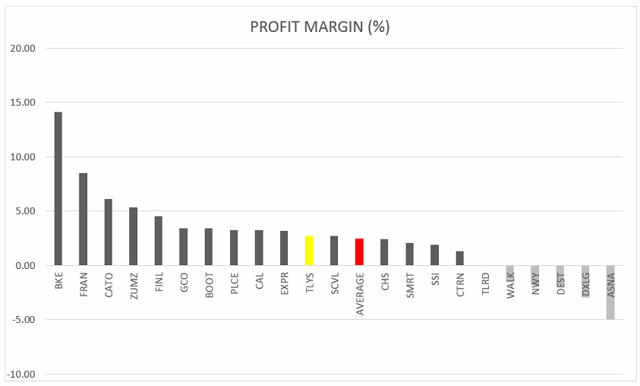 Click to enlarge
Overall the profitability ratios are Tilly's only disappointment and even then they are not that bad. On a final note, I have not bothered to look at liquidity ratios because this does not represent an issue for Tilly's as they have over $80 million in net cash on their balance sheet. In terms of liquidity therefore Tilly's have more than enough flexibility to take advantage of opportunities as they come.
Risks that could affect Tilly's
Needless to say TLSY are facing many key risks, some of them nastier than others.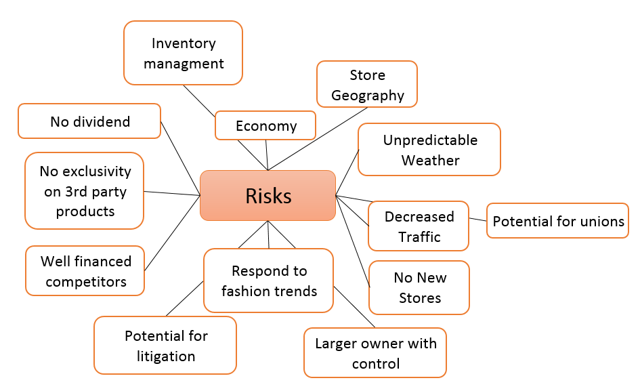 Click to enlarge
Overall economic trends: Like every retailer, Tilly's are susceptible to the future economic conditions of the country. If consumers do not feel confident enough to spend discretionary income, sales will obviously suffer. Tilly's could be particularly susceptible to this because they focus on specialty apparel and accessories. These would be the first items consumers give the flick if the going gets tough.
Concentration of stores: Tilly's have a high concentration of stores in Florida and the North East of the U.S., thus any downturn in those areas in particular could have a disproportionate negative impact on Tilly's. Luckily for Tilly's these aren't oil producing regions otherwise revenues could have been put under significant pressure.
Brick and mortar decreased traffic: Tilly's have historically depended on the location of their stores to generate customer traffic. This risk has also been flagged by management in their quarterly report: "In recent quarters, we have experienced a continuing decline in customer traffic to our stores as consumer purchasing behaviors shift toward online purchases… this could have a material adverse effect on our financial condition and results of operations."
Inability to open new stores to drive sales. This is also a relevant risk as management have stated that they see total stores remaining flat for FY2016. It will therefore be harder for Tilly's to grow their top line than in the past. In light of this management have instead decided to focus on the performance of their existing stores.
Respond effectively to new fashion trends as they emerge, or misjudge a fashion trend: Fashion trends come and go rapidly particularly for teens and young adults. Therefore Tilly's supply chain must be able to effectively adapt to quick changes in consumer behavior. I believe I have already demonstrated that management have mitigated this risk as much as possible as evidenced by their low cash conversion cycle and high inventory turnover. Nonetheless if Tilly's misjudge a fashion trend sales could be adversely affected or mark downs could occur.
Competition. This is perhaps the most relevant risk of all. The industry is highly fragmented and extremely competitive particularly from online sources. Furthermore many of Tilly's competitors, such as Abercrombie & Fitch Co (NYSE:ANF), for example, have much deeper pockets than they do.
Third party products: This risk is also highly relevant. A large percentage of Tilly's products come from third party sources and they usually do not possess exclusive rights to many of the products that they offer. This could therefore potentially impact their product mix as they are susceptible to the decision making of others.
Inventory management issues and timing issues: Tilly's typically have to purchase merchandise months in advance of the season in which it will be sold. If there is a significant decrease in demand for these products during this time it could impact sales.
Weather: Unseasonable weather could negatively impact sales because merchandise could be inconsistent with what consumers wish to purchase.
Dividend: Tilly's do not pay a dividend and are purely focused on growth which could make the stock less desirable in the eyes of investors and institutions. Management have been quite clear that they do not intend to pay a dividend 'for the foreseeable future'.
Unions: None of Tilly's staff are represented by a union so work stoppages are unlikely. However there is always the possibility of a union forming. I consider this to be a low risk.
Litigation: Management have stated that they do not believe there are any pending legal proceedings at this current time. They have already accounted for $0.5million in the event litigation were to occur during 'the ordinary course of business'. Indeed there seem to have been a few cases of litigation against Tilly's up until this point but they have all been resolved.
Ownership: The Shaked and Levine family entities control Tilly through their Class B stock holdings. Class B stocks have 10 votes per share compared to the Class A stock which only has 1 vote per share. Their interests may therefore not necessarily align with shareholders. They could even potentially vote on issues that are even to the detriment of shareholders.
Valuation:
After having considered all of this, what's a fair valuation for Tilly's? Firstly we should take note of the broker consensus figures. There are 3 buys and 6 holds with an average target of $8.83/share. From the close price of $6.31 this implies 40% upside.
I conducted a net present value and I have estimated the value of Tilly's business (excluding net cash) as below;

Click to enlarge
Assumptions behind this calculation include;
A terminal value based on no growth after year 2025.
Revenue growth of 3% per annum between 2015-2025 which is also in line with analyst expectations over the next 2 years.
Other variables such as SG&A (27% to sales), depreciation (4% to sales), capex growth (3%) and net working capital to sales ratio (18%) which are broadly in line with historical standards.
A 10% discount rate which I believe is reasonably conservative given the nature of Tilly's business.
These assumptions therefore imply that revenue growth remains relatively low year on year and that costs going forward will largely be what they always have been. I have also assumed that Tilly's will not need to issue any more shares or take on any more debt than they already have. With this NPV of free cashflows we would therefore value Tilly's at:
Net cash: $82.2million
NPV: $170.0million
Total: $252.2million
Shares outstanding: 28.1million
Valuation per share: $8.98 / share
You may not believe me but I actually did this valuation without checking what the analyst consensus actually was. The fact that my findings have lined up largely with what the analyst consensus is therefore gives me more confidence that my assumptions are reasonable and well founded. With a $8.98/share this represents 42.3% upside from the closing price of $6.31/share.
Conclusions
Pressure in the specialty retail space has created deep value opportunities for those that are willing to dig beyond the doom and gloom.
The imperative for Tilly's is to focus on driving E-commerce sales as much as possible through the tech savvy teens and young adults that they are targeting.
Tilly's already appear to have the logistical systems in place to fully leverage this opportunity as evidenced by their inventory efficiency ratios.
Tilly's compares very favorably to its peers in almost every regard except for its gross profit margins.
Through a DCF of free cashflow we arrive to a $8.98/share valuation which is also largely in line with the analyst consensus of $8.83/share. $8.98/share represents 42.3% potential upside from $6.31.
Disclosure: I/we have no positions in any stocks mentioned, and no plans to initiate any positions within the next 72 hours.
I wrote this article myself, and it expresses my own opinions. I am not receiving compensation for it (other than from Seeking Alpha). I have no business relationship with any company whose stock is mentioned in this article.