One question I've been getting a lot recently is, "What should I do about high yield?" No wonder. According to Barclays, U.S. high-yield spreads1 are approximately 7.50% over Treasuries -- nearly the widest level we've seen since 2011. Yields are around 9%. In the past, these extremes would normally portend better returns in coming years, but this time the situation is harder to read. A number of complexities cloud the high-yield picture, so investors need to think carefully about whether to invest in high yield at all, and if so, how to avoid taking undue risk. Defaults by commodities-related companies and wide dispersion in valuations will make earning the spread (or yield) with the appropriate amount of risk more difficult. In other words, you may not be able to get what you want from high yield.
Investor uncertainty is running high because of concerns about China's slowing growth and the oil-price collapse, among other things. In addition, lending standards have tightened, so access to capital -- a lifeline for highly leveraged companies -- is likely to be more difficult. I believe this tenuous environment warrants a defensive tilt in portfolios this year, including within high yield. I expect market volatility to continue, which is likely to widen high-yield spreads2 further -- although occasional strong rallies could occur. In any event, investors who currently have no exposure to high yield should continue to favor higher-quality credit assets in their fixed income portfolios. Investors who are already in high yield should consider the following:
Avoid commodity-related sectors;
Invest with active managers who can benefit from current high dispersion;
Favor bank loans as a high-yield alternative.
Avoid Commodity-Related Sectors
With apologies to Mick Jagger, when it comes to the high-yield market today, I caution people that they can't always get what they want. Getting the average spread on the overall high-yield market likely means owning energy and metals and mining bonds. Spreads in these sectors, which are extremely wide, contribute nearly 30% to the overall spread. Although this suggests they are attractively valued, I don't think the potential rewards outweigh the risks. Commodity-related industries are under intense pressure and likely to remain challenged for some time. Industries like health care, media, and building materials are relatively insulated from the commodities downturn and are likely to present less risk.
Figure 1 shows that the current 7.34% U.S. high-yield spread is in the 87th percentile relative to the Barclays U.S. Corporate High-Yield Bond Index's3 history, meaning that since 1994, it has been wider only 13% of the time. Excluding energy and metals and mining, the spread drops to 6.07%, placing it in the 72nd percentile. Again, even though non-commodity-related high-yield bonds look less attractive based on valuations, I still think favoring these sectors is the prudent path.
FIGURE 1
Without energy, high-yield spreads look less attractive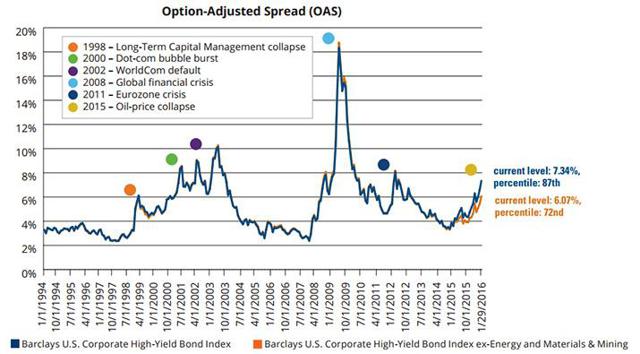 Click to enlarge
Sources: Barclays, Wellington Management
Active Managers May Benefit From Wide Dispersion
Dispersion in the high-yield market is currently very wide, with 72% of bonds having spreads that are either wider than or tighter than the market average, which, for our purposes, I've identified as 30% on either side of the average option-adjusted spread4 (Figure 2). What this means is that rather than trade in a tight band, with spreads not varying much across the market, high-yield bonds are, in fact, quite spread out (no pun intended), meaning there is a greater chance of idiosyncratic risk driving future performance.
This wide dispersion can create an environment that favors bottom-up credit selection: A skilled active manager who can identify bonds of companies that have favorable underlying fundamentals that trade at attractive levels, for example, can potentially generate better returns.
FIGURE 2
Wide dispersion is typically a favorable environment for credit selection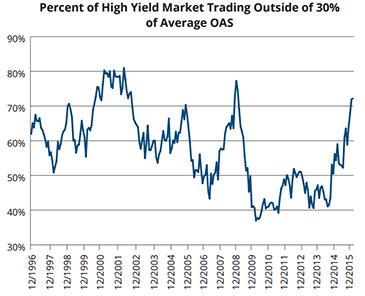 Sources: Barclays, Wellington Management
Favor Bank Loans as High-Yield Alternatives
Bank loans have two important advantages over high-yield bonds: They are more senior in the capital structure and have less than half the exposure to the energy sector. Because bank loans are backed by assets (unlike their unsecured counterparts in high yield), the long-term recovery rate for bank loans in the event of default is much higher than it is for high yield. Finally, Figure 3 shows that bank loans have historically delivered comparable returns with less volatility than high yield. And incidentally, bank loan spreads have also widened; they are currently in the 81st percentile since 1992, which suggests attractive valuations.
FIGURE 3
Bank loans have provided similar returns with less volatility than high yield

January 1, 1992 -December 31, 2015
Sources: Barclays, Credit Suisse, Wellington Management
Past performance does not guarantee future results.
Investment Implications
Avoid commodity-related sectors. Despite spreads that are much wider here, I don't think the potential rewards outweigh the risks. Look to areas like health care, media, and building materials that are insulated from the commodity downturn.
Consider active high-yield managers. Wide dispersion can be a favorable environment for skilled managers who are able to identify bonds of companies with good fundamentals at attractive valuations.
Consider bank loans as an alternative. These assets have far better recovery rates in the event of default, are less exposed to the energy sector than the high-yield market, have delivered better risk-adjusted returns, and are attractively valued.
1 Spread refers to the yield difference between two different securities with the same maturity date, or two similar securities with different maturity dates.
2 Widening credit spreads indicate growing concern about the ability of corporate (and other private) borrowers to service their debt.
3 Barclays U.S. Corporate High-Yield Bond Index is an unmanaged broad-based market-value weighted index that tracks the total return performance of non-investment grade, fixed-rate publicly placed, dollar-denominated and nonconvertible debt registered with the Securities and Exchange Commission.
4 An Option-Adjusted Spread is a measurement tool for evaluating yield differences between similar-maturity fixed-income products with different embedded options.
Investors should carefully consider the investment objectives, risks, charges, and expenses of Hartford Funds before investing. This and other information can be found in the prospectus and summary prospectus, which can be obtained by calling 888-843-7824 (retail) or 800-279-1541 (institutional). Investors should read them carefully before they invest.
All investments are subject to risk, including the possible loss of principal.
Fixed-income securities are subject to credit risk, liquidity risk, call risk, and interest-rate risk. As interest rates rise, bond prices generally fall. Investments in high-yield ("junk") bonds involve greater risk of price volatility, illiquidity, and default than higher-rated debt securities.
Investments in bank loans may at times become difficult to value and highly illiquid; they are subject to credit risk, bankruptcy risk, and insolvency. Investments in commodities-related securities may result in additional risk and volatility due to adverse effects in these markets.
The views expressed here are those of Nanette Abuhoff Jacobson. They should not be construed as investment advice or as the views of Hartford Funds. They are based on available information and are subject to change without notice. Portfolio positioning is at the discretion of the individual portfolio management teams; individual portfolio management teams may hold different views and may make different investment decisions for different clients or portfolios. This material and/or its contents are current at the time of writing and may not be reproduced or distributed in whole or in part, for any purpose, without the express written consent of Wellington Management.
All information and representations herein are as of 02/16, unless otherwise noted.
119260 MFGS_021516
Disclosure: I/we have no positions in any stocks mentioned, and no plans to initiate any positions within the next 72 hours.
I wrote this article myself, and it expresses my own opinions. I am not receiving compensation for it. I have no business relationship with any company whose stock is mentioned in this article.