CYS Investments (NYSE:CYS) continues to trade at a substantial discount to peers and remains one of the most compelling options in the mREIT space. The discount to book present there is materially larger than the discounts present at most other agency mREITs. I compare CYS Investments with a few other mREITs to establish the comparable values, though I must note that value for Annaly Capital Management (NYSE:NLY) is starting to suffer as they move farther away from a pure agency MBS portfolio. It is my best guess that the BV of their portfolio may have taken some additional hits due to more credit sensitivity so far in 2016.
The other mREITs I use for comparison are American Capital Agency Corp. (NASDAQ:AGNC), ARMOUR Residential REIT (NYSE:ARR) and Orchid Island Capital (NYSE:ORC).
Feb 12th Estimates
The estimates I'm presenting are based on my data for the latest values over the weekend. This couldn't be prepared until the LIBOR figures became publicly available, which creates a slight delay in getting a fully comprehensive estimate on BV.
Some of these mREITs have already reported fourth quarter performance so I was able to adjust the estimates to incorporate the surprise of BV being higher or lower than expected. For instance, BV for CYS Investments came in $0.15 higher than I expected and BV for American Capital Agency Corp. came in $0.01 higher than I expected. ARMOUR Residential REIT indicated the amount of book value per share created through share buybacks, so I incorporated that amount as well. To be fair, ARR also provides updates on their portfolio values but the dates frequently will not align with the dates I've used to prepare my estimates and when ARR does provide the monthly update the BV guidance is still set to a range rather than an exact figure.
The following chart demonstrates the discounts to book value I'm projecting using the closing prices from February 12th:

Click to enlarge
In my opinion, the discount on CYS Investments is excessive compared to the rest of the industry and should make it a clear favorite at these relative prices.
For investors wanting a little more of the math, I put together the recorded closing prices and my estimates of BV for each mREIT. Note that these estimates also take into account factors like dividends that were paid. Technically when an mREIT declares a dividend it becomes a "dividend payable," which is a liability and is not part of the book value. However, I treat that dividend as part of the book value until the shares go "ex-dividend."
I want to reinforce that these are estimated BVs and that the chart is not based on discount to last reported BV.

Methodology
I'm not a big fan of "black box" techniques, so I try to provide some additional insight into the way I came to my conclusions. While I wait for more of the mREITs to provide full information about their positions at the end of the year, I continue to use a model built off the third quarter positions and extending the fourth quarter into the first quarter of 2016.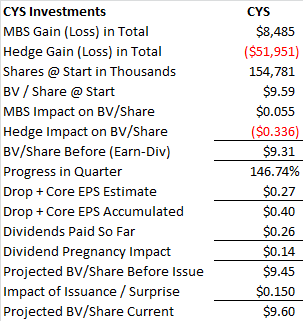 Note that MBS gains and losses as well as hedging gains and losses will be presented in thousands. I'm estimating $8,485 in gains on MBS with $51,951 in losses on hedges. This is simply due to MBS underperforming swaps for movements. Since CYS has not been hedging excessively, they are actually doing quite well compared to most mREITs. They started the third quarter with BV/share at $9.59 and I'm projecting current BV/Share at $9.60. That is significantly influenced by the dividend pregnancy impact since they haven't paid their Q1 of 2016 dividend yet and by the $0.15 recorded as a surprise from the end of the fourth quarter. Since I'm continuing the same model, this is one of the easiest ways to recognize and incorporate that the company performed a little better than expected.
Conclusion
CYS Investments remains one of the most attractively priced agency mREITs. I do not see any reasonable justification for them to trade at this larger discount and therefore, I expect them to perform well relative to peers. If they underperform further, it will open up new opportunities for pair trades to take advantage of unreasonable variations in the discount to book.
Disclosure: I/we have no positions in any stocks mentioned, but may initiate a long position in CYS over the next 72 hours.
I wrote this article myself, and it expresses my own opinions. I am not receiving compensation for it (other than from Seeking Alpha). I have no business relationship with any company whose stock is mentioned in this article.
Additional disclosure: Information in this article represents the opinion of the analyst. All statements are represented as opinions, rather than facts, and should not be construed as advice to buy or sell a security. Ratings of "outperform" and "underperform" reflect the analyst's estimation of a divergence between the market value for a security and the price that would be appropriate given the potential for risks and returns relative to other securities. The analyst does not know your particular objectives for returns or constraints upon investing. All investors are encouraged to do their own research before making any investment decision. Information is regularly obtained from Yahoo Finance, Google Finance, and SEC Database. If Yahoo, Google, or the SEC database contained faulty or old information it could be incorporated into my analysis.