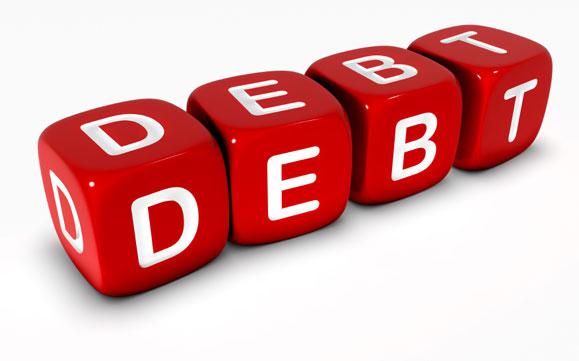 (Source: Makescents2me.com)
Today's article is in response to a reader request for an analysis of Blackstone Mortgage Trust (NYSE:BXMT), possibly the simplest company I've ever analyzed. The simplicity is both in the business model and in the method of understanding the company as an investor. Put simply, BXMT produces nothing and owns no tangible assets; BXMT merely owns debt:

The reader above came to the right place for an analysis of BXMT. I have programmed a valuation method that is used exclusively for companies of this sort. This valuation methodology only applies to companies that derive their income from pure investments -- companies such as banks and insurance agencies.
Because BXMT makes its money through holding debt, this "excess returns model" certainly applies. In the past, I have applied this model to several companies, finding it even to work well on commodity-based companies. To learn more about the theory behind the model read the articles by its creator here, here, and here.
The Dividend
I stated that BXMT is a simple stock for the investor. The reason is its status as a relative stable dividend growth stock. Investors holding BXMT do so because of the high yield and the expectations of ever-increasing dividend growth as well as possible stock growth.
Being so, a thorough analysis of the dividend is important. The story of BXMT's dividend is wild yet as expected from an mREIT. In 2008, the mREIT market crashed, and many dividends were abandoned. This is true of BXMT: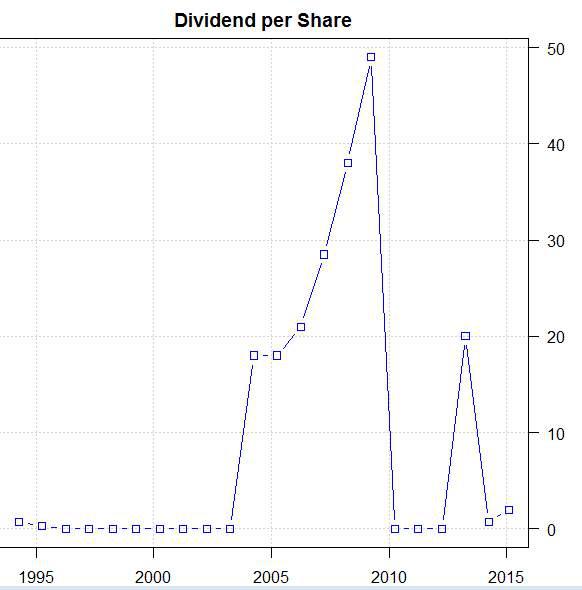 The dividends in BXMT's most profitable years were crazy. But 2008 was the end of that, and no dividends were paid out until 2012. Note that you won't find this data in news searches, as prior to 2013, BXMT went under the name Capital Trust and traded under the ticket CT.
What really matters in terms of the dividend and the stock itself moving forward are the past two or three years, when the dividend has returned to stability. It will be interesting to watch dividend action for this stock because of how closely the stock price and dividend have been aligned in the past: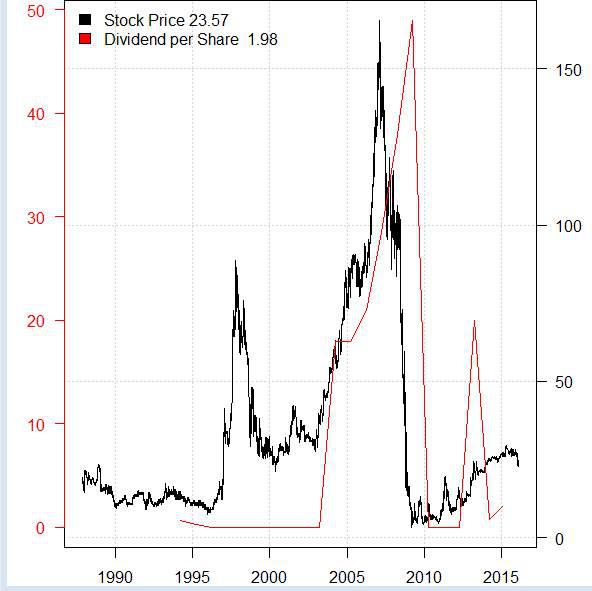 Still, be aware that the outstanding shares have drastically increased, implying that BXMT will have more dividends to pay out if this trend continues: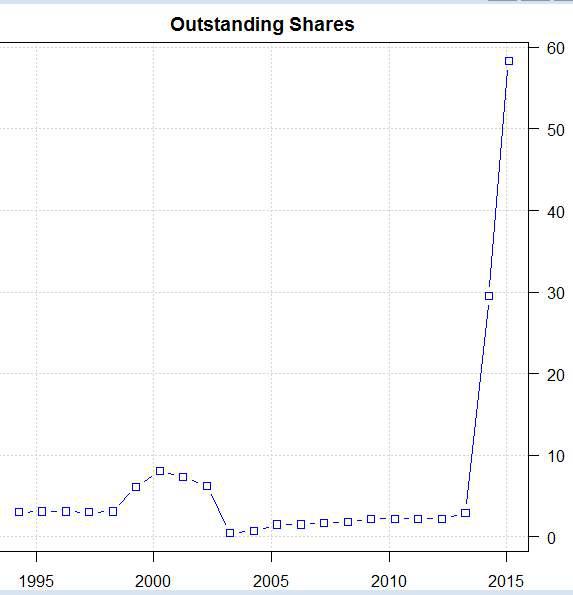 That said, the yield of BXMT is on the rise. The small table that follows shows the recent years in which dividends were paid out all four quarters of the year.
| | |
| --- | --- |
| Year | Yield |
| 2014 | 3.9% |
| 2015 | 7.3% |
At the current price of BXMT and at the current dividend growth rate, I project the yield for 2016 to be roughly 12.5%. This is more attractive than the current "yield winner" mREIT Starwood Property Trust (NYSE:STWD), which currently offers a 11.03% yield. Of course, this is assuming that BXMT can afford to consistently pay out and increase its dividend.
A look at the income of BXMT is informative in this regard.
| | | |
| --- | --- | --- |
| Year | Income (Millions) | Dividend Payout (Millions) |
| 2014 | 15 | 21.24 |
| 2015 | 90 | 115.43 |
Clearly, BXMT's income cannot cover the current dividend. BXMT is likely paying these dividends with cash saved from the immense income from 2012 and 2013, $258M and $181M, respectively. Noteworthy is that income is on the rise, and yesterday's earnings reports show that BXMT is actually more profitable than expected, solidifying the upward trend in income. Soon, income could reliably cover the dividend.
Thus, entry into a position on BXMT would give you a good yield and possible growth as a result of improving company fundamentals. However, the risk of drastic dividend cuts is there, as evidenced by the above charts. Income will be the number to watch for BXMT, moving forward.
BXMT's Current Position
The earnings report of yesterday showed overall good news for BXMT. Earnings were up while book value fell. Nevertheless, year-to-year book value is up. Loan originations were a bit down, but the GE loan is keeping overall originations afloat.
The yearly revenue and EPS increases should be enough to logically predict another increase in the dividend for 2016. Linear analysis predicts a dividend of $0.74 a share in Q3 2016. This will bring BXMT's yield to above that of STWD, all things being equal.
Valuation
It's tempting to look at a REIT's book value and base the "cheapness" of a stock based on the difference between stock price and book value. If you were to do this for BXMT, you'd find the stock trading at over a 10% discount. However, this method is too simple of a valuation, as it merely looks at the invested capital and ignores future returns.
Enter the excess returns model, which lives up to its name by including the excess returns of the company in the valuation of its stock. This model can be considered to include opportunity cost, giving higher valuations to companies that gain more returns on their investments and devaluing companies that underperform the market. I now run this model on BXMT.
The results point to BXMT being underpriced. My model gives a fair value of $27.71 per share. Because this value is higher than the book value, the model implies that BXMT's investments have outperformed the market, a point that can again be backed up by this year's earnings reports.
The Technicals
Though many Seeking Alpha readers shun technicals, my newsletter subscribers have given me good feedback on including some technical analysis in my ETF newsletter. So, I am including a couple quick technical points. Skip this section if you don't believe in technical analysis: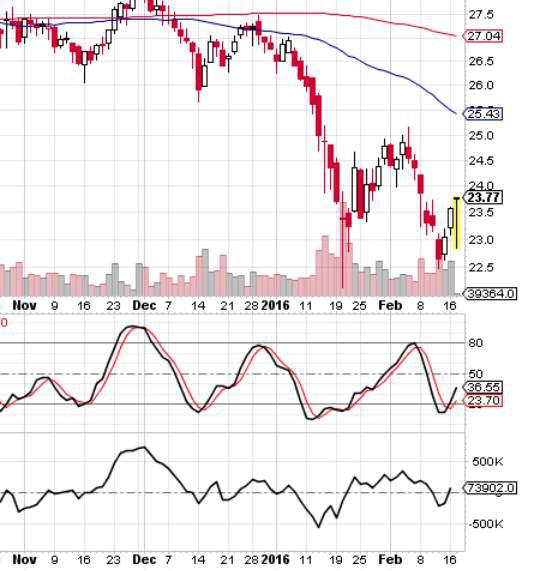 The previous two bullish days prior to earnings have shown us a possible bottom to the recent downtrend in BXMT. More important, though are the two indicators below the candlestick chart. The first -- stochastics -- show BXMT as bouncing back from an undersold status; the second -- the Chaikin oscillator -- implies that money is now beginning to flow into this mREIT.
The weekly candlestick chart shows our first bullish candlestick pattern -- a bullish harami -- indicating the that we might have hit the bottom. If so, expect a reversal. With a level of support just below us at $23.20, now is looking like a safe time to enter a position on BXMT (or buy more).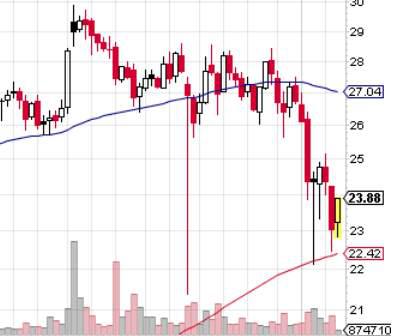 Conclusion
From both a dividend and a valuation viewpoint, BXMT looks like a strong buy. If they continue their growth of both revenue and dividends, this will become an even more attractive stock in the future, therefore diminishing the current "trading at a discount" situation. Thus, any interested parties should get in now.
What do you have to gain? A dividend yield of over 10% per year and stable growth. The stable growth further bolsters the safety of the dividend.
What do you have to risk? Another market crash is possible. But the next market crash will likely not be so deadly to REITs this time; in fact REITs are generally safe value stocks during market crashes, making BXMT a rather conservative investment even if you suspect a crash.
Nevertheless, the mREIT industry is still rather volatile, especially with talk of rate increases and negative interest rates. Interest rate changes can be a large catalyst for a stock such as BXMT, so investors should perform at least some research on which way the interest rates are headed if you plan on optimally timing your additions to this position. That said, many dividend investors care little for the noise and simply buy mREITs for the yield.
If you are such a person, grab BXMT without respect for the news. Get it before the yield and price increase and you'll be thanking your past self. For everyone else -- especially new investors -- bank on increased volatility in the mREIT sector and rate changes (generally, up is bad and down is good).
An Extra Income Opportunity on BXMT
If you play options, buying BXMT outright and opening an options position on the stock will likely boost your profits. I recommend the following strategy.
Outright buy BXMT and earn via dividends.
Open a straddle to benefit from future volatility increases.
The first step gets you quarterly income and exposure to upward movement. The second strategy allows you to benefit from a breakout in either direction. Because we cannot know for certain whether interest rates will rise or fall, betting that the market moves in a specific direction is pure speculation.
It is not speculation, however, that news of interest rates -- whether that news be increased, decreased, or flat interest rates -- will rock the mREIT market. This is why buying volatility makes sense. One such straddle position follows. Happy trading.

Request a Statistical Study
If you would like for me to run a statistical study on a specific aspect of a specific stock, commodity, or market, just request so in the comments section below. Alternatively, send me a message or email.
Disclosure: I/we have no positions in any stocks mentioned, and no plans to initiate any positions within the next 72 hours.
I wrote this article myself, and it expresses my own opinions. I am not receiving compensation for it (other than from Seeking Alpha). I have no business relationship with any company whose stock is mentioned in this article.