Introduction
At the beginning of this year, I wrote a very positive article about Newmont Mining (NYSE:NEM), explaining why I thought this company deserved to be my top pick in the senior gold producer world. Newmont has now just released its financial results of the fourth quarter, so I wanted to check in if the company still deserves my love.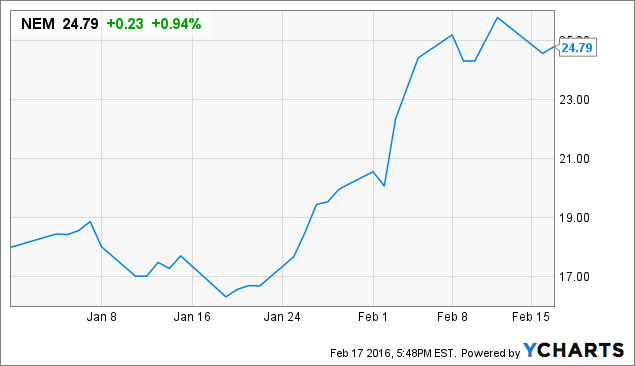 NEM data by YCharts
The Q4 cash flow was disappointing at first sight, but it's not as bad as feared
The company's headline was discussing a net loss in the fourth quarter wherein Newmont lost approximately $254M, or $0.48. That's a bit disappointing, so I wanted to know what caused this net loss.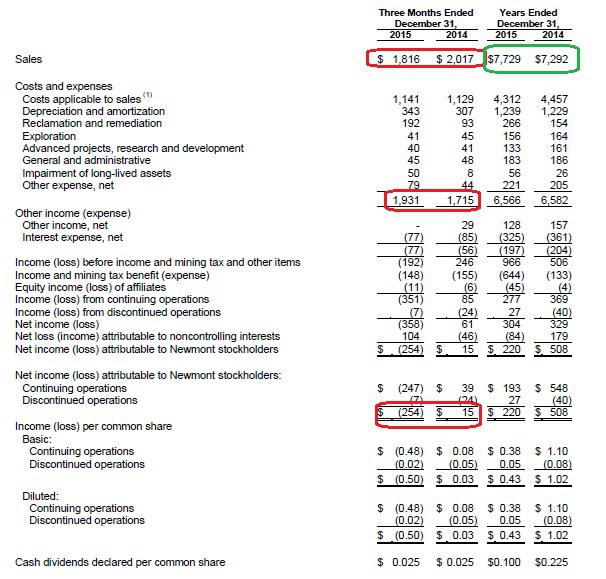 (Source: Press Release)
As expected, the revenue was a bit lower than expected, but I didn't really expect the revenue to have fallen by 10% considering the lower gold and copper price could have partly been covered by the newly acquired mine in the USA. There are, however, two reasons for the lower-than-expected revenue. Newmont seems to have had a bit of bad luck with timing its gold and copper sales, as it received an average of just $1084/oz and $1.86/lbs during the quarter, and that's a little bit on the lower end. On top of that, it did export 39,000 ounces gold as well as 27 million pounds of copper, but the revenue was only recorded in January. This means the revenue was approximately $100M lower than it should have been. And if the company would have been able to sell its gold at a $20 higher price and copper at a $0.15 higher price, the Q4 revenue would have increased by an additional $40M.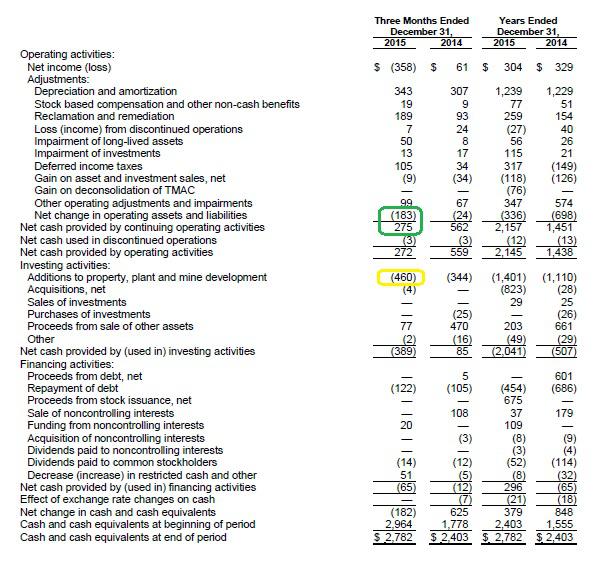 (Source: Press Release)
So, bad luck for Newmont Mining, but I usually don't care too much about the income statement as I determine the true value and strength of a company based on the cash flow statements. Its operating cash flow was $272M, but after adding the $183M change in the company's working capital position to the equation, the adjusted operating cash flow was $455M. The capex was pretty high (at $460M, Newmont spent 33% of the full-year capex in just one quarter), but according to the notes that are accompanying these financial results, only $250M of this amount was sustaining capex, so the total sustaining and adjusted free cash flow was approximately $205M. That's okay, but not really exciting. But again, there are several factors contributing to this bad result (the lower revenue, the higher tax bill - Newmont had to pay taxes despite the quarterly loss, and the bad luck in the price-setting of its products.
The 2016 guidance looks a bit soft to me
So, what do we remember? Newmont's sustainable free cash flow was still positive in Q4 despite the company receiving just $1084 per ounce of gold. As the gold price is off to a good start in the first quarter, and as Newmont will be able to record the revenue from the 39,000 ounce gold and 27 million pound copper shipment, Q1 should be pretty good (unless the gold price starts to crash now, of course).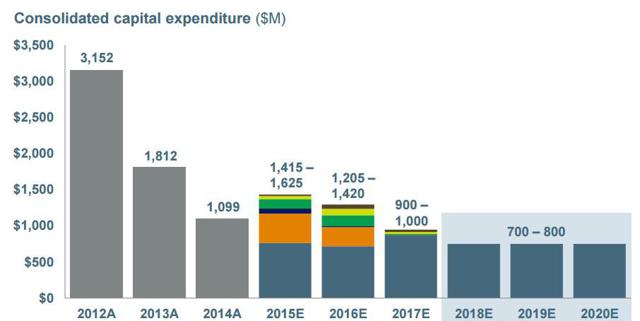 Click to enlarge
(Source: Company Presentation)
That being said, I found the company's full-year guidance to be quite uninspiring. Newmont's official expectations are calling for total gold production of 4.8-5.3 million ounces at an AISC of less than $900-960/oz.
As the Q4 AISC was approximately $899/oz, allow me to think the sub-$1000/oz guidance is a little bit disappointing (although, one cannot exclude the possibility that Newmont is trying to underpromise so it can overdeliver when it will publish the final results). However, 2016 will be some sort of transition year, as Newmont Mining is gearing up to increase its production rate once again in 2017.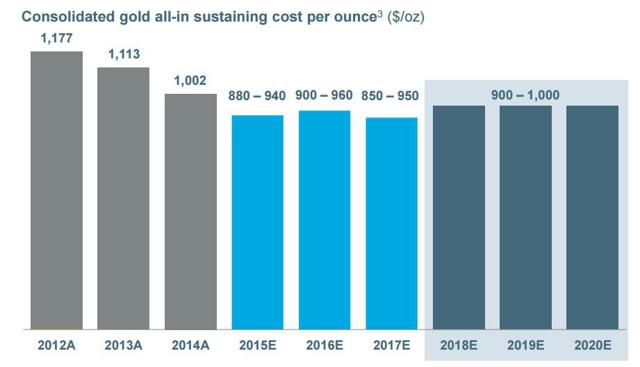 Click to enlarge
(Source: Company Presentation)
For 2017, the company is aiming to produce 5.2-5.7 million ounces of gold, and the mid-point of this range would be 5.5 million ounces of gold, combined with approximately 300 million pounds of copper before the copper production rate falls off a cliff by 2018. Whereas Newmont plans to produce 120,000-160,000 tonnes of copper per year in 2016-2017, copper production will drop to 70,000-110,000 tonnes in 2018 after the higher-grade zones at Batu Hijau are depleted.
Investment thesis
Newmont's Q4 was okay, but barely so. I'm a little bit disappointed with the low adjusted free cash flow, which was impacted by a relatively high tax bill and low prices received for both gold and copper. This shouldn't be an excuse, though, but after seeing the share price trading 38% higher than when I recommended Newmont Mining as my top pick for 2016, it might be a good idea to take some chips off the table, and I think I will sell 1/3rd of my position.
For 2016, I expect the company to generate approximately $1.1B in adjusted free cash flow, using an average gold price of $1175/oz. That still is a good result, but it will be interesting to see how Newmont Mining expects to refill its development pipeline.
Disclosure: I am/we are long NEM.
I wrote this article myself, and it expresses my own opinions. I am not receiving compensation for it (other than from Seeking Alpha). I have no business relationship with any company whose stock is mentioned in this article.