Investors are often wary of "hedge fund hotel" stocks, and often with good reason. Hedge funds are often known for larger sized investments and the ability to enter and exit investments quickly.
Big money and fast money.
Investing in a company favored by hedge funds (and they often get into the same trade) can be great on the way up, but if the crowd starts to exit, look out below.
NorthStar Realty Finance (NYSE:NRF) is one such stock. Back in the early days of the company, it was a mortgage REIT with a twist - private equity exposure, CDO exposure and real estate asset exposure. The management team was (is) adept at investing money, so the company grew and paid a pretty hefty dividend. This is a lay-up for the hedge fund crowd and the leveraged players.
Fast forward to the second half of 2015: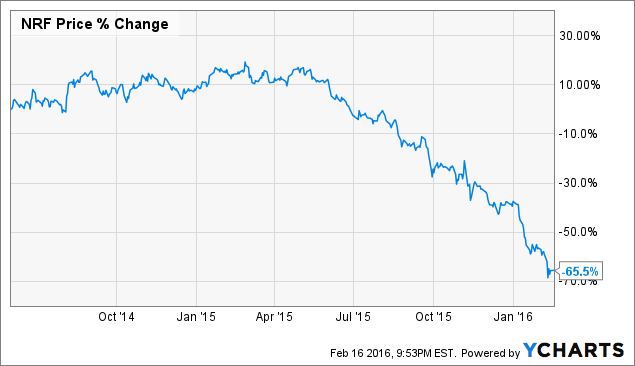 The wheels came off the wagon. The hedge fund hotel was burning and it was only a matter of time before momentum, leveraged and fast money guys had to bail.
As of December 31, 2015, here are some of those exiting the hotel and others entering: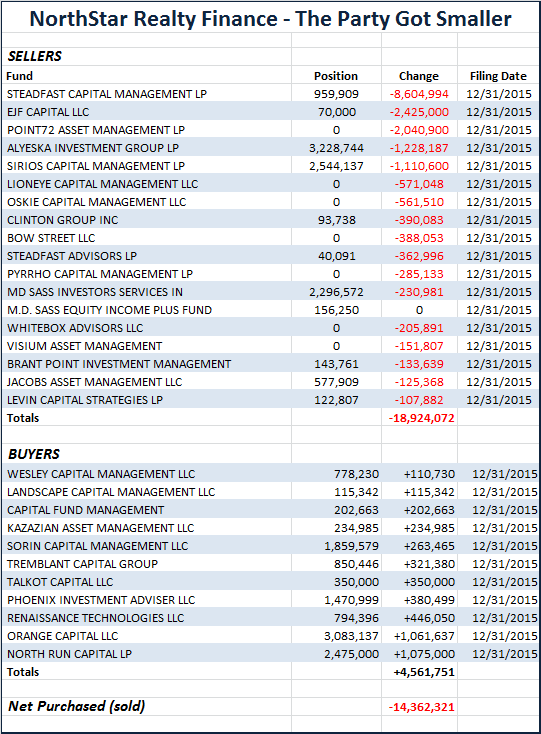 The facts:
Over the last year, the amount of shares owned by hedge funds has dropped ten percentage points to 30% (from 40%). Since August of 2014, the hedge fund ownership has dropped 25 percentage points from 55% to the current 30%.
On the other side of the trade has been investment advisors, where since August of 2014, their ownership of the stock has increased 22 percentage points from 41% to 34% of shares outstanding. Their ownership has increased 8 percentage points in the last year (56% to 64%).
Pension funds have increased their position from 1% to 2.8% over the last year and from 50 basis points to 2.8% (+2.3 percentage points) since August of 2014.
The biggest absolute changes in non-hedge fund purchases came from:
Vanguard, +1.7mm shares (to 14% of the outstanding), and
Fidelity (FMR) +1.2mm shares recently
Bottom Line: I believe that NorthStar Realty Finance is trading into "stronger hands" and a good number of the "round trip" (rode it up, then rode it down) and momentum hedge funds have been shaken out and the current group of investors are in as value players and "resource conversion" (company forced catalyst) players. Ultimately, this could help reduce the fast money overhang and increase the number of investors that will wait for the turnaround. While NorthStar's problems have not gone away, a change in the investor base could help reduce volatility.
Disclosure: I am/we are long NRF.
I wrote this article myself, and it expresses my own opinions. I am not receiving compensation for it (other than from Seeking Alpha). I have no business relationship with any company whose stock is mentioned in this article.
Additional disclosure: long NRF common and preferreds (series C and E).