Restaurant Brands (NYSE:QSR) reported very strong Q4 results of 35 cents ahead of consensus at 29 cents. Strong same-store sales and cost control led to another impressive quarter at the company.
For further reading, check out my long thesis Restaurant Brands International: A One-Trick Pony, which details the process and path towards building substantial shareholder value.
Results Recap
The story here is sustained momentum in same-store sales despite an increase in competitive intensity. Tim Hortons (TH) delivered 6.3% while Burger King (BK) was at 3.9%. TH generated the highest quarterly same-store sales number in 2015, while BK decelerated from the 5.7% range in the last 3 quarters.
For the year, TH and BK delivered same-store sales growth of 5.6% and 5.4%, respectively. Adjusted EBITDA increased 21.4% compared to last year's pro-forma results. For a mature brand like TH, the management team continues to demonstrate their operational acumen with same-store sales accelerating from 2.9% in 2014 and EBITDA increasing nearly 30%.
TH's broadened lunch offering continues to gain share, especially in Canada where it could eventually overtake McDonald's (NYSE:MCD) as #1 in the daypart. Further, the coffee business doesn't appear to be losing share, with growth keeping up with market leaders and outpacing Dunkin' Donuts (NASDAQ:DNKN).
Prior to the quarter, the stock had been underperforming the S&P reflecting (perhaps) investor nervousness amidst heightened competition. These results should sooth those concerns.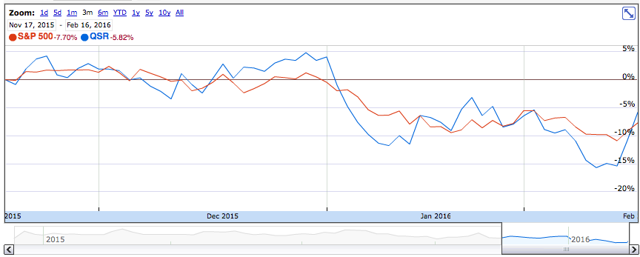 Click to enlarge
Building the House
Arguably, 2015 laid the foundation for growing the TH brand in the US and Internationally. Costs were removed. The right people and culture implemented. The product offering rationalized, and underperforming stores closed. And perhaps most importantly, US franchise profitability was improved.
In November, TH announced a development agreement for Cincinnati, and in January, an agreement with Ampex to acquire existing restaurants and further grow the brand in Columbus. Finally, in conjunction with the quarterly results, an agreement was signed in Indiana to build and grow franchises in Indianapolis and Lafayette.
The company continues to plant seeds and expects further announcements throughout 2016. Speaking on the conference call:
First, it speaks our commitment to expand the Tim's brand presence in the US, which is the world's biggest QSR market. And second, it highlights the momentum that we're building in our US development strategy and the appeal of the Tim Hortons brand and operating model. We continue to be very excited about the growth opportunities for Tim's in the US and look forward to continuing to work with great franchise partners to accelerate the pace of development.
Internationally, TH will continue to grow in 2016, while BK, after a pause in 2015, should see a pick-up in unit growth after expanding development agreements in Germany and Spain along with the conversion of acquired Quick stores in France.
While BK's growth internationally is unquestioned, TH still has much to prove on that front. If we see it expand outside the Middle East, expect many questions (and skepticism) around whether it can truly succeed.
Keeping Pace
While the US business doesn't have the same type of comp history as Starbucks (NASDAQ:SBUX), it continues to deliver good same-store sales (5.8% in the quarter). Not only is this critical to further improving AUVs and profitability of existing franchises, new owners arguably want to partner with a fast growing, high-returning chain.
It's worth noting that the gap between TH US and Dunkin' US performance continues to widen:

In addition, the company managed through the introduction of All-Day Breakfast (ADB) at McDonald's suggesting it is not a "McDonald's wins, everyone else loses" outcome. At Restaurant Brands, the company continues to emphasize its responsibility to row irrespective of the competitive and economic environment.
And with AUVs at BK and TH US still just $1.3 million and $1.2 million, respectively, they have a long way to go. Consider TH Canada is at $2.4 million. Again from the conference call:
So on the Tim's front, we're focused on further solidifying our strength in the lunch daypart, continuing to grow our breakfast business, growing our coffee business. We continue to see strength in the dark roast blend that we had launched over a year ago continuing to ensure that our guests are getting a great experience all day at Tim's

On the Burger King front, the strategy has been the same since we acquired the business back in 2011, focused on running great restaurants, operations, investing in the restaurants, remodelling, marketing -- new and innovative marketing really connecting with our guests and launching fewer impactful products, and really none of that changes regardless of the competitive environment, we still feel like we have quite a long ways to go on both the Burger King front and the Tim Hortons front with respect to sale per restaurant and the number of restaurants in all of our markets around the world.
That said, the company often remains light on details preferring the ambiguous, all-encompassing answers (such as above) as opposed to directly addressing competitor-specific actions.
Competition is Hot
With the introduction of ADB, burger chains responded with highly promotional offerings to drive traffic. Wendy's (NASDAQ:WEN) responded with a successful 4 for $4 campaign while BK offered 10 nuggets for $1.49 and 2 for $5 sandwich deal. This undoubtedly influenced the deceleration in BK's US same-stores sales to 2.8%.
The introduction of Grilled Dogs, however, is a more appropriate competitive response. As opposed to simply "racing to the bottom" with ever increasing and more aggressive promotional activity, Grilled Dogs differentiate the menu a bit. If everyone is doing it, promotional activity does little to build long-term traffic loyalty and potentially scars relationships with franchisees (as they can be money losing traffic drivers).
Grilled Dogs is another attempt by BK to offer a product that is operationally simple for franchisees to deliver but (potentially) highly impactful with respect to traffic and sales.
Concluding Thoughts
Despite debt being 5x trailing EBITDA, management continues to express confidence in the future with a modest but increasing dividend:

With capital expenditures for the year coming in at $115 million (substantially lower than previous indications of $150 million), the transition to an even more capital light model and predictable free cash flow generator continues.
I look forward to ongoing dividend increases as well as a meaningful reduction in debt in order to reduce financial risk and create some future acquisition optionality.
Disclosure: I am/we are long QSR, DNKN.
I wrote this article myself, and it expresses my own opinions. I am not receiving compensation for it (other than from Seeking Alpha). I have no business relationship with any company whose stock is mentioned in this article.