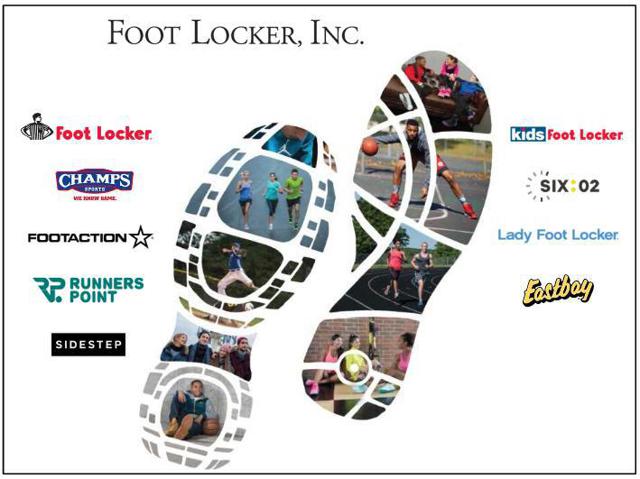 Click to enlarge
Source: Investor Presentation
Foot Locker (NYSE:FL) has consistently grown sales and profits and exceeded its estimates for the past two years. The stock is attractively valued as compared to its industry and the broader market. The company is expected to grow earnings at an above-average rate for FY17, which is likely to drive the stock to outperform the market.
Foot Locker benefits from the sales of other successful companies such as Nike (NYSE:NKE) and brands such as Adidas, Jordan, Puma, ASICS, etc., whose products are sold in its brick and mortar stores (Athletic stores segment) and online (Direct to Consumer segment). Foot Locker operates the stores bearing the company name, Lady Footlocker, Kids Foot Locker, SIX:02, Champs Sports, Runners point, Footaction, and Sidestep. The company also operates websites for each of its stores, selling directly to the consumer.
The footwear category is Foot Locker's strongest product category, which achieved a double-digit sales increase for fiscal Q3. The apparel category achieved a mid-single digit sales increase. Overall, Foot Locker achieved an 8% comp stores sales increase for Q3. I think that the company can continue to post strong comp store sales increases as it continues to focus on offering an attractive product mix in an attractive store layout. Customers tend to be attracted to the brands and styles that Foot Locker chooses to offer as evident in the strong sales results. I think that this is likely to continue going forward as Foot Locker continues its focus.
The upcoming Summer Olympics set for August 2016 in Rio de Janeiro, Brazil is likely to act as a catalyst for the company. The leading brands that Foot Locker sells will be advertised heavily before and during the Summer Olympics. This is likely to generate more awareness among consumers to stimulate sales at Foot Locker's stores and online.
Foot Locker's strategy for store expansion into new regions will also help the company grow revenue and earnings going forward. The company sees Europe as a good opportunity for expansion. Foot Locker plans to continue to expand its stores into key countries in Europe through 2020. This includes expanding Runners Point and Sidestep into additional countries. It also involves building the capability for online growth in Europe. Foot Locker's philosophy for expansion in Europe is placing the right brands with the right store size and layout into the right markets and locations.
Foot Locker already has a good store presence in countries such as Italy, Germany, Ireland, Portugal, and the Netherlands. However, there is opportunity for expansion in key countries such as France, Spain, and the U.K., where the company operates some stores, but sees more opportunity for growth. Foot Locker's European business is doing well as evident in the double-digit gains in the high teens for comp store sales in Q3. The European business has been the leading region for comp store sales growth. So, it makes sense for the company to expand its presence in Europe to drive future growth.
Another strategy that Foot Locker is focused on is the expansion of women's stores. For example, the company wants to make SIX:02 its primary women's brand. Women's athletic products are a hot market. This includes workout apparel such as sports bras, tights, bottoms, and sneakers. So, Foot Locker is wisely positioning itself to capitalize on the women's market. This includes having the women's business play a more significant role in all of the company's branded stores. Expanding women's is likely to be a growth catalyst for the company.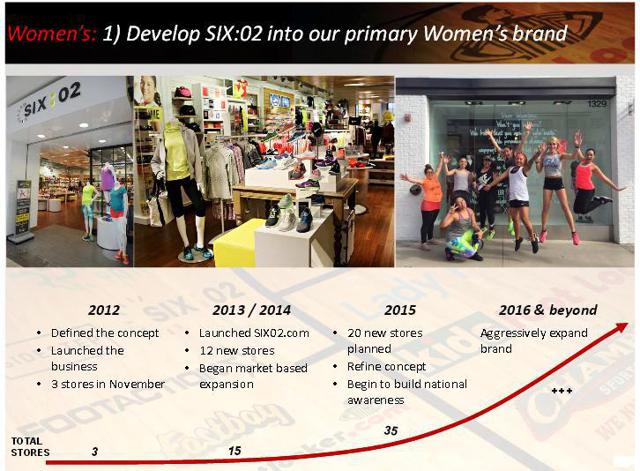 Click to enlarge
Source: Investor Presentation
Attractive Valuation
Foot Locker is trading below the Textile-Apparel Footwear and Accessories industry and below the S&P 500's valuation.
| | | | |
| --- | --- | --- | --- |
| | Foot Locker | Industry | S&P 500 |
| Forward PE | 13.9 | 19.9 | 15.3 |
| PEG | 1.38 | 1.98 | N/A |
| Price to Book | 2.08 | 5.05 | 2.44 |
Data: Finviz & SPDR SPY
I think that Foot Locker's stock is likely to perform well given its lower than average valuation and above-average expected growth. Foot Locker is expected to grow earnings at about 11% to 12% for FY17 according to consensus. This is significantly higher than the S&P 500's expected growth of 6%.
Foot Locker has a strong ROE of 20.55%. If I account for the company's 26% payout ratio, the company has a sustainable growth rate of 15% [(1-0.26) X 20.55]. Therefore, the current estimates for FY17 could be too low. Foot Locker has a good track record of exceeding its growth estimates. So, I think the company can continue to do so, if it can sustain a strong ROE. Foot Locker has sustained its ROE over 16% since 2012 according to ycharts.com, so I think that strong performance will continue especially as the extra buzz associated with the summer Olympics advertising emerges.
Conclusion
Foot Locker's attractive valuation and strong earnings growth is likely to make the stock a winner over the long term. The stock rose 20% over the past year even after the recent sell-off since September. The stock did this in a year when the broader market went nowhere. Therefore, I think the stock can perform well even if the broader market underperforms this year. All told, I think that the stock can gain about 17% over the next year based on earnings growth and PE expansion. The forward PE should be able to expand to the market's average, or about a PE of 16. Multiply that times the expected EPS for FY17 of $4.75, and the stock can reach $76 within a year.
If you like my analysis, click on FOLLOW at the top of the article near my name. This will allow you to see my new articles on your homepage. If you choose to get real time alerts, you'll get email alerts when my articles are published.
Disclosure: I/we have no positions in any stocks mentioned, and no plans to initiate any positions within the next 72 hours.
I wrote this article myself, and it expresses my own opinions. I am not receiving compensation for it (other than from Seeking Alpha). I have no business relationship with any company whose stock is mentioned in this article.