By Eirik Nordgaard
Wal-Mart (NYSE:WMT) is set to report its fourth quarter financial results before the bell on Thursday (2/17). Wal-Mart is the biggest retailer in the world and has recently announced that it will close its smallest Wal-Mart Express stores, plans to operate its own gas stations, and will launch a new mobile payment system. On Thursday, we might see Wal-Mart post its first ever year-over-year decline in revenue in 25 years. Analysts and investors are expecting that increased competition from Amazon (NASDAQ:AMZN), smaller grocers and discount stores will decrease Wal-Mart's dominance. Wall Street is anticipating Wal-Mart to announce earnings of $1.43 per share and revenue of $130.76 billion for the quarter.
Fundamental Analysis
We populated the SprinkleBit analyzer with Wal-Mart's main competitors in the discount retail store industry to project how its financial fundamentals compare to its peers. Let's take a look at how Wal-Mart compares against Costco (NASDAQ:COST), Sears (NASDAQ:SHLD), Target (NYSE:TGT), and PriceSmart (NASDAQ:PSMT). For this analysis, we used EBITDA multiples, revenue multiples, market cap to revenue and PE in order to see how Wal-Mart measures up against its peers. By running the fundamental measures in comparison to the companies mentioned, we received an implied share price of $78.66. With the current trading price of $66.12 (EOD 2/17) Wal-Mart is undervalued by 18.96%.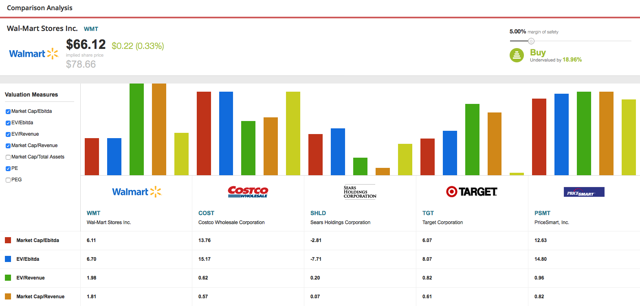 Click to enlarge
Technical Analysis
We also analyzed the technicals on the daily chart in order to see where the stock price could potentially move to on the release of earnings. With an entry price of $66.11 and a reported loss on earnings, the stock has the potential to fall to $64.80 for a 1.98% loss. With an entry price of $66.11 and a reported beat on earnings, the stock has the potential to rise to $68 for a 2.86% gain. The risk/reward ratio for this trade is 1.44.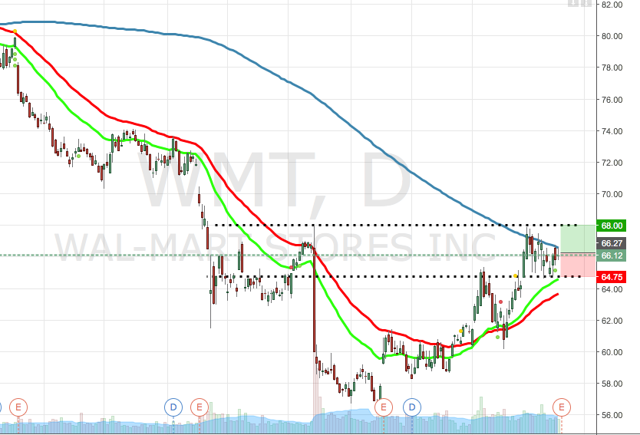 Click to enlarge