This article is part of a series that provides an ongoing analysis of the changes made to Fairholme's US stock portfolio on a quarterly basis. It is based on Fairholme's (MUTF:FAIRX) (MUTF:FOCIX) (MUTF:FAAFX) regulatory 13F Form filed on 02/16/2016. Please visit our Tracking Bruce Berkowitz's Fairholme Fund Holdings article for an idea on how his holdings have progressed over the years and our previous update highlighting the fund's moves during Q3 2015.
Berkowitz's US stock portfolio decreased 29.87% from $3.47B to $2.43B this quarter. The portfolio continues to be very concentrated with the vast majority invested in just five businesses. The largest three positions are Sears Holdings, American International Group, and St. Joe Companies and together they account for 67.73% of the 13F portfolio.
Berkowitz's flagship Fairholme Fund has generated significant alpha since its December 1999 inception: thru 2015, the fund's annual returns are at 10.21% compared to 4.08% for the S&P 500 index. It was down 11.5% for 2015 compared to up 1.4% for the S&P 500 index. The fund has also underperformed over the most recent 5-year period. Top holdings that are not in the 13F report include Fannie Mae pfds (FNMAS), Freddie Mac pfds (FMCKJ), and Imperial Metals (OTCPK:IPMLF). They are known to hold significant cash especially when markets are high. The current cash allocation is at 23.8%.
New stakes:
None.
Stake Disposals:
Citigroup Inc. (NYSE:C): C was a 4.30% of the portfolio position purchased last quarter at prices between $49 and $60 and disposed of this quarter at prices between $50 and $56. The stock is now at $39.78.
National Oilwell Varco (NYSE:NOV): NOV was a small 1.71% of the US long portfolio stake. It was established in Q2 2015 at prices between $48 and $56 and increased by ~46% last quarter at prices between $36.72 and $47.42. The elimination this quarter happened at prices between $33 and $41. The stock currently trades at $29.10.
ASA Gold and Precious Metals (NYSE:ASA): ASA was a minutely small 0.13% portfolio stake established last quarter but eliminated this quarter.
Stake Increases:
Lands' End (NASDAQ:LE) and MRC Global (NYSE:MRC): These two stakes were established last quarter and increased this quarter. The 2.93% LE stake was purchased at prices between $21.26 and $28.92 and increased by 63% this quarter at prices between $21 and $28. The stock is currently near the low end of those ranges at $23.34. MRC is a 2.99% position established at prices between $10.90 and $15.72 and it now trades well below that range at $9.57. This quarter saw a minor increase.
Note 1: Lands' End is an April 2014 spinoff from Sears Holding. Berkowitz received ~7.35M shares but that stake was sold out by the end of that year. The current position is 9.5% of the business.
Note 2: The ownership stake of MRC Global is 5.5%.
Now Inc. (NYSE:DNOW): The 4.67% DNOW stake was purchased last quarter at prices between $14.80 and $19.74 and the stock currently trades at $13.92. This quarter saw a minor ~6% further increase.
Note: Now Inc. is a May 2014 spinoff from National Oilwell Varco . It is down ~57% since. Fairholme's ownership stake in the business is at 6.7%.
Sears Canada (NASDAQ:SRSC) and Sears WTS 28.41 Strike: These positions were established in Q4 2014 as a result of Fairholme participating in two rights offerings from Sears Holdings. The SRSC rights offering distributed one subscription right for each share of Sears Holdings held and it allowed the purchase of 0.375643 shares of Sears Canada at $9.50 per share. The rights would have resulted in the purchase of around 10M shares but Berkowitz ended up with ~40% more (oversubscription privilege). The Notes & WTS rights offering was for $625M in notes and 22M in warrants (strike $28.41 expiring in five years - 2019). Here again, the rights offering would have allowed the acquisition of around 6.1M warrants but Berkowitz ended up with 6.4M. Last three quarters have seen further increases in both positions.
Sears Holdings Corp (NASDAQ:SHLD): SHLD is Berkowitz's largest position at 23.82% of the US long portfolio. The original stake was established in 2007 although the position size has fluctuated over the years. Last two years saw consistent buying and the share count increased from 21.13M shares to 28.20M shares. The current stock price ($18.05) is far below Fairholme's cost-basis. The pattern of buying signifies a strong bullish bias. For investors attempting to follow Berkowitz, SHLD is a good option to consider for further research. He controls ~27% of the business.
Note: In the 2015 AR, Berkowitz indicated that his updated sum-of-parts valuation for SHLD was at $147 per share.
.
St Joe Companies (NYSE:JOE): JOE is a top-three stake at 18.64% of the 13F portfolio. The bulk of the stake was purchased in the 2008-2009 timeframe and there have only been minor adjustments since. Currently, it trades at $15.04. This quarter saw a marginal increase.
Seritage Growth Properties (NYSE:SRG): SRG is a top-five 5.58% position. It was spun-off from Sears Holdings through a Rights Offering in July 2015. Fairholme participated and accumulated 3.37M shares (13.5% of the business). This quarter saw a marginal increase.
Sears Hometown & Outlet Stores (NASDAQ:SHOS): SHOS is a minutely small 0.26% position. It saw a ~89% increase this quarter but the relative sizing is still very small.
Note 1: Sears Hometown and Outlet Stores is a spinoff from Sears Holdings (mid-October 2012 rights offering).
Stake Decreases:
American International Group (NYSE:AIG) & AIG WTS 45 Strike: AIG was Berkowitz's largest position as of Q2 2015 even after a ~78% reduction in the common during the previous seven quarters. Last quarter saw the common stake almost sold-out (~96% reduction) at prices between $55.66 and $64.54. This quarter saw another ~63% reduction. The stock currently trades at $52.68 and the remaining stake is very small at 0.69%. Warrants have also seen marginal reductions in the last four quarters. The warrants and the common stock together is still a large (second-largest) stake at 22.17% of the portfolio.
Note 1: Per the 2015 AR, the current thesis boils down to the following: a) AIG is trading at a significant discount to ~$80 in tangible-book-value, b) untapped opportunity to improve cost structure, and c) potential for WTS strike price & conversion ratio to improve based on future dividend and capital distributions.
Note 2: In the H1 2015 shareholder letter, Berkowitz revealed he has almost tripled his money on AIG when the stock was trading at ~$62.
Bank of America (NYSE:BAC), WTS 13.30 Strike, and BAC WTS 30.79 Strike: BAC was Berkowitz's third largest position at 14.68% of the US long portfolio as of last quarter. The stake was first purchased in 2010 and minor adjustments had since been made every quarter. Q1 2015 saw a ~19% reduction in the common and a ~8% increase in the warrants (Jan 2019 13.30 Strike, Yahoo Ticker - BAC-WTA, Current Quote - $6.32). Last quarter saw an almost two-thirds reduction in the common at prices between $15.26 and $18.45. This quarter, the common saw an 86% reduction while the warrants were increased by 21%. The stock currently trades at $12.57. Overall, the stake is still a top-five position at 6.73% of the 13F portfolio.
Berkshire Hathaway (NYSE:BRK.B) (NYSE:BRK.A): BRK.B is a very small 0.75% of the US long portfolio position. The stake was reduced marginally this quarter.
Canadian Natural Resources (NYSE:CNQ) and International Business Machines (NYSE:IBM): These are medium-sized positions established last quarter but sold down this quarter. CNQ was a 5.44% of the portfolio stake established at prices between $19.05 and $27.16 and reduced by ~89% this quarter at prices between $19.36 and $25.60. The stock currently trades at $21.74. The 3.15% IBM stake established at prices between $141 and $173 was reduced to a 0.27% stake this quarter at prices between $132 and $152. It now trades at $126.
Leucadia National (NYSE:LUK): LUK is a very long-term holding that was built-up over several years. Since Q2 2013, the position was sold down from 18.8M shares to 4.5M shares. This quarter saw a ~55% reduction at prices between $16.08 and $21.11. It currently trades at $15.23. Last quarter also saw a 17% reduction. The stake is now at 3.25% of the 13F portfolio.
The spreadsheet below highlights changes to Fairholme's US stock holdings in Q4 2015: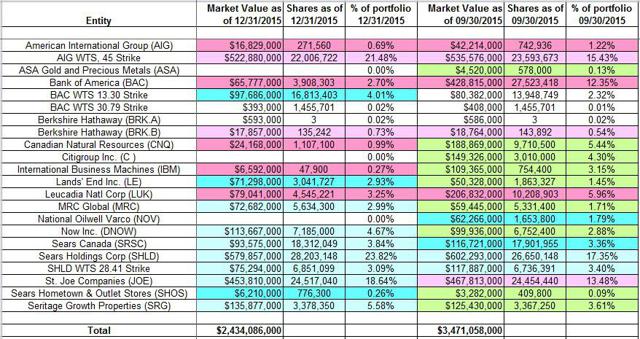 Click to enlarge
Disclosure: I am/we are long AIG, BAC, IBM, SHLD.
I wrote this article myself, and it expresses my own opinions. I am not receiving compensation for it (other than from Seeking Alpha). I have no business relationship with any company whose stock is mentioned in this article.
Editor's Note: This article discusses one or more securities that do not trade on a major U.S. exchange. Please be aware of the risks associated with these stocks.