Introduction
Barrick Gold (NYSE:ABX) survived a tough 2015 by going leaner and paying off debt. As gold prices have risen in recent weeks, so too has its share price. With gold trading at around ~$1208/oz., long-term investors are starting to look back at beaten down gold mining companies for value, long-term investments.
Here on Seeking Alpha, Barrick is again receiving lots of positive commentary. I've provided extensive coverage on it in the past, with a variety of bearish articles that examine its weaknesses, trajectory, ratings, and lots of problems from older investments like the Pascua-Lama project. The last time I wrote about Barrick was back in November when I moved from bearish to neutral, with my argument being that a long-term investment in Barrick is unlikely to achieve strong gains without a major jump in the price of gold.
But with broader market uncertainty this year, there has been a major jump in the price of gold. Gold has gone from trading in the $1,060/oz. range at the beginning of the year to above $1,200/oz. now. Barrick Gold has benefited from this jump, with its share price going from $7.38 on December 31 to $11.88 before earnings were released on Thursday. This massive 61% jump had little to do with Barrick and everything to do with the spike in the price of gold and growing uncertainty in the market.
Now investors can weigh a longer term investment in Barrick with data from the company. This piece will examine the Q4 earnings report along with its annual outlook. Although Barrick continues to manage a tough environment, it still has too many lingering red flags that investors cannot ignore.
Earnings Analysis
Looking at the data, Barrick Gold posted mixed Q4 results. Although it beat estimates on revenue and EPS, it still posted a quarterly loss of $2.62 billion, or $2.25 a share. But these losses were primarily because of a $2.8 billion in after-tax impairment charges. On the positive side, Barrick achieved an operating cash flow of $371 million in Q4.
The more important information came from its annual outlook. Looking at its report, there are several important issues that stand out: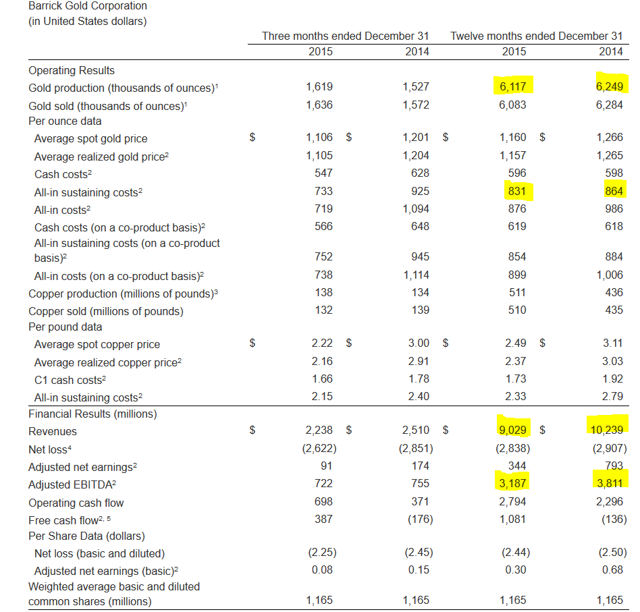 Source: Barrick Q4/FY 2015 Report
The highlights are important points that stuck out to me. It can be seen that gold production came in slightly lower in 2015 than 2014. This would not be that big of a deal if it weren't for the fact that the price of gold was $100 less in 2015 compared to 2014. If we look down at revenue, we see that Barrick brought in a full $1.2 billion less in 2015 compared to 2014. Furthermore, adjusted EBITDA is down $600 million.
To be fair, reduced revenues are to be expected when the average gold price is lower. And Barrick did manage to reduce its AISC from $864 to $831. But its massive decrease in revenue coupled with lower production is a significant long-term cause for concern.
This is where I see the biggest problems with Barrick. Although it does have copper and silver interests, it's primary revenue generator is gold. On this front, Barrick provided a lower 2016 production guidance of 5.0-5.5 million ounces of gold and declining production through 2018. This is Barrick's current guidance:
In 2016, we expect to produce 5.0-5.5 million ounces of gold at all-in sustaining costs of $775-$825 per ounce.

For 2017, we expect to produce 5.0-5.5 million ounces of gold at all-in sustaining costs of $740-$790 per ounce.

In 2018, we expect to produce 4.6-5.1 million ounces of gold at all-in sustaining costs of $725-$775 per ounce.
What this demonstrates is a gradual reduction over time, but at least AISC will also be coming down. However, one important point investors forget to examine is previous guidance to see how it matches up with latter guidance. If we go back a year and look at guidance then, we saw management state:
Production guidance for 2015 is 6.2-6.6 million ounces of gold at all-in sustaining costs of $860-$895 per ounce. The company expects to generate positive free cash flow this year at current gold prices.
Annual gold production from our current portfolio is expected to exceed six million ounces in 2016 and 2017, with all-in sustaining costs lower than this year by 2017.
There are several important points to consider based on this.
First is the fact that the production guidance for 2015 was missed on the lower end. Although the management team did revise down its production estimate because of issues at the Pueblo Viejo mine in the Dominican Republic, seeing that Barrick ended up producing less gold and significantly less revenue in 2015 compared to 2014 is problematic to say the least.
Next, guidance for 2016 and 2017 was supposed to be in excess of six million ounces. But now we see that production will perhaps be a little more than five million ounces and the trajectory continues downward. Although some cutbacks are to be expected from a company that keeps selling off assets and trimming the fat, these deep cuts indicate a company that will not be achieving growth anytime soon.
Finally, we have to consider the current forecast alongside previous forecasts to try and assess what to realistically expect in 2016. If 2016 is like 2015, then production will end up on the lower end of guidance, perhaps producing only 5 million ounces for the entire year.
Although cutting back debt is fantastic, this report indicates a company that is shrinking and will continue to shrink in the years ahead. This makes its current share price appear lofty given the myriad of problems it still faces.
Conclusion
Barrick Gold survived a tough 2015 and is now beginning to adjust itself to being a leaner, less-leveraged company. But given the downward trajectory of lower revenue, adjusted EBITDA, and gold production is a serious red flag. Paying off debts is important, but this does not demonstrate strength. Instead it demonstrates a company that is still working hard to correct course after an extended period of overaggressive expansion.
Although gold investors may be tempted to take a position given the broader uncertainty in the markets and potential for further increases in the price of gold, there are still too many red flags with Barrick Gold. As it stands, Barrick Gold is not a buy.
Disclosure: I am/we are short ABX.
I wrote this article myself, and it expresses my own opinions. I am not receiving compensation for it (other than from Seeking Alpha). I have no business relationship with any company whose stock is mentioned in this article.
Additional disclosure: I recently opened this short position because of the massive rally in the price of gold, but may close this position at any time.