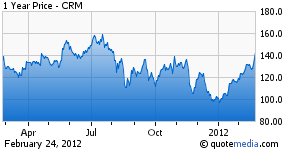 There are a few hidden details in Salesforce.com's (CRM) Q4 earnings release that should give pause to the general happiness that the stock displayed on the after hours session and is displaying today.
After Salesforce.com 's Q3 earnings release, the stock was punished because of the deceleration deferred revenue slowed, growing at 32% year-over-year.
So naturally, yesterday when Salesforce.com reported a sizzling 48% growth in deferred revenues, the stock could do nothing but punish the short sellers. This is the paragraph that matters the most:
Deferred Revenue: Deferred revenue on the balance sheet as of January 31, 2012, was approximately $1.38 billion, an increase of 48% on a year-over-year basis. Current deferred revenue increased by 41% to approximately $1.29 billion, benefited in part by longer invoice durations. Long term deferred revenue increased by 309% to approximately $89 million. Unbilled deferred revenue, representing business that is contracted but unbilled and off balance sheet, ended the fiscal year at approximately $2.2 billion, up from approximately $1.5 billion at the end of fiscal 2011.
This seems like a nice acceleration, the kind of thing you want to see on your high-multiple growth stock. Until, that is, you dig a little.
Deferred revenue results from CRM invoicing and billing for periods of service that exceed the quarter in which it recognizes the revenue in its P&L. So if for instance CRM bills $100 million for two quarters of service, it would then recognize $50 million in revenues, and stick the other $50 million into the balance sheet as deferred revenue. What this means, is that if CRM decides to bill for longer periods of service, it can then increase deferred revenue faster even if the business really isn't growing faster.
For instance, if that $100 million customer used to get two invoices per year (for $200 million) and now gets just one invoice per year (for $200 million), CRM would then recognize the same $50 million in revenues for the quarter, but it would book $150 million in deferred revenue on its balance sheet, even though the business really hadn't changed much.
And that was precisely what happened. CRM already gives a hint in the earnings report, but it becomes a whole lot more clear thanks to Seeking Alpha's very useful conference call transcript, where Graham V. Smith discussed this matter (emphasis is mine):
With the operational excellence around the annual invoicing contributing to our strong growth in current deferred revenue, the multi-year invoice caused the increase in long-term deferred revenue. If you exclude these two factors, we estimate that the total revenue on the balance sheet increased approximately 31% year-over-year.
So all the acceleration in deferred revenue came from longer invoicing and a large multi-year invoice, and in truth, it actually decelerated. And worse still, the large multi-year invoice came at the end of the quarter and was significant enough to push DSO (Days Sales Outstanding) to 100 from 86.
Conclusion
Upon realizing what I just wrote, I went short CRM in pre-market trading. CRM's valuation challenges are well-known, and it seems to me that the one thing pushing the stock up was the outstanding deferred revenue growth, which as we can now see, was mostly artificial and meaningless.