Yesterday, on February 17, 2016, Yamana Gold Inc. (NYSE:USA) (NYSE:AUY) closed at $2.50 per share from $2.48 per share of the day before, +0.02 (0.81%), with 17,878,286 shares traded.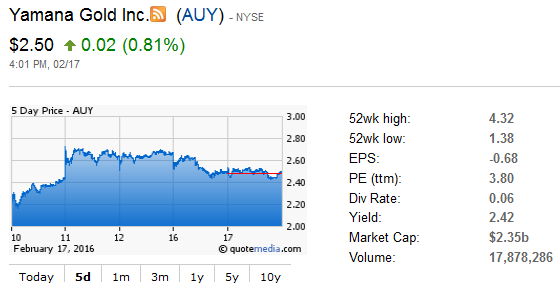 The gain anticipates AUY's earnings report after close today.
Analysts expect EPS being between $0.01 (High) and -$0.04 (NYSE:LOW) or between +150% ($0.03 ) and -100% (-$0.02), from last year's -$0.02 per share.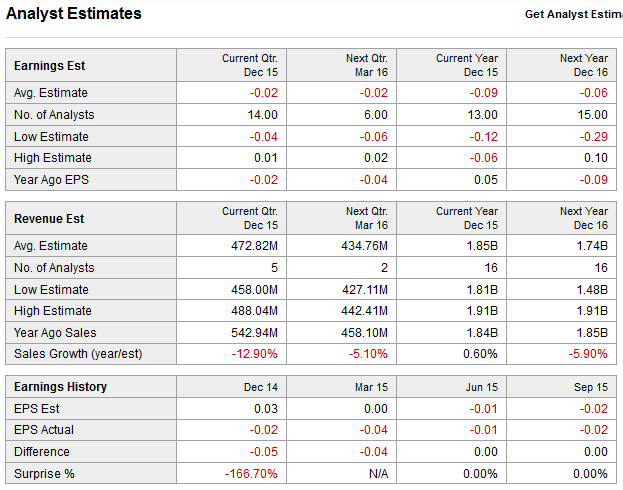 The company has 947.04M shares outstanding.
AUY's profit will range between $9.47M and -$37.88 if the EPS becomes reality.
After -$0.02 actual earnings per share reported by Yamana Gold Inc. for the previous quarter, analysts now forecast 0.00% negative growth for the current quarter and 50.00% for the next quarter.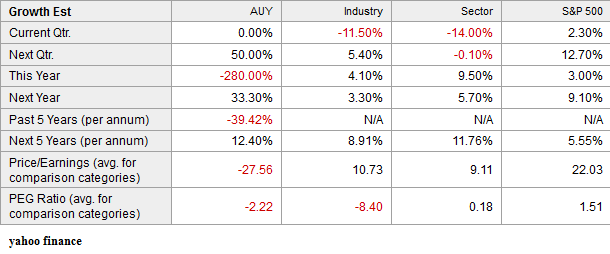 Yamana Gold Inc. has risen 8.23% since August 18, 2015 and is uptrending. The S&P500 fell by 8.34% over the same period (last 6 months).

Click to enlarge
Senior management of the company will host a conference call and Webcast February on 19, 2016 at 09.00 AM EST, to discuss the company's Fourth Quarter 2015 and full year financial and operating results.
Yamana Gold Inc. is a Canada-based gold producer. The Company is engaged in gold mining and related activities, including exploration, extraction, processing and reclamation. The Company's production mines include Chapada, Brazil; El Penon, Chile; Canadian Malartic, Canada; Mercedes, Mexico; Gualcamayo, Argentina; Jacobina, Brazil; Minera Florida, Chile, and Other Producing Mines. Its development properties include Cerro Moro, Agua Rica and Suyai in Argentina. The Company has a total gold proven and probable mineral resource of around 18.750 million tons at Alumbrera, 126.95 million tons at Canadian Malartic, 509.15 million tons at Chapada, 1.96 million tons at Cerro Morro, 10.41 million tons at El Penon, 29.16 million tons at Gualcamayo, 22.85 million tons at Jacobina, 8.68 million tons at Jeronimo, 4.01 million tons at Mercedes, 7.89 million tons at Minera Florida, 24.03 million tons at C1-Santa Luz, 2.05 million tons at Fazenda Brasileiro and 10.58 million tons at Pilar.
My point of view:
According to my previous analysis AUY was not a buy since the stock looked overvalued by the market. I applied a 2 factor model to estimate market and gold betas to explain return on Yamana Gold Corporation. I estimated a 12 months target price with a discount dividend model. I compared the value (an intrinsic value) that came out of my analysis with analysts' estimates and market share price. The stock was trading at $1.83 per share. At that time the stock was ranked as a buy. Of the 17 analysts' estimates, the most bullish saw the stock reaching $5.25 within the next 12 months while the most bearish analyst saw the stock at $1.58 within the year.
Today the stock is trading at $2.49 per share. The mean target price is $2.79 and the stock is ranked 2.8. Out of 17 analysts, eight analysts see now the stock as a hold and six still see it as a buy. I still think the stock is not a buy.
My way to assess the intrinsic value of the stock was based on the assumption that shareholders receive economic value from gold mining companies through the distribution of profits via dividends. Yamana Gold Inc. pays a small dividend to its shareholders. You can find other stocks, even in the gold mining industry, that pay a higher dividend.
The beta gold was 1.98. It may be an interesting opportunity for short positions if there will be significant jumps in the price of the precious metal during 2016.
Disclosure: I/we have no positions in any stocks mentioned, and no plans to initiate any positions within the next 72 hours.
I wrote this article myself, and it expresses my own opinions. I am not receiving compensation for it (other than from Seeking Alpha). I have no business relationship with any company whose stock is mentioned in this article.